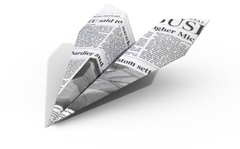 [Editor's note: Welcome to the first of 'Media Links', a monthly column by Simon Fraser University-based Steve Anderson, one Canada's foremost activists in the area of democracy and media reform.]
Whether you are concerned with issues pertaining to health care, the economy or the environment, the current democratic deficit in media limits opportunities for social change. Social change is propelled by open public discussion, and public discussion is suffocated by undemocratic media. As Nicholas Johnson, a former U.S. Federal Communications commissioner put it, "Whatever your first issue of concern, media had better be your second, because without change in the media, progress in your primary area is far less likely."
We live in tumultuous times where simultaneous environmental and economic crises raise the specter of a major social, cultural, political and economic shift. While the sense of uncertainty felt by many is palpable, the prospects for a better more just world also appears within reach. If we are to successfully navigate past this uncertain time, access to an open and democratic media system is essential.
Big Media getting bigger
Media ownership in Canada is more concentrated than almost anywhere else in the industrialized world. In June 2006, the Standing Senate Committee on Transport and Communications Report on the Canadian News Media concluded that there are "areas where the concentration of ownership has reached levels that few other countries would consider acceptable." Since that report we've seen several major media mergers including: CTVglobemedia's purchase of CHUM (with Rogers taking the spoils), Quebecor's purchase of the Osprey Newspaper chain, and the Canwest Global and New York investment bank Goldman Sachs' purchase of Alliance Atlantis.
Making matters worse, as the focus of governments and policy-makers has shifted toward strengthening commercial media, public broadcasters have been defunded or outright privatized. The CBC, for example, receives half of what it received from Parliament 20 years ago on a per capita basis, and Canada ranks 16th out of 18 industrialized countries in terms of public financing for public broadcasting. The community media sector -- a vibrant site of domestic programming and public participation in some countries -- remains relatively weak, and independent media continues to struggle to find the support it needs to effectively compete with big media.
New Media, new opportunities?
The current transition from analog to digital media provides important opportunities to increase the diversity of media. While a lack of financial support continues to haunt independent media projects, the relatively cheap media distribution system provided by the Internet makes independent media more viable and accessible. However, looking at the history of other mediums (TV, radio) that could have themselves been utilized as open mediums, we would be wise to not take the openness of the Internet for granted. There is already a battle brewing between big telecom companies and the Canadian public. If the companies win, a small cartel of corporate gatekeepers will control the cost of, and access to, web-based content (See www.SaveOurNet.ca). In fact, in a move that has disappointed many Canadian high-tech leaders and public interest groups, the CRTC announced on November 20th that it will not force Bell Canada to stop its controversial Internet throttling practices. The CRTC is abdicating its responsibility to Canadian people and is putting us on a path towards a more closed Internet defined by the interests of big telecom companies.
A time for discussion
Concentrated media systems reflect and reinforce a narrow frame of public debate and dialogue, diminishing our sense of new possibilities and alternatives to everything from political issues to our everyday lives. But history shows that when confronted with robust civic engagement around media issues, politicians and policy makers bow to popular pressure. In recounting his successful (1930s) campaign to establish CBC Radio, early media democracy advocate Graham Spry said, "our greatest ally was undoubtedly, anxious, disturbed and alert Canadian public opinion."
In 2002, an Ipsos-Reid poll found that 86 per cent of Canadians believed that the federal government should do something to alleviate public concerns about media concentration. I hope that this column will help alert and engage this unheard majority.
Related Tyee stories: