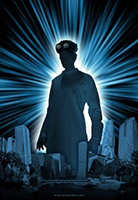 CanWest-Global's announcement last week that its latest billion dollar loss is due to a decline in television ad revenue (rather than a Cassandra-satisfying downturn in newspaper ad sales) will come as no surprise to anyone with an eye on cultural trends.
Is anyone actually watching television anymore?
I suspect not.
Dennis McGrath, scriptwriter and blogger, noted network TV viewing drops an average of about 14 per cent a year, annually, while chatting about the TV biz on CBC radio's Q last week.
Consumers have done an end-run around the entertainment industry because it stopped doing its primary job -- it's only job, really -- of connecting artists with audiences. Now they're busy making themselves an impediment to that connection, by refusing to sell digital downloads of shows, while threatening or suing those who do use BitTorrents.
Consumers ignoring gatekeepers is old news, of course, and it's by far the least of the entertainment companies' worries.
Give me my 'Dr. Horrible'
The comet that will actually kill these corporate dinosaurs hit last spring in the form of Dr. Horrible's Sing-Along, "a supervillain epic musical in three acts."
For the first time, a big name TV guy used the Internet to do an end-run around the entertainment industry and deliver his stuff directly to the audience, online, via website (free) and then iTunes ($4.99).
Dr. Horrible is the brainchild of Joss Whedon, the genius behind Buffy the Vampire Slayer and the guy who first made everyone sit up and take notice of how good TV could be if you could just distract the suits from interfering with it. In his case, he did it with the ironic name, the high school setting, and suit-pleasing actresses in skimpy ensembles. Meanwhile he slipped all sorts of subversive art right by those executives and won a loyal fan base.
Ironically it was the Writer's Guild strike over the corps -- or would that be corpses? -- trying to bully the talent out of its fair share of revenues that gave Whedon and his cronies time for their favourite hobby, being subversive.
As a piece of theatre, Dr. Horrible is an entertaining exercise in witty writing that demands more than one viewing -- but it ain't no Buffy. It's not even a Firefly, although it does star dishy Canadian actor Nathan Fillion, who played the captain on Whedon's short-lived SF show.
Still, it's the first well-aimed shot in the revolution. And it's well worth the five bucks for the pleasure of sending the middle-finger salute to the corpses. I plan to give it to every artsy pal I have for... well, no official reason. Just to celebrate. Kind of like a martini.
Because the Internet just replaced the entertainment corporations previously necessary to produce, distribute, promote -- well do everything but create and watch -- cultural products of all sorts.
TV networks had a role when they controlled the "means of production," as economists call it, but now that it's all available via the Internet, just what job are they performing to get their (obscenely large) cut of the profits? The studio space? We can rent that in Vancouver, where it's cheaper. Just like Hollywood execs do.
Let a thousand artist-driven companies bloom
As I do the math, I wonder why more artist-driven companies aren't out there making shows, but maybe that's due to habit? Given the numbers, it looks inevitable that the next generation of Joss Whedons will do an end-run around the networks, and go straight to the audience. Why pay the gatekeepers if there is no fence?
In 2006, a Warner Bros. executive told the New York Times that a network TV series runs about $1.5 to $2 million an episode to produce. But the budget for cable shows is about a quarter of that. Series like Nip/Tuck and The Closer (starring name actors) come in at $400,000 to $500,000 an episode.
That's chump change if you own a house in Vancouver. Even better, a filmmaker pal tells me he can do a high-quality pilot for about $50,000 featuring professional (albeit unknown) actors and the same crack production crews that currently do much of the Hollywood film and television.
Then we take teasers (and eventually the pilot) to YouTube. Instead of using the pilot to sell our show to the networks, we just sell it directly to consumers. We raise some money through subscriptions, as well as through investors and the advertising model. We only need a few hundred thousand viewers -- rather than millions -- for a new show to get the green light. Then we do our first season and hope that critics and word-of-mouth pull in new viewers, just as with network television.
Not that I'm actually going into business. But I could. Consider that even cult hits with small budgets, like Veronica Mars, capture about 2.5 million fans a week and monster hits like Grey's Anatomy pull about 18 million viewers. Multiply that by the season average of 22 episodes. Would junkie viewers pay a nominal fee -- say 99 cents -- or a subscription rate of $20 a season for clean, easy, fast, on-demand access to rapid downloads of their favourite shows, commercial-free?
I would. In fact, I've tried. But iTunes Canada can't deliver much of the programming I want. Even iTunes U.S. can't deliver True Blood, the Southern-gothic tale of a mind-reading waitress at a honky-tonk in McCain country, and her vampire beau. The HBO show is on all the critics' lips, but those alerted to the party late can't actually get in because iTune sales won't begin until the first run is over. A weekly visit to isohunt.com, a search engine for finding BitTorrents, will provide a rough estimate of how many thousands of sales they've lost, not to mention all the opportunities to create a for-pay downloading habit.
No suits, please, we're artists
Meanwhile, my imaginary artist-driven company using a direct-to-audience model to produce Grey's Anatomy grossed $350 million a season give-or-take, before we've even got into merchandising or other delivery media. The co-op involves about 40 of us. You do the math.
That's minus the culture-destroying "branded entertainment" stories, I might add. (That's when they don't just throw the Reese's Pieces on the floor to lure ET, they actually make the plot revolve around a product.) Although 30 Rock does a good job of taking the mickey out of this trend by collecting product fees while mocking the practice in the script.
Perhaps the most interesting thing about this revolution is all the ways in which creativity and commerce can serve each other, as long as we exclude the suits. My artist-driven company produces what I'm calling "Shades of Grey." Say, a raunchy version of those slutty doctors in the on-call room for a premium price. Character-focused sideline stories for fans of Lexie or that fabulous new doc played by Kevin McKidd, the Scottish actor who can give Daniel Craig a run for his money in the tough, brooding, fab-abs category. Yes, many, many women, and a select group of men, all want to know McArmy's backstory.
My ADC version of the show might even have kept Erica Hahn employed, since rumour has it the actress was fired because A) the suits hated her, B) the suits hated the lesbian storyline with Callie, C) both. But fans of the couple would no doubt pony up an additional subscription fee for tales of Callika.
So you want it for free?
Not everyone will pay for television, of course. Unlike Canadians who are in the habit of buying cable to get basic U.S. stations, south of the border they want their television free or HBO. So let's say my production company does a version of its show with ads embedded. Maybe a sanitized, family shade of Grey, that we run as our free offering on the website.
Speaking of the 99-cent download, last year Apple actually tried to persuade the entertainment conglomerates to cut the prohibitive price of $1.99-per-TV-show-episode in half. But as Variety reported in September 2007, it led to a spat between NBC and Apple that had the low-ranked network withdrawing from iTunes. The company objected to the possibility of lower priced downloads cutting into their DVD profits, since who would buy a $40 boxed set, of NBC's Heroes (plus extras) when a download of the same series cost only $23? Not to mention it would annoy distributors like Best Buy and Wal-Mart there were less profit per box.
Variety swears these people actually know DVDs are on the tip of obsolescence and digital download will soon be the standard. Which raises the next, all-important question: Does MBA stand for Most Boneheaded Attitude?
Let me get this straight: They're worrying about squeezing more profit on a technology that's all-but-dead, while losing their customer base to another delivery system -- the free BitTorrent. Customers they may never lure back?
Have they forgotten their only job is to connect audiences and artists?
Let me see if I can follow? They're encouraging people to develop habits that, in effect, cut the corpses right out of the business equation, in order to ensure a shrinking audience will pay way too much for a DVD set?
NBC's one big hit is Heroes, which is the joy of every comic book geek with hot-babe fantasies. Do they really think that Heroes' fans aren't the ones with the fast computers and the fat BitTorrent libraries?
Okay, explain to me again how these people got rich?
Oh, never mind. As Dr. Horrible likes to say: "The world is a mess and I just need to rule it."
Of course, Whedon's real joke is on the networks because in this brave new entertainment land, artists and consumers already rule the world -- we just haven't realized it yet.
Related Tyee stories:
© Shannon Rupp. For permission to reprint this article please contact the author: shannon(at)shannonrupp.com.