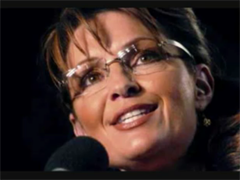 After nearly two years of exhaustive coverage, the moment of truth has finally arrived: voter and ballot will be alone at last. But what has really informed American minds in the choosing of their next president?
More than any in history, this year's U.S. election has been shaped by ideas far away from the campaign trail and far from coverage provided by traditional media sources. A whole other political dimension has emerged online: on blogs, chat rooms and video sites.
It remains to be seen what kind of impact the flurry of new videos that has surfaced in recent days will have on voters. But those videos do provide insight into how effectively the two campaigns have used the medium to their advantage.
On Saturday, Sarah Palin was pranked by Montreal-based radio hosts Marc-Antoine Audette and Sebastien Trudel.
Posing as French President Nicolas Sarkozy, Audette has a telephone conversation with the real Sarah Palin. Near the end of the phone call, Audette says he watched the Hustler video Nailin' Paylin: "the documentary they made on your life."
"Oh, good, thank you, yes," Palin replies.
"That was really edgy," Audette says.
"Well, good."
The Alaska governor invites "Sarkozy" to go hunting with her, and chuckles when the fake president says his wife Carla Bruni was "hot in bed." "We have such great respect for you, John McCain and I, we love you," Palin tells him -- a remark many commentators have deemed unsuitable for a conversation between political leaders.
During a whirlwind media tour on Monday, the comedy duo told CBS that the Palin prank shared two unfortunate parallels to the prank they played on Britney Spears.
Spears and Palin are the only two prank victims that didn't eventually catch on, and in fact had to be told outright they were the butt of a joke. Secondly, the duo said it took less than a week to get both Spears and Palin on the phone. (By comparison, it took several months to get in contact with Paul McCartney.)
In fairness, Palin didn't embarrass herself too badly here. Even though she misses most of the cues, she comes across as cordial, engaging and rather quick on her feet, in what was, to her mind, merely a friendly call, not a serious discussion on bilateral relations. If we're being kind, we'd also say that because of his exaggerated accent, she couldn't understand a lot of what Audette was saying anyway.
The big mystery is how, only days before the election, these guys were able to get access to the candidate for vice president so quickly. It's especially unusual since news media have complained they've been limited to little or no access to Palin throughout the campaign. The prank says more about the McCain/Palin campaign, which has been inconsistent in its own message and erratic in its attacks, than about her ability to carry a friendly conversation with a foreign leader. Palin's understanding of foreign policy and other crucial issues is, of course, another matter -- as seen in last month's disastrous Katie Couric interview.
It's hard to imagine the handlers of Barack Obama, or even the gaffe-prone Joe Biden (think: "when the stock market crashed (in 1929), President Roosevelt went on television"), getting taken in by these Montreal pranksters.
It's true that in recent days, disparaging audio of Obama has surfaced, explaining his cap-and-trade policy, and how it could bankrupt America's important and well-connected coal industry.
But the most-viewed Obama video over the last few days remains, in contrast to his opponent, his own creation: the 30-minute infomercial that aired last week, finely-crafted to win the hearts of swing state voters.
Whether these recent videos play a role in determining the outcome isn't so clear, but it does give a clue as to which campaign better employed the powerful tools at their disposal.
Related Tyee stories