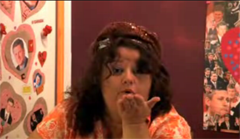 This fall's federal election campaign unleashed a mad video-making rush like no previous one. Though still more small-c conservative than the vids being made by our southern neighbours, creations by concerned Canadians are definitely memorable. Ranging from impassioned to silly, esoteric to absurd, many of the most-viewed videos have reflected the most resonant issues: leadership, the arts, the environment and, of course, the sweater.
Unsurprisingly, videos designed to make us question our politicians' leadership abilities were big, both online and in the media. Like many of you, I'm guilty of feeling a little schadenfreude (mixed with depression) when watching videos that make our politicians look bad (and yes, I'm talking about something other than CPAC here). I'll admit the video showing Stephen Harper copying Australian Prime Minister John Howard's speech made me chuckle gleefully -- just as I'm sure others found delight in watching Stephane Dion's CTV interview last week. Aside from attracting big hits, these videos provided useful fodder for politicos wanting to discredit their counterparts.
Canadian cultural icons also used videos extensively in an attempt to discredit politicians. The hugely successful Culture en peril, starring Quebec singer Michel Rivard, certainly helped draw attention to Harper's cuts to the arts; whether the video will help galvanize enough support to deny Harper the seats he covets in Quebec remains to be seen. Similarly, the Avaaz video, featuring Sarah Harmer, K-Os, Hawksley Workman, BNL's Ed Robertson and others singing the irresistible ditty, "You Have A Choice," has been a popular denouncement of Harper's neglect of the environment. And Marg, Princess Warrior's (Mary Walsh from This Hour Has 22 minutes), sweater vest bonfire helped contribute to a new and favoured sub-genre of election videos -- the Harper sweater videos. These woolly gems are mostly of the quirky and lower-budget variety but are certainly among my personal favourites.
Finally, following the trend that started in the U.S. with Obama Girl, Canada now has its own faux-verly-zealous leader-loving fan. Ruby Jones (a.k.a Harper Girl), the sombrero-wearing, scrapbooking self-appointed president of her own Stephen Harper fan club v-logs about her love for "her sweetness," the prime minister. (Less campy, trashier versions of Harper Girl have also sprung up, like this one).
Too bad it's all over now; I'll miss Ruby. Looks like I'll have to find something else to distract me from the collapse of Western economies.
Related Tyee stories: