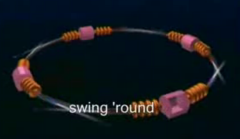 Last Wednesday, physicists launched a beam of protons around a 27-kilometre-long ring known as the Large Hadron Collider, 90 metres outside the Swiss-French border near Geneva. If you don't understand what that really means, or why it's exciting, you're far from alone.
Experts say the $8-billion project, developed by the European Organization for Nuclear Research (CERN), will help illuminate some of the most fundamental questions in the universe -- like, for instance, how the universe started and where matter comes from.
In about two months time, the collider is expected to get the protons moving fast enough (to energies of seven trillion electron volts) to smash them together, and recreate a kind of mini-Big Bang.
Say what?
Enter the "Large Hadron rap," a five-minute-long lyrical epic that explains the whole project:
Created by Katherine McAlpine, a freelance science writer and trainee at CERN, the video has become a point of reference for blogger geeks, and has already been viewed 3.5 million times.
"Aww, yeah, I'm about to drop some particle physics in 'da glove," says her co-MC at the outset, a Stephen Hawking-inspired computerized voice. "The LHC is super-duper fly. You know what I'm sayin'. Check it."
McAlpine, in her Sesame Street rhyming style, gives an explanation of one of the most complex experiments around.
If you've watched the rap, and still don't know what's going on, check out this 3-minute run-down posted by CERN.
With a well-run official site and thousands of amateur videos and write-ups, the Large Hadron Collider is probably the best-publicized scientific experiment the world has ever seen (outside of those imagination-capturing trips to the moon and Mars).
The media blitz is an impressive feat, considering the abstract nature of the experiment, but it's not one without controversy.
Some fear this ambitious project may get us all sucked into a black hole. To be fair, even the New York Times has speculated there could be some risk -- or complete disaster -- involved in launching the test.
And here is one of the more sober assessments of the project.
It's all pretty amazing, mind-boggling stuff. If you're worried that scientists are pulling an Icarus, and flying a bit too close the sun in search of answers, you might be interested in the site, HasTheLargeHadronColliderDestroyedtheWorldYet.com.
Related Tyee stories