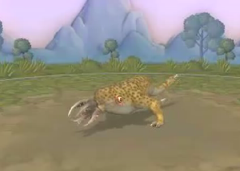 Electronic Arts' launch of Spore this weekend marks the culmination of a hype campaign that exceeds even that of the US election -- a lead-up period so long, the wait has been nearly as epic as the evolutionary story the game attempts to recreate. Spore, described as a "massively single-player online experience," by creator and SimCity founder Will Wright, challenges players to travel and survive in a multi-world evolutionary universe, taking them from a single-celled organism, to creature, tribe, city and finally space.
As with much current media, Spore's buzz started on the web: on user-generated sites like YouTube and gamer-friendly sites like Gamasutra. Developers and players alike have used the web to showcase trailers, gameplay, tutorials, montages and even music themes. Previews of Spore began trickling onto YouTube (and into gamer consciousness) a couple of years ago. Most recently, clips of six-legged, bug-eyed, do-it-yourself beings oozed onto the web following the release of EA's Spore Creature Creator in June. To date, players have created and uploaded seven million creatures to the "Sporepedia" and Spore's own YouTube channel displays hundreds of weird and weirder creations.
It's certain more of these crazy critters are still to come, as YouTube amps the hype and encourages others to jump the bandwagon: the video sharing site allows easy uploading of custom beastie vids, spaceships or vehicles in the game to users' YouTube accounts with just one click. The video above is just one example of these fast proliferating critter clips.
And if you're still a gaming sceptic, you might be intrigued by the new National Geographic documentary How To Build A Better Being. The show's summary reads: "Journey into the billion-year history of the human body, led by computer game visionary Will Wright as he explores the breakthrough science that's revealing the secret genetic machinery that shapes all life in the game Spore." The documentary first airs tonight at 7 p.m. PST.
Related Tyee stories