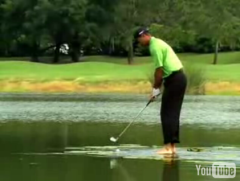 This week, after hitting his ball into a water hazard, golf messiah Tiger Woods walked on water. At least, that's what happened on YouTube. The clip depicts a clever illusion, likely to elicit some guffaws from, if not you, at least the one golf-obsessed person you know. But that person might or might not recognize the logo at the end of the video -- Electronic Arts, a major video game developer.
On their YouTube channel, EA Sports writes that they posted the video "as a response to a fan video," in which "Levinator 25," demonstrates a new feature in EA's latest golf game, Tiger Woods PGA Tour 09. Levinator 25's voice-over tells us that the Jesus Shot is a new option in which the virtual Woods can make a shot while standing on water.
"You seem to think your Jesus Shot video was a glitch in the game," taunts the on-screen text in EA's video response, then continues, "It's not a glitch. He's just that good." After that, the "real" Tiger Woods walks on water.
An Electronic Arts spokesperson confirmed via e-mail that EA had no involvement whatsoever in Levinator 25's fan video, but EA certainly teed off its authenticity and subsumed it into their viral ad campaign. And it was a highly successful one -- an EA media release says the EA vid got more than half a million views in the first 48 hours alone. Would that have happened without Levinator 25?
Brands are eager to tap into YouTube's huge audience and harness the power of Internet memes, and as a result, more and more YouTube clips are advertisements -- sometimes ones in disguise.
A classic case of this is what gets called the amazing ball girl video. The clip, which has attracted millions of views, shows a ball girl taking an amazing leap to catch a foul baseball. There are all the ingredients of folk hero fame: an ordinary person completes an impossible feat, shows up the star outfielder and finishes off with a hat tip of endearing modesty.
In fact, the clip is a viral ad for Gatorade, and the ball girl was a stunt woman hooked up to wires.
Jill Kinney, a spokesperson for Gatorade, told the Chicago Tribune that "even though many viewers thought the outlandish catch was somehow a fake -- which, indeed, was the result of special effects -- they were still entertained by it."
But I feel cheated when I realize that the cool video I just forwarded to my friends isn't a brilliant creation from some kid's basement, or a fantastic event caught on tape, but a viral ad developed in a sleek Manhattan boardroom.
As it turns out, EA is well versed in viral marketing. Earlier this year they hired a firm called GoViral to promote another game, FIFA Street 3, with this amazing clip of hybrid capoeira-soccer tricks. GoViral lays out their strategy publicly, and as with other viral campaigns, whether the tricks are real or staged is beside the point.
"Some moves seem too improbable while others could very well be real," reads the GoViral document, "and that makes it a very interesting conversation starter which draws the audience closer to the brand." When it comes to viral advertising, truth and fiction are irrelevant, so long as lots of people are paying attention.
Related Tyee stories