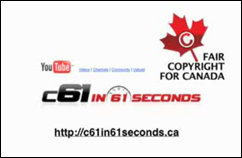 The online video contest is fast becoming the venue for the average Joe or Jane to proffer political or personal opinion, vent about the law, or quiz (soon-to-be) elected officials. There's no shortage of these awareness-raising contests on the web: want to sock it to a politico or Middle East Queen? Profess your love of tap water or your post office? How about telling the world about the dangers of radon, what math and voting means to you or proselytizing on the importance of youth activism? And hey, while you're at it, why not capture it all on camera? Or so the logic goes.
But the number of contests currently on the Net appears to now nearly exceed the number of willing participants. So even though the video contest seems like a dead simple formula, these days the real competition is between the contests, and many are turning to elaborate prizes to attract participants: a diamond ring, a 2008 Mazda 3i sport four-door sedan, digital microscopes, the opportunity to croon with Aimee Mann and a BirdCam are just a few examples of the enticing swag to be won.
Still, there's no foolproof formula. Take Fair Copyright for Canada's C-61 in 61 seconds video contest which aims to stop proposed legislation that, if passed, threatens to profoundly affect the habits of millions of Canadian consumers. Seems like an attention-grabber, right? Yet the contest seems to be languishing in relative obscurity, despite a 90,000-member Facebook group and leadership from Michael Geist, one of Canada's leading advocates for fair copyright, and Canada research chair of Internet and e-commerce law at the University of Ottawa.
As a media junkie, I plan to enter because, if passed, the bill will significantly infringe upon my lifestyle choices. Like many people, I like to upload DVDs to watch at a later date or to watch on my mobile phone; I like to rip CDs and have copies to listen to on my computer and on my iPod. Bill C-61 takes those away. There's still a month and a half to enter, so I think I will. Maybe in a couple of months, you'll be watching my advocacy video.
Related Tyee stories: