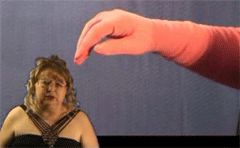 Two B.C.ers have had millions of hits on their YouTube site. They are, in fact, Internet darlings du jour. And their videos are, well, not very good.
Six months ago, Fred and Sharon Spencer decided to start a video production company out of their home in Kelowna, British Columbia. To attract business, they posted a series of promotional videos on YouTube touting their services. They expected, at most, a few thousand views. But in recent months, the couple has become an online phenomenon. And people's curiosity -- about how the videos could be so bad -- is playing no small role in driving traffic.
For example, in their most popular video, "Who needs a movie?", which has had nearly 800,000 views on YouTube alone, images of Fred and Sharon are superimposed over shaky footage of Kelowna and Lake Okanagan.
Last month, the Museum of Hoaxes, a popular website that debunks online myths, questioned the Spencers' authenticity.
No one seems absolutely certain whether the videos are an ingenious art school project or genuinely poor filmmaking. But what's more interesting is how the Spencers' popularity is closely tied to this mystery. The ever-increasing number of comments on their YouTube site are mostly variations on the question: "Is this for f*cking real?" And even a posted video interview with the couple failed to settle the question.
But when I reached Fred and Sharon by phone earlier this week, they seemed oblivious to those challenging their authenticity. And after talking to them, I assert they are very real indeed. "People ask me if I took a course, well no, I didn't take courses," Fred told me, while Sharon listened on a second phone.
"I started a film company in my 20s, but we never made a movie."
A year ago, Fred's brother bought him a digital photo camera, which inspired him to make movies again. A few months later, Sharon bought him a video camera, and soon after, they launched their website.
"Who needs a movie?" became so popular they had to change their phone number, which runs at the end of the video.
"At one point we were getting 50 phone calls a day," he said. And most of these calls were pranks, not from people interested in their movie-making skills.
But Fred said he has been approached to do a few projects, and they are working on making a video for a natural healer based in Kelowna.
Their online notoriety has not transferred into fame in the Okanagan Valley, though. "Sometimes I think we're more celebrated in California than in Kelowna," he said jokingly.
"Yeah, we're Hollywood stars," said Sharon, before breaking into a laugh.
Fred is especially proud of their most recent video, "A Tribute to our Troops and Students." Comments about this one have been much more positive, he said.
It's "for people who know what the '60s were all about," he said.
Before I got off the phone, Fred made me promise not to write anything "nasty" about them, and especially about Sharon.
It's difficult to have nasty thoughts about these kind, open people -- and perhaps that's Fred and Sharon's appeal. I think, deep down, viewers understand they are watching something genuine and irony-free -- which can be hard to find on YouTube.
What I worry about is that all this attention will poison their pure intentions. After all, they now charge a dollar per view on their website (but views on YouTube are still free). As one person commented on Museum of Hoaxes, "I've been following Fred and Sharon eagerly, and I'm convinced they're real. The only question to me is to what extent they're aware they're being laughed at/with, and thus to what extent they're kinda playing along now they've found fame/notoriety."
Related Tyee stories: