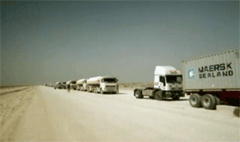 With the military mission widely criticized for being undermanned and ill-equipped, working as a foreign contractor in Iraq is undoubtedly among the world's most thankless jobs. So, after her husband, Mark, left home to drive a mail truck in Iraq for KBR Inc. (a former Halliburton subsidiary), Renee Taylor began producing videos of his work.
American Truckers at War, showcases the work of the "Iron Pony Express" -- a name given to the truckers that deliver mail to American troops in Iraq.
Mainstream media has given a great deal of coverage to American military operations in Iraq. But while Blackwater's civilian killings were broadly reported, relatively little has been said about the rest of the 100,000 foreign contractors who have travelled to Iraq to perform the war's more mundane tasks -- like cooking, garbage collection, and cleaning latrines.
While the low-fi country-twang of the music in Taylor's video may put you off, the lyrics -- by truck driving crooner Joey Holliday, set to a series of video stills -- provide a rare glimpse of the hopes and fears of a trucker in Iraq. And this video is merely one of a genre that attempt to highlight these contractors' precarious working conditions, from a lack of basic security measures to protect from shelling, mortar and rocket attacks, roadside bombs and even rocks, to poor medical coverage, and overcrowded housing. While Taylor's video is less popular, more sensationalistic depictions have garnered several million views on video-sharing sites.
Though some might suggest that the contractors are war-profiteers and therefore undeserving of compassion for the risks they face, it's hard not to marvel at the hubris demonstrated by the private contracting companies working in Iraq who -- at least insofar as these videos suggest -- fail to properly provide for the safety of their employees.
Related Tyee stories: