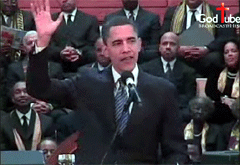 Even though former Arkansas governor Mike Huckabee's chances of becoming president are now mathematically impossible, he continues to campaign -- and in fact seems to be gaining popularity with some audiences. His appearance on Saturday Night Live this week has already garnered thousands of hits on YouTube and positive responses from online commenters.
But what was more important to the Baptist minister's popularity was his clever and eloquent defense of Creationism in a debate earlier this year which managed to appease his religious base while not appearing too extremist to more moderate conservatives.
Of course, all candidates must defacto believe in God if they want to have a chance. And there is even a site dedicated to monitoring their level of belief as they march along the campaign trail.
Religious belief is so crucial, that Clinton's strong faith -- and its resonance with voters -- may give her a chance to retake the lead from Obama. A new Gallup poll indicates she is a major favorite amongst religious, white Democrats. While regular churchgoers don't make up a huge percentage of the Democratic base, they do make up a higher proportion in Texas and Ohio -- the site of next week's primaries, both considered must-wins for Clinton. It's no coincidence that she just made her first appearance on the Christian Broadcasting Network to explain, amongst other things, the role faith has played in her life and her marriage.
Clinton's team has also played the religion card against Obama. His staff has been busy fanning flames after someone on the Clinton team released a photograph of Obama in traditional Somali clothing that conjures up images of Muslim terrorists.
Jon Stewart's joke near the end of his opening monologue at Sunday's Oscars summed it up best. "He's not just an African-American. Barack Hussein Obama is his name. His middle name is the last name of Iraq's former tyrant. His last name rhymes with Osama. That's not easy to overcome. I think we all remember the ill-fated 1944 presidential campaign of Gaydolf Titler. It's just a shame, Titler had so many good ideas. We just couldn't get past the name. And the moustache."
And seriously, Stewart's right -- it's amazing that Obama has succeeded in overcoming this kind of religious ignorance and fear, and he probably couldn't have done it if he weren't a God-loving Christian.
Obama actually scores pretty highly on the God-o-meter. He is still benefiting from his speech at Dr. King's church, this month's most viewed political video on GodTube (no, I'm not kidding), second only to Huckabee's response to the evolution question.
Religion has been making and breaking candidates throughout this whole nomination process. On Tuesday, Mitt Romney's son admitted to a Salt Lake City paper that his father's Mormon beliefs may have cost him the campaign. And, despite being assured of the nomination, McCain continues to struggle with evangelical voters. McCain has had difficulty balancing his role as a straight-talking, anti-partisan critic of the Bush presidency with the need to ally himself with powerful religious leaders (and vote getters) like Jerry Falwell.
Online video has become a powerful device to monitor religious belief and historical ignorance generally. Last fall, Sherri Shepherd, the new co-host of the daytime talk show The View was humiliated when it became obvious she did not know whether the Earth was flat or round.
In a discussion about ancient Greece a few months later, she asserted that "nobody came before Christians" because "Jesus came first."
Both these videos have racked up at least a million views on YouTube, and a plethora of criticism online, but oddly, it doesn't seemed to have harmed the show's credibility. Someone's popularity (though not necessarily credibility) can actually go up if he or she looks stupid, unless, of course, that person is running for president.
Miss South Carolina's very public meltdown, for instance, has now been viewed an astonishing 30 million times on YouTube alone. It's difficult to imagine anyone taking her seriously after that mistake.
So, sure the presidential frontrunners must offer a clear plan for how to solve health care, trim down the debt, and get the troops out of Iraq. But they have to be eloquent, God-loving Christians who never get caught looking silly.
Related Tyee stories: