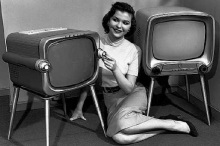 In 1986, BCTV smiled on Bill Vander Zalm. It broadcast cheerful images of the ever-cheerful Zalm and his ever-cheerful wife, Lillian. It thumped the heck out of his nervous challenger, Bob Skelly.
And lo, the people of British Columbia made Bill Vander Zalm their premier.
In 1991, BCTV smiled on Gordon Wilson. It played and replayed the clip of his golden moment in the leaders' debate. It pushed a bunch of wonky polls that made it look as if the previously unknown Wilson was the most popular guy in the province.
And lo, the people of British Columbia made Gordon Wilson the leader of their Opposition.
In 1996, BCTV smiled on Glen Clark. Every time Clark had a big announcement to make, he would pop up live at 6 p.m. on B.C.'s most-watched TV station. Clark's opponent, Gordon Campbell, spent the whole campaign stumbling to catch up. And lo, the people of British Columbia made Glen Clark their premier.
These golden moments from B.C. political mythology illustrate several points that are pertinent to any provincial election:
• The people of British Columbia are sheep.
• By people, of course, I mean other people.
• You, obviously, are smart enough to think for yourself.
• Me too.
In any event, the idea of a media monolith that tells voters what to think is believed and beloved by conspiracy theorists and Internet posters the world over. (Most likely, it's also secretly believed by plenty of media proprietors.)
Media as master?
There was a time, back in the 1930s and '40s, when academics believed that mass media worked like a hypodermic needle, directly injecting ideas, opinions, and values into their audiences.
Later research would discredit that idea. People, researchers discovered, can think for themselves, at least some of the time. After all, if we the people of British Columbia always did what the media told us to do, why do 40 per cent of us vote for the NDP most of the time? (Poor, nervous old Bob Skelly, by the way, still took 43 per cent of the vote back in 1986, despite BCTV's Zalm love-in – that's more than any New Democrat leader has earned since.)
Which is not to say that the media doesn't have any influence on the way people behave in the polling booth.
The standard academic argument is that the media's influence operates in terms of framing issues and setting the agenda for political discussion, said Simon Fraser University communication professor Catherine Murray.
In other words, the media tell us what to think about, not what to think.
But they also suggest in subtle ways how to think about certain issues. Using the expression "tax reform", for example, assumes that taxation is a problem that needs to be reformed. Political consultants, especially in the U.S., spend enormous amounts of time and money developing the right rhetorical frames for concepts like this.
The frame game
U.S. linguist George Lakoff has divided political frames into two main categories: the nurturant parent model and the strict father model.
The nurturant parent model is built on the assumption that children grow with empathy and support. When you transfer that mindset to politics, it follows that governments should, for example, provide a social safety net and pass laws to regulate pollution.
The strict father model assumes that children need discipline to grow. The ideal dad is a guy who keeps his family in line by swinging his belt. You can see where this leads politically: destroy the nanny state, cut welfare, make people stand on their own two feet. Bill Bennett's "tough guy" restraint campaign of 1983 was a perfect example of the strict father frame in action. This may be a bit more abstract than the hypodermic needle model, but agenda-setting still holds considerable power. Justin Lewis, author of the delightfully subtitled Constructing Public Opinion: How Political Elites Do What They Like and Why We Seem to Go Along with It writes that a considerable body of research makes it clear that "responses to public opinion surveys follow rather than precede media agendas." People may not be sheep, but we do form our opinions from the information that's available to us. If that information is limited in some way, our opinions will be affected.
The media exert a tremendous influence, for example, when they decide which experts to quote on an issue, said Murray, who teaches a course in political communication at SFU. Generally speaking, Murray said, the media have greater influence on undecided voters than on decided ones. They also have a greater influence at times of scandal or crisis, or when there is a highly polarized question driving an election, as in the free trade federal election of 1988. "When voters are undecided and when they're operating from an information deficit they seek out the media," Murray said.
"And the media have a tremendous role to play as intermediaries and opinion formers." So when a high proportion of the electorate is undecided, the media play a greater role – what Murray calls "the role of the vacuum." That's why Murray thinks that, in Tuesday's vote, the media will have more influence on the STV question than they will on the race between the parties.
TV is king
Murray also argues that the traditional news media in B.C. are less influential than in many other provinces. British Columbians, she says, shouldn't underestimate the importance of our radio talk-show culture. "It tends to be highly polarized around particular players or hosts, but it's nonetheless a really interesting arena in this province." Murray also finds it interesting that Web-based alternative media in B.C., like The Tyee, are "stepping in to sort of riff off that participatory radio democracy." (Hello caller on line one! Do you think torture is too good for today's lying politicians?) One last point: most voters rely on television for political information.
"The dominance of TV is quite striking," says University of B.C. political scientist Fred Cutler, who teaches graduate and undergraduate courses in public opinion. "When you ask survey respondents – and this is true all around the world – where they get the majority of their political information, TV is more dominant than many would think and, I guess, some of us would like to believe."
Bill Vander Zalm, Gordon Wilson and Glen Clark might be inclined to agree.
Veteran journalist Tom Barrett will be one of many Tyee contributors offering their comments on this site throughout election night. The roundtable begins at 7:30 pm and you're invited.