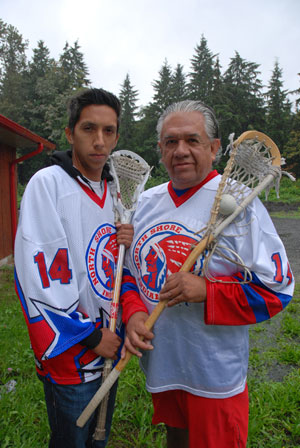 Like his father and grandfather before him, Dennis "Denny" Joseph prefers to string the mesh basket of his own lacrosse stick. His favourite one, the box lacrosse stick the 56-year-old goalie calls his "bread and butter," is a hybrid piece of equipment dating back to the 1990s.
Joseph's box stick has long since been replaced, exchanged for a field lacrosse stick since he left his box team about 10 seasons ago. Besides, one side of the basket's triangle is snapped in two. "I clubbed a guy," says Joseph, his quiet voice rising as he laughs. "My crease was my own, man. To this day, I tell guys to stay out of my crease."
Box lacrosse -- the indoor version of the ball and stick field game that originated with the Iroquois (now known as the Haudenosaunee, or Six Nations Confederacy) -- is a violent and uniquely Canadian sport, born of a desire to make use of iceless hockey arenas in summertime. It's now the country's national summer sport, with a popularity that is deep but narrow.
And in British Columbia, where the sport as we know it today was introduced 150 years ago, lacrosse is empowering a new generation of aboriginal athletes. 
Sport diplomacy
Lacrosse in B.C. wouldn't be what it is for aboriginal athletes today if it wasn't for Andy Paull. A visionary coach, union leader and native rights activist with the Squamish First Nation, Paull recognized lacrosse as a powerful tool to unite the Squamish nearly a century ago as they were being displaced from their own territory by colonialists who denied them equal rights, means of self-representation, and criminalized their traditions. The Squamish found pride, agency and entertainment in a lacrosse team, the North Shore Indians.
"It was more about community and people's passion for the game, passion that still exists today for players who play under the North Shore Indians jersey," says Joseph, who won the Presidents' Cup national box lacrosse championship with the Indians in 1985 and 1993, as well as field lacrosse national championships with the Vancouver Barbarians in 1992 and 1994. Joseph is also Paull's maternal great-grandson.
Among the Squamish, Paull used lacrosse to tap into a broader indigenous identity when First Nations in Canada were actively being assimilated and intentionally denied their humanity. He recruited Iroquois from across the country to play for the North Shore, forging relationships that carry on today. Paull, who formed the Native American Indian Brotherhood (which went on to become the Assembly of First Nations), was also building connections with the dominant white society.
"He was extremely brilliant, Andy Paull," says Allan Downey, a historian who studies the rise of Squamish nationalism in relation to lacrosse. Downey is a member of the Nak'azdli First Nation near Fort St. James, a PhD candidate at Wilfrid Laurier University, and a box lacrosse player who played for the Burnaby Lakers in 2010.
"Aboriginal players are actually on the outside of the development of lacrosse in British Columbia," Downey explains. But Paull changed that.
Born in 1892 near the town of Squamish, he came of age at a time when the potlatch was outlawed. The legal profession he sought to practice was barred to a man like him, as long as he held Indian status. During his childhood, lacrosse was primarily played by white men and had yet to become the pride of the Squamish Nation as it would four decades later. In the early 1890s, the B.C. Amateur Lacrosse Association banned anyone but white athletes from its membership.
In 1920, Paull organized the all-native lacrosse team to appear at one of many so-called Indian sports days, a fair for mainstream society to marvel at what many believed to be a dying race. The Aboriginal athletes were a tremendous draw wherever they went.
"People wanted to see Aboriginal athletes because of the prevailing belief that Aboriginal peoples were going to disappear. They would come by the thousands," Downey says.
For the next decade, 12,000 fans were said to cram into the 10,500 seats at the Denman Arena in Vancouver's West End to see the team that became the North Shore Indians. The ban against Aboriginal players was quietly removed from the rulebook, as the Victorian-era values favouring amateurism made way for sports capitalism.
"This was quite ironic, given the fact non-Aboriginal Canadians are taking an Aboriginal game, claiming it as their own and then they end up barring the very people who gave it to them," Downey says. "[Paull] saw sport as an opportunity to continue what he was doing. And he loved the game, there is no question about that. He really connected, and so did the Squamish.
"They connected lacrosse to an Aboriginal game and that's what really appealed to him -- here the Squamish were playing a game that had been played in indigenous communities, including the Squamish, since time immemorial. They were just reconnecting with it."
'They were applauding, just roaring'
The broken stick Joseph cherishes is on display in his basement, along with 80-odd jerseys. One is framed, as well as a dozen sticks, black-and-white photographs and a participation medal from the 1932 Los Angeles Summer Olympics where the North Shore Indians went to play lacrosse as a demonstration sport.
That same team, bolstered by cross-country recruits from the Six Nations, travelled to Toronto in 1936 as the first all-native team to contend for the national Senior A championship, the Mann Cup. The Indians lost the series one game to three, falling to the two-time defending champions from Orillia. More than 36,000 fans attended the four games they played at Maple Leaf Gardens.
Joseph idolized the men who played for the '36 Indians, and those he watched as a child at the PNE Forum and the North Vancouver arena now known as the Harry Jerome Sports Centre. The North Shore Indians were still a draw, and their fans shook arenas with drumbeats and songs.
Among the players he watched was his uncle and Canadian lacrosse hall-of-famer Stan "Bunny" Joseph Jr., the son of a '36 Indian, who was named the league's outstanding goaltender four times and was named MVP once. He had a .707 career save percentage, a mark akin to today's professional players.
"I could barely peer over the boards and when he hit the floor -- I found out this later from the people who played with him -- they let him run out by himself and there was maybe 800 people in the stand and everybody just stood up," Joseph says, who has framed one of his uncle's jerseys. "They were applauding, just roaring. I was like, 'I want to do that.'"
Joseph doesn't play box lacrosse with the Indians anymore, but he competes as a grandmaster at field lacrosse tournaments with the Shape Shifters, a team that takes the important Squamish figure of a two-headed serpent for its emblem instead of the profile of a Plains man in a feather headdress.
He competes alongside the same guys he grew up with playing stick-and-ball games on the Squamish reserve. A decade after his championship season with the Indians, he turned his back on box lacrosse because of political disagreements between some team organizers and the band council, on which he has sat since being elected in 1989.
Joseph now plays field lacrosse alongside Sam Seward, also 57, who still coaches the Indians, which counts his 22-year-old son Turner on the roster. "Growing up, we always had elders come in to talk to us between periods," Seward says. He's a two-time Canadian champion and a face-off specialist. "I was thinking we didn't have that anymore, but my wife said to me, 'You're the elder now.'"
The popularity of the sport among the younger Squamish is in a slump, Seward says. It's a sentiment numerous older players agree with. The work ethic isn't what it was, they say. "I'd like to see our North Shore Indians be contenders again," says Seward. "We have to get more players coming out from the res. I'd like to see more of our own guys playing. We get a little more support when we have players from the res."
'They were taught First Nations people were wiped out entirely'
Of the 16,000 athletes registered with the B.C. Lacrosse Association, 711 self-identify as Aboriginal. The legacy of the North Shore Indians can be measured today, in part, by the numbers of elementary and secondary students learning about lacrosse through the B.C. Lacrosse Association and their partnership with the Aboriginal Sport, Recreation and Physical Activity Partners Council.
In two years, B.C. Lacrosse has certified 89 Aboriginal coaches and 21 referees while educators like Naomi Wasler have together made over 100 visits to B.C. schools and talked to nearly 4,000 boys and girls about the sport she's been playing since the age of four and knows as the Creator's Game.
Wasler is an elite athlete from the Beausoleil First Nation near Georgian Bay, Ontario who represented Canada on the junior and senior field lacrosse teams. This summer at the 2013 World Cup, she competed at the international championship for another nation, the Haudenosaunee.
"Lacrosse is the only sport in the world that has all-native teams that compete as a nation because of the history," she says. Competing in the Czech Republic, some Europeans marvelled at her, just as they had gaped at Aboriginal athletes in Paull's day.
"They were taught First Nations people were wiped out entirely," she says. "They would touch us and they couldn't believe we existed."
Wasler, 36, has lived in B.C. for 15 years and will coach the U16 Team B.C. boys lacrosse team at the North American Indigenous Games next summer in Regina. Sam Seward was also teaching lacrosse in the region's schools and he travelled to Cowichan for the 2008 Indigenous Games.
One of the players selected to the U16 team for 2014 is Corvin Mack, a 14-year-old Wet'suwet'en midfielder who skipped a grade and plays midget for the Vancouver Burrards. He's making a transition from a box goaltender to a midi on the field, partly because he likes to run, but mostly because field lacrosse is the fastest-growing collegiate sport in North America. Scholarships are available for thousands of athletes, more than any time in the sport's history. 
Mack says he was a short, chubby kid who needed a reason to run around. "My dad heard that lacrosse is the fastest sport on two feet," he says. Lacrosse isn't an essential part of his Aboriginal identity, but the Indigenous Games are bringing more opportunities to compete and train, he adds.
After only one year playing field lacrosse, 17-year-old Selena Lasota, who grew up in Campbell River and is of the Katzie First Nation near Pitt Meadows, signed with Northwestern University, the continent's most accomplished women's varsity lacrosse team and the defending 2013 NCAA Division 1 champions.
Like Wasler, Lasota grew up playing box lacrosse with her older brothers and her Aboriginal heritage becomes more meaningful to her identity as a lacrosse player as she learns more about the sport, she says. "I think representing [myself] as an Aboriginal person, but also as a Canadian player is really cool."
Mack and Lasota are promising Aboriginal athletes and two members of a new generation of lacrosse player. Wasler and Seward pique the interest and hone the skills of countless more when they put on workshops at B.C. schools. Some Aboriginal kids who'd never heard of lacrosse know immediately how to cradle the ball and handle the stick with very little instruction, Seward says. This behaviour is known as a "living blood memory" to Downey, the academic who studies lacrosse and its significance in Aboriginal society.
"Your Aboriginal identity in your blood has this memory inside of it. And lacrosse is part of that," Downey says. "It's something that connects Indigenous nations across North America. You really start seeing the re-empowerment of Indigenous communities through this game."