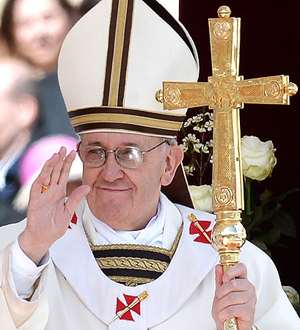 Today marks the 100th day of Pope Francis I's tenure as head of the Roman Catholic Church.
After Pope Benedict XVI became the first Pope in nearly 600 years to resign, Pope Francis I (formerly known as Cardinal Jorge Mario Bergoglio) was called to reconcile the Church with the thousands of followers whom, amidst sex scandals and the Church's conservative views on homosexuality, birth control and feminism, turned their backs on religion.
Daniel Gawthrop is one of those followers. He left the Church tired of waiting for radical change, and now considers himself an atheist. But he doesn't shy away from having a strong opinion on the Church and its leaders.
Gawthrop is just days away from publishing The Trial of Pope Benedict: Joseph Ratzinger's and the Vatican's Assault on Reason, Compassion, and Human Dignity (to be accompanied by a book launch party, a free event in Vancouver on June 25).
In the book, Gawthrop accuses the German priest of promoting "a toxic theology whose destructive impact can be felt far beyond the church itself."
The Tyee spoke with Gawthrop to get his insight on the new Pope's election and his first 100 days in office.
What was your reaction when Cardinal Bergoglio was elected as the new Pope?
"Well, I was curious, because I didn't know anything about him. A lot of people didn't.
"Right away, as soon as information came out about his background and his real close affinity with the poor, and also the allegations about his involvement or lack of involvement during the dirty war, he was very intriguing.
"I thought that the choice of cardinals they had to go with was always going to be of the same kind of conservative claw, but he seemed to be quite different. It seemed to me that he was very, I wouldn't say an enigmatic figure, but certainly there were obviously two sides to him.
"If you look purely at the church's doctrine, at what Catholic policy is and all the big issues of sexuality and bioethics, he was a doctrinal conservative. He was obviously against abortion, birth control, women as priests, gay marriage, and all those things. But then, on the other hand, he was an outspoken critic of the IMF and the World Bank. He was really active in attacking poverty and the structural causes of poverty."
What do you think the Church tried to accomplish by naming someone like him?
"Going into the conclave, the cardinals knew that [Pope] Benedict's choice was one of either Angelo Scola -- a very experienced, a very long-time member of the Roman curia -- and Marc Ouellet from Canada. Both of those guys were very doctrinal conservatives, very much defenders of ideas like the papal infallibility, or Rome has the final word. They were very much the controlling types.
"If you compare it to a company choosing their next CEO -- and this is a company that's losing members of the flock because of scandals that are going on with sex-abuse issues and the Vatican bank -- their thinking must have been: 'We need to have someone who's really going to be seen as different, someone that's going to blow some fresh air into this place.'
"I think, from that point of view, that Bergoglio was an inspired choice.
"Then, if you look at the first 100 days, he hasn't done yet anything substantial in terms of taking any action either through encyclicals on things or reassigning people. But from what I understand that's not supposed to happen until the fall, when he's going to appoint a new secretary of state. What he's doing now is he's putting his style stamp on the papacy, and he's winning back the hearts of the flock, because the person he was replacing was thoroughly unlikeable, thoroughly inaccessible.
"From this point of view, Francis has been a success so far. He's done a number of things that have drawn people closer -- from his comments about atheists being OK and blessing a bunch of 35,000 Harley Davidson riders.
"It's very strategic for him to do this; it makes a lot of sense. But if he's going to do some tough things like get rid of Angelo Sodano and Tarcisio Bertone in the fall, then he better have a lot of people behind him and a lot of good will, because it's going to be tough."
The Church's biggest niche is Latin America, which tends to be more conservative on social rights. How can he turn the church more liberal without losing Latin American followers?
"Cooming from Argentina and having spent all those years in the slums of Buenos Aires, he knows the answer to that. He's going to be very strategic about it. So far, what he's indicated is that he's going to be true to his roots in terms of focusing on the practical side of the gospels, and making those real for people.
"The answer to that question depends on how bad the sex abuse is in Latin America. If there's been a lot of cover-up there -- as everywhere else -- and if there are a lot of people involved, well, then he could have some problems if he decides to go after that in a big way.
"Otherwise, I don't see a lot of resistance happening in Latin America to what he's doing. He's not going to alienate his Latin American followers, because he's not going to change his views on birth control and his view on women as priests.
"On the conservative side of the ledger, he came out not long after he was named Pope supporting Benedict's crackdown of U.S. nuns for being too feminist. I don't think there's a very big risk of alienating his followers in Latin America unless he goes after some of the big Cardinals.
"I think he's in harmony with the culture of Latin American Catholicism, with one exception: it was fairly widely known that he challenged the proposal to bring in gay marriage [in Argentina], and he had this widely-published very-strong statement against gay marriage. But a couple of months later, some more research dug up that behind the scenes he was pushing to get the Argentinian church leadership to support gay civil unions as an alternative to gay marriage. This would indicate that he's at least pragmatic, but he got slacked down for that. "
Do you think that's what the church needs, a Pope that's willing to push for reforms even if he personally disagrees with them?
"The problem is the Catholic Church has gone so far to the right in the last 30 years that I think someone more liberal than him would be too much of a shock to the system. I don't think the Church could handle it.
"My own opinion is: sure, that's what they need. I mean, maybe, given his age -- he's 76 -- he could be a caretaker Pope. Maybe they elevated him to the position because they want to see how far he might go and how people would respond to that.
"On the doctrinal issues, he may have some difficulty in terms of reconciling the need to get more in touch with the people and the need to get real about the modern realities. If he can't evolve while he's Pope on issues around birth control and the various other issues on sexuality, he's not going to bring back a lot of people who have been alienated in North America and in Europe. From that point of view, I think the Church needs someone more liberal, but I don't think the Church is capable of having someone more liberal right now."
So, then, what's your read on Pope Francis' first 100 days in office?
"Style is actually quite important in terms of the Church. Style is a big thing before you get to the substance of policy, and... just having someone who is willing to encounter people in a very immediate and personal way is huge.
"Pope Benedict was a remote intellectual, a very solitary figure who was much more into just holding himself up and reading than actually meeting with the flock. He sent a bad message. Francis is really a breath of fresh air from that. I mean, if you have someone like me, who is a declared atheist, tweeting some of the things he's saying, that's fairly big. I'm as jaded and cynical as anyone, and when he makes a comment about atheists that a Vatican spokesperson corrects the next day, that's pretty significant.
"I would look at him as someone who's obviously behind what I'd like him to be for the Church, but I think right now he's as good as it gets."
What's next for Pope Francis and the Roman Catholic Church?
"It really depends on what happens in the fall. Like, when he gets down to business, and when he actually decides who's going to be in the college of bishops, and who's going to be the next secretary of state. That's really going to make a loud statement about where he wants the papacy to go, where he wants the Church to go.
"Also, people are really anxious for him to do to the Vatican bank what he's constantly urging world leaders and the business community to do about the IMF and the World Bank. And really, only the Pope can appoint the people and issue the edicts that will lead to some change in terms of getting better transparency.
"He really needs to be clear that when it comes to corruption within the Vatican -- the 'gay lobby' and the priests and clerics who are subject to blackmail -- he's talking about dealing with corruption itself, and not using sexuality as the issue; unlike cardinals Sodano and Bertone who blame homosexuality for the sex abuse crisis, stupidly and immorally. Because, let's face it, if he's going to go after homosexuality, he's going to have a pretty empty Vatican."