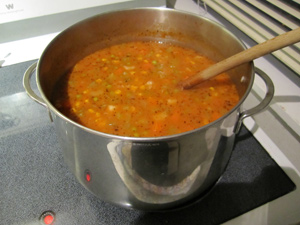 There's something about making soup that makes me feel (absurdly) virtuous and has led me to photograph the results and post them on my Facebook page. I have no idea why, as I never post anything else personal on my FB page.
Even more bizarre, it turns out I am not alone. This weird urge to document a meal -- foodtography, as the Flickr group calls it -- is so widespread that a marketing company is looking for a way to cash in on the trend. It won't be easy. In analyzing the pics whizzing round the twit-o-sphere, they've found that only 12 per cent of the photos make mention of any brand.
"Food-related marketers could be doing more to insert their brands into photo sharing trends," opines a digital marketing company.
So they set about analyzing the fad into a pie chart (of course). They found that about a quarter of people are just keeping a diary of what they ate, which makes my joke about Twitter being the narcissist's lunch report seem less funny. Another 20 per cent are doing what I did: flattering their own vanity by recording an accomplishment. Fewer than eight per cent are doing what we might expect people to do: reviewing restaurants. And surprisingly few are celebrating with friends over food -- only 10 per cent of the shots include people.
They draw no conclusions to aid entrepreneurs, but I suspect that some foodtography is another expression of what I long ago noticed: North Americans use food as codespeak for that verboten topic, class. As I explained to a British friend who marvelled at the lack of class-consciousness here: "It's hidden: here, chowing down at McDonalds is the equivalent of having the wrong sort of accent."
In North America there's a peculiarly petit bourgeois obsession with food and booze that uses comestibles as status symbols. "I just came back from the farmer's market with LOCAL blueberries and vegetables..." an acquaintance gushes on Facebook. She then adds, smugly, that she cycled to the Westside market. She has photos to prove it.
It's a subtle form of boasting about her wealth and superiority as a locavore. In order to give up her car she needs to be living in a pricey urban neighbourhood (Kits); she needs to be able to pay a premium at a farmer's market; and she needs to have the leisure necessary to make a fetish of food.
Is it any wonder I think of these people as the New Puritans? Bragging about their moneyed existence under the guise of living an ascetic life.
Then there are the food pageants -- we used to call them dinner parties -- with blatant one-ups-manship in both the menu and the conversation. I won't bore you with the long-winded and mind-bogglingly dull chatter of the self-satisfied foodies. While everyone else oohs and ahhs at the discovery of some cheese-making artisan secreted away in the Gulf Islands, I'm more inclined to ask about the health-and-safety standards of such enterprises. Having covered a lot of stories involving food-born-illness in my youth I'm suspicious of many a food purveyor from street treats to salads-in-a-bag, and I'm especially wary of any food flavoured with self-righteousness.
But at least I stay awake during the quasi-religious declarations of how this is the holy grail of fill-in-the-blank. I've had to listen to people go into raptures over olive oil. Oh, and sea salt. My friend Kit admits he once fell asleep sitting up as one of those hellishly pointless conversations on wine went on for an hour.
"They're not vintners: What could they possibly find to talk about for an hour?" I wondered aloud.
"Nothing. Ab-so-lutely nothing," he replied, with a haunted look in his eyes.
Then he admitted to a hangover from all the booze he guzzled to numb the boredom, confirming what I've long suspected: being an amateur oenophile leads to alcoholism -- frequently in their friends.
Naturally I detest most contemporary food writing, which fosters this particularly tedious form of consumerism. It seems to consist of an endless parade of atrocious scribes cadging free meals while promoting the businesses that buy ads in their media. No doubt marketers are already hiring people like this to foodtograph brand names in situ and tweet them around.
But there's a more interesting wing of the food-obsessed world that includes chefs, farmers, sommeliers and the anthropologists who explore why much depends on dinner.
One of my favourite novelists, the late Laurie Colwin, had a sideline as a food writer for the now defunct satire magazine Gourmet and her slyly comic essays offer a clue as to what foodtography is about. Amidst all the elaborate menus aimed at pranking the sort of desperate strivers who engage in competitive cuisine, Colwin's column covered Home Cooking with a gimlet eye. Her essays have titles like "Alone in the Kitchen with an Eggplant," suggesting naughty things are likely to happen. The food meditations are just as astute as her short stories, albeit with recipes attached.
She shows us how cooking can be a genuine means of self-expression and a way of revealing character. Via Colwin's nostalgia we get a snapshot of what it's like to be a New Yorker from the 1960s until her premature death in 1992. There are funny anecdotes of meals cooked in her micro-apartment in Greenwich Village, where she whips up spaghetti on a hot plate and does dishes in the bathtub. It's clearly the forerunner of the sort of domicile now celebrated in ApartmentTherapy.com, although guests in that wealthier era were horrified at her set-up. Her tales of dinner parties she has known -- repulsive and otherwise -- are funny, authentic, and they show us the origins of some of the pretentious foodie horrors we now endure.
She recalls one hostess enthusiastically answering the question about that thing in the raw pumpkin with, "It's an Argentinian dish!" Colwin notes that on hearing those words, she "...felt a little snake of unhappy anticipation crawl up the back of [her] neck." And don't we all know that feeling.
Colwin writes comedies of manners that often have her compared with Jane Austen, and her gentle satires full of eccentric characters remind us of just how social eating is meant to be. Which is what I think is really behind the current mania for photographing our meals, and why the marketers will be hard-pressed to monetize this quirky trend.
A huge number of us eat alone, in restaurants, on the fly, while scrambling from one obligation to the next, and in that context circulating images of our meals makes more sense. It's one way of making contact with the dinner companions we wish were here. The subtext is that you must really adore a man to care what he had for lunch.
Food shots can also serve as an invitation. Within moments of posting my culinary achievement on Facebook, my pal Darron sent a message: "Bean soup! I'm coming by for dinner."
Which is why I think that for most of us foodtography may actually be a subconscious attempt to live up to E.M Forster's challenge to modern alienation: "only connect."
© Shannon Rupp. For permission to reprint this article please contact the author: shannon(at)shannonrupp.com.