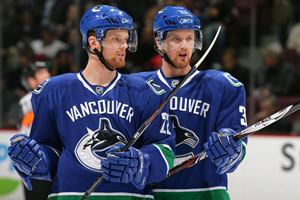 "It was the best of times; it was the worst of times."
Possibly Charles Dickens's most useful and versatile line -- applicable to almost any era or situation. It certainly works for the Vancouver Canucks. In this season of global fear and national rhetoric, you would at least expect Vancouver hockey fans to be experiencing little but unbridled joy and happy anticipation. But that is not the Canuck way, is it? We brood. We worry. The Canucks ran away with the league title, have the best record in their history, and are set to watch Sedin, D. match the prize-winning feats achieved by Sedin, H. last year. Yet President's and Art Ross trophies notwithstanding, there is much to brood upon.
To begin with the most serious subject, consider Manny Malhotra and Dan Hamhuis. Both men have suffered frightening injuries -- Malhotra's in particular, a deflected puck flush on the eye resulting in two surgeries, thus far and a flurry of rumours. The best case scenario is said to be 80 per cent vision in the injured eye -- the worst case, as anyone knows, the beginnings of a very realistic pirate costume. As for Hamhuis, he unwittingly became a poster child for the NHL's issue of the year by suffering his second concussion of the season, the fourth of his career.
The ruthless fan
These sorts of injuries lay bare the awkward nature of fandom. EA Sports this isn't -- the team we love is comprised of men. An honest fan must confess to the psychological struggle involved in adopting the proper attitude here. Concern for the well-being of Malhotra and Hamhuis must come first -- we fervently hope that these injuries will not repay their hard work with long-term disability. Yet who amongst the faithful has not fought the urge to see these events in more practical terms? In Malhotra, we lose arguably the best third-line centre in the league, while Hamhuis's problems threaten to scratch the team's steadiest defenseman just when he is most needed.
The split nature of our regard for sports heroes was at its starkest when young Luc Bourdon, set for a promising career on the Canucks blueline, was killed in a 2008 motorcycle accident. This was a human tragedy, pure and simple. Most Canuck fans took it exactly that way. Yet it was also discussed in chat rooms as more evidence of the team's bad luck with draft picks. As news of the fatal accident broke, one fan named Johan left this comment online: "Condolences to his family... I know it's an inappropriate question, but do the Canucks get compensated?"
Easy to be righteously appalled, but such reactions are almost inevitable. We who live and die on the fortunes of athletes we will likely never meet must be forgiven if we sometimes have trouble seeing them in three dimensions. We are too invested in their uniformed avatars to reduce them to flesh and blood -- especially not now, when the prize seems so close.
Hardened against hope
And there lies the other nagging worry for Canuck followers. The latter half of the team's season, largely as smooth and satisfying as the progress of a great white shark through a pod of overweight harbour seals, has paradoxically left some veteran fans tied up in knots. It's like approaching an intersection on a green light --things can only get worse. Vancouver hockey aficionados can bend your ear for hours with depressing precedent. We've been burned many a time -- for the last two seasons by the same team on the exact same calendar date. This year may be different. The Canucks might meet the Chicago Blackhawks in the first round, which could mean Vancouver would be eliminated by the Hawks in late April instead of May 12. It would be a change, at least.
But then, based on the regular season this is the best Canucks team ever. There are plenty of reasons for optimism. Just don't expect to hear many of them from veteran fans. We're afraid to hope.
At least we can hope for this: health and happiness for our wounded warriors -- a long, visored career for Malhotra, a full recovery for Hamhuis, no more freak accidents for poor, benighted Sami Salo. The Canucks have a truly fine team, and they've had a truly remarkable season. Let's try to enjoy the moment. Who knows what tomorrow may bring?
How about you? Allowing yourself to hope? How far do you think the Canucks will go in the playoffs? Post a comment, please.