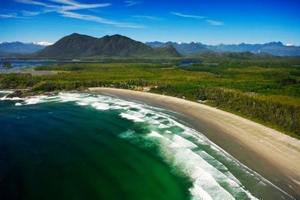 For surfers, a beach break has an ephemeral quality. A sandbar might last for months, or might be removed entirely by the next storm. In a few hours a storm can completely resculpt a beach. What this means for the surfer is -- "keep paddling." For the resort or property owner things are not that simple. Such, alas, is the nature of money, investments and perhaps hubris.
Recent events in Tofino remind us that a beach is dynamic in nature and ever evolving. Three hotel owners at Cox Bay erected rock walls in an attempt to reduce erosion in front of their properties. The walls were ordered removed by the province because they had been constructed partially on foreshore Crown land. The three hotel owners are appealing the decision.
What is clear is that rock walls at best represent a temporary solution to land erosion and in some instances might actually accelerate it.
Strolling a logjam
Long time Tofino resident and surfer Ralph Tieleman can remember walking on logs in Cox Bay as a kid. "There were so many logs. You could walk from one end of the beach to the other without stepping on sand," says Tieleman. No more.
Those logs acted as a de facto breakwater at Cox Bay. For years Cox Bay experienced erosion in the winter and accretion of soil in the summer. Over time the logs would slowly decompose, adding to the soil base of the land. The roots of standing trees further prevented erosion.
O'Neill Cold Water Classic winner and Tofino native Peter Devries grew up just north of Cox Bay on Chesterman's Beach. He understands the desire of property owners to protect their land -- it's just a matter of how. Devries' father Ralph put up beach logs to protect their property, and Devries notes that there has been no erosion in 20 years at the property now owned by Sarah McLachlan.
Devries does recall that the first year that rip-rap rock walls went up at Chesterman's was cause "for the worst sandbars ever at North Chesterman's Beach. I was just talking to Harold Sadler about that the other day. But in the last year the waves have that classic A-frame shape they had before."
'Old school approach'
Harold Sadler, 48, grew up in Tofino and has been surfing there ever since he was knee-high to a shortboard. Sadler concurs that North Chesterman's went sideways for a while after the rock walls but have since improved.
Sadler feels "it is very hard to say with beach break what the effect rock walls have." He also points out "a lot of these people putting up rock walls aren't faceless corporations but people who live in the community and give a lot back, including trail access to the beach from their properties." Sadler feels "torn." He understands the need to protect private property, but would like to see more research done. "Dumping tons of rocks to make a wall is an old school approach," says Sadler.
There was no significant erosion at Cox Bay until five years ago when local resorts began to cut down trees and vegetation to allow for beach views for ground level visitors. Camping saw thousands of visitors slowly remove logs from the beach for firewood. A decline in logging resulted in fewer logs washing up on the beach. Also, logs are now transported on barges as opposed to rafts, so fewer stray logs wash up on the beach.
As a result of the decrease in logs on the beach and the removal of trees and vegetation, which provide root stability, land accretion slows and this acts to destabilize the berm transition area of the beach. Bigger waves arrive and tear everything out, further destabilizing the land.
Ugly rock walls
"Something dramatic has changed," says Tieleman in reference to the Cox Bay walls. "You could argue it is circumstantial evidence. But what is to explain a four foot drop in the beach in the past six months?"
Devries agrees that there have been a lot of changes in the sandbars at Cox Bay since the rock walls have gone up, but not necessarily for the worse. "The wave in the corner isn't as good as it used to be," says Devries. "But there are some new pretty fun waves further along the beach."
"One thing that would be nice is that, if the rock walls are to stay, is to make them more aesthetically pleasing," says Devries. "One of the reasons people come to Tofino is for the beaches and those rock walls don't look good."
An approach called 'managed retreat'
Naturally private property owners should retain the right to protect their properties against erosion. The important thing is that they don't encroach on the res communes of the beach. So what to do?
Surfrider and other environmental groups have begun to advocate a plan they call "managed retreat." This plan would allow a homeowner to keep a home for 20 to 50 years behind a "temporary" seawall. But such a plan would eventually recognize that the sea is going to claim the property. The property owner would either be compensated with a buyout of property or by getting a tax easement on the land.
The most important thing to remember is that a seawall is never built to protect the beach. Rather, it is built to protect property, structures or a cliff from erosion.
Naturally this problem extends to most shore-front property in Canada and elsewhere. With much property development slated for the south coast of Vancouver Island, one hopes that lessons can be learned from the Tofino experience and innovative solutions found. Who knows, it might even be as simple as a wall of logs.