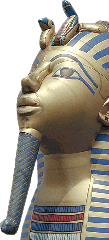 [Editor's note: Tyee contributor Steve Burgess is filing the occasional dispatch from his Europe and Middle East travels.]
I'm here in Cairo working on a provocative new theory about the death of Cleopatra. I have come to believe it was all a big misunderstanding.
Cairo is Africa's biggest city, and unlikely to win blue ribbons for any other distinction. The Egyptian capital is a chaotic, polluted madhouse, as even Egyptians are wont to point out. It is also home to some amazing historical treasures, many of which are still in service as taxicabs.
Others are stored at the incredible Egyptian Museum, where stern signs warn: "No laser torches." Check. (On the other hand I did not see a single sign reading "No photography," and yet was almost thrown out for not knowing it instinctively.) Leaving aside the famous Tut treasures, there are antiquities a-plenty and even some mummified crocodiles. But everyone wants to see the famous mask and coffins of the Boy King, and they are worth the trip -- particularly since they are in the only air-conditioned room in the place.
Meanwhile, the greatest treasure of all awaited me in the gift shop: "The Inflatable Boy King." It's a full size King Tut punching bag -- only 14 bucks. The clerk assured me that as far as she knows, I am the only person ever to buy one, driving the value up even more. I was hoping to find a beanbag chair shaped like Pharaoh Akhenaten -- better known to history as father of the Inflatable Boy King. Did you know historians believe he may have been punctured?
Her asp was noisy
To my theory, then. Cleopatra is said to have committed suicide by means of a poisonous asp. Having spent a few days in her old, 'hood I am convinced that after hearing the snake hiss, the legendary queen actually walked over it, perhaps in the belief that some palace flunky was calling her to the royal telephone. Because that's what people do here -- they hiss. It's rather disconcerting. People coming up behind on bicycles, or attempting to get someone's attention across a room, will hiss, and occasionally add some creepy smooching noises.
Sad but true, there are many annoyances awaiting the visitor to Cairo. As in the old medinas of Morocco and some sections of Istanbul, Cairo's tourist attractions and markets are gauntlets of mercantile pressure. Here the art of salesmanship frequently crosses the line into outright bullying. One's natural trust crumbles under the realization that virtually every friendly enquiry and casual conversation will rapidly morph into a very hard sell indeed. Ask for directions to some particular spot and you will eagerly be led to your destination, which always turns out to be the shop of your new friend's brother, where great deals await.
If this quickly leaves the visitor snarling and resentful, well, it's sometimes mutual. One merchant began screaming at me when I refused his offer of a "gift," while another followed me down the market lane repeatedly bellowing, "Welcome to Egypt!" There's battle fatigue on both sides.
Paranoid among pyramids
Nonetheless, one day I took the trusting plunge. After visiting the pyramids, I was wandering around the dusty Giza streets, passed by donkeys and once, a small herd of sheep. I struck up a conversation with a couple of locals returning from Friday prayers, and with a bit of hesitation accepted an invitation to join one of the men at his home for tea. Mohamed seemed like a nice guy. First we went to a decidedly un-touristy local market, full of raucous geese and chickens and some quiet rabbits, as he shopped for the family groceries. Then to his home, with a lovely rooftop view of the pyramids. His mom, dad, and pregnant wife stayed downstairs while we sat upstairs watching BBC News and having our tea. In his bedroom. "There is a Canadian teacher living downstairs," said Mohamed. "He is homosexual."
Oh, dear. I had been afraid that topic would come up. "Homosexuals are nice people I think," Mohamed said. "Very peaceful."
Certainly true, I agreed. On the other hand, the European football championships are coming up, and hey, aren't those pyramids something?
To my relief, Mohamed seemed quite content to drop the subject. He was by all accounts simply a man honoured to offer hospitality to a respected foreign visitor. I was a little ashamed of my nervousness, but the sad truth is that if a few days in Cairo don't make you paranoid, you probably don't know the whereabouts of your pants and wallet right now.
Toast of the town
Eventually Mohamed called an unspecified relative to drive me back to my hotel (for the going rate, of course) in a 1975 Peugeot -- a sweet ride in these parts. Seatbelts would have been nice, but I've done worse on this trip.
In one taxi, the passenger seat was in effect a rocking chair. Another taxi driver stopped for me, confidently quoted a price after I stated my destination, and then started flagging down pedestrians looking for someone who could explain where I wanted to go. Most Cairo taxis are ancient Fiats or, bizarrely, battered Russian Ladas. No Trabants, thank Horus.
By the way, if you are curious about Canada's image in Egypt, consider: on the day I visited the pyramids, well over a dozen Egyptians asked where I was from. "Canada," I replied. Every single person -- without exception -- immediately replied: "Canada Dry!"
I wonder what response the French get?
Related Tyee stories: