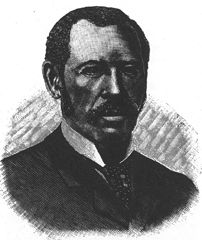 This year is the 150th anniversary of the creation of British Columbia. Commodore Books will celebrate the anniversary by publishing a new edition of my book Go Do Some Great Thing: The Black Pioneers of British Columbia. The book first appeared in 1978, 120 years after the arrival of the blacks from San Francisco at the start of the 1858 gold rush.
Revising the book gave me a chance to renew my acquaintance with those remarkable pioneers, and to learn more about them. I was especially happy to get to know Mifflin Gibbs a little better.
Almost no one today knows who he was, but he was a critically important person in B.C.'s first decade, as well as being a major figure in 19th-century black America.
Summarizing his achievements is a challenge: Abolitionist agitator and a worker on the underground railway in Philadelphia. Shoeshine boy, boot merchant, and newspaper publisher in gold-rush San Francisco. First competitor with the Hudson's Bay Company in gold-rush Victoria. Builder of B.C.'s first railway, in the Queen Charlotte Islands. Victoria city councillor and acting mayor. Member of the Yale Conference that framed the terms of B.C.'s entry into Confederation. America's first elected black judge, in Little Rock, Arkansas. U.S. consul in Madagascar in his 70s, and founder of a bank on his return. He died rich in 1915, aged 94.
A black Horatio Alger story
His life was a classic Horatio Alger story, except that he was black. His father, a preacher, died when Mifflin was a little boy. His mother supported the family as a laundress. He educated himself in the amazing intellectual ferment of pre-Civil War black America, through "reading societies" and political conventions.
Discouraged by his prospects in Philadelphia, he got blunt advice from Julia Griffith, the English comrade of abolitionist Frederick Douglass: "What! Discouraged? Go do some great thing."
Prospering in San Francisco and Victoria, he wooed and won Maria Ann Alexander, whose studies at Oberlin College made her probably the best-educated woman in British Columbia.
Gibbs's achievements were all the more remarkable given his time and place. The U.S. Supreme Court had ruled that free, native-born black Americans could not be citizens. B.C.'s colonial government (led by James Douglas, himself part black) cynically exploited the black pioneers' yearning for freedom, equality, and the vote.
Yet he succeeded here, and back in the U.S. South, despite a climate of racism that only worsened as he grew older. What made him such a man, and what made such a man gamble against such odds?
After thinking about him for 30 years, I'm still not sure. In his shoes, I'd probably have lost my temper, gone off to Harpers Ferry with John Brown, and thrown my life away.
Gibbs was too smart for such melodrama. He sized up his surroundings, decided what he could achieve, and moved on when he could achieve no more. No matter what it cost, he bet what he had -- less the cost of a ticket to the next opportunity.
Beating the old fogeys
In B.C., he delighted in competing against the "old fogeys" of colonial Vancouver Island. In the crazy gold-rush spring of 1858, he used his carpentry skills to build his own store, and made a fortune from it.
Gibbs bought a lot at Michigan and Menzies in James Bay, built a house on it, and hired a Haida as his manservant. The same man would welcome him on his arrival in the Queen Charlottes years later.
While the U.S. Civil War raged, Mifflin Gibbs supported the African Rifles -- B.C.'s first, and all-black, militia unit. He plunged into colonial politics. When he attended a fund-raiser at a local theater, and white thugs threw flour over him and his pregnant wife, he erupted into a fistfight. Despite the punch-up, Gibbs became a city councillor who put Victoria's finances in order.
As an American immigrant, I admire Gibbs's courage in adventuring into new country. But why didn't he stay? Why did he go back to a psychotically racist America?
Maybe it was what drew many American war resisters back to Jimmy Carter's amnesty in the 1970s: Canada was a good port in a storm, but it wasn't home. Reconstruction America looked wonderful to the black pioneers in B.C. In his mid-40s, Gibbs studied law in Oberlin and then roamed the south looking for opportunities.
A perilous success
Before long, he must have been wondering why he ever left Victoria. His brother Jonathan was a state official in Florida, but already sleeping with a pistol while the Ku Klux Klan patrolled outside his house. In Arkansas Gibbs risked his life promoting the Republican Party, and when the party made him consul in Madagascar, he learned he had to pay his own rent.
The bank he founded in his old age was another disappointment: After prospering for a few years, it collapsed thanks to sloppy administration. Gibbs kept most of his personal fortune intact, but narrowly escaped jail.
Whether in Canada or America, Mifflin Gibbs was an overreacher. The Queen Charlottes mine cost him far more in time and money than he'd imagined. Almost as soon as that project was over, he sold out his considerable holdings in Victoria and plunged back into the U.S. By then his wife had already left him, returning to Oberlin for the rest of her life.
A willingness of the heart
When I think about Mifflin Gibbs now, a line from Scott Fitzgerald comes to mind: "America was a willingness of the heart." That he had. Whatever the odds against him, he was willing to beat them. If anything, he wanted the odds to be against him, just to make the victory sweeter. So he deliberately reached beyond his grasp, and still succeeded in grasping the prize.
Like many of the American émigrés in 1960s Canada, I was more conservative than Gibbs. I blundered into a teaching career that's now lasted over 40 years. I bought a house and settled down. Like my hero Northrop Frye, I've managed to live a life in which nothing has happened. My challenges have all been intellectual: to adapt my teaching to computers, to write novels, to understand the nature of online communication.
Mifflin Gibbs needed more than that. He needed to put his life on the line, whether in gold-rush San Francisco or the Queen Charlottes or Little Rock or Madagascar. If someone had shot at him in the theatre ruckus, instead of just throwing flour on him, he might have stayed and ended up premier of British Columbia.
Maybe we Canadians should take it as a compliment that such adventurers find us dull. Once we were a place where brave or desperate men might rip a fortune out of the soil or trees or fish.
Now we're the best place in the world, the place where such men park their families while they rip a fortune out of Chinese factories or South American mines.
Still, I miss my old friend Mifflin Wistar Gibbs. I wish someone like him would arrive in B.C. on a fine summer morning, with a mentor's advice ringing in his ears: "What? Downhearted? Go do some great thing!"
Related Tyee stories: