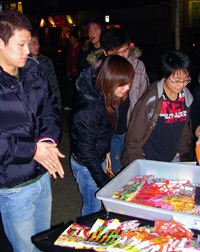 We Korean immigrants are a sentimental lot. Some of us find it a real struggle to adapt our taste buds to the culinary habits of this country. To be fair, the Koreans I know rave about the exotic fruits (mention golden kiwi to a Korean woman and see her swoon!), the fine cuts of Albertan beef and, ahhhh, the fresh seafood available on these shores. But we remain attached to foods from the motherland. I indulge in the occasional sliced pork hock or stinky tofu, shipped frozen vacuum-packed from Korea. Some things from "home" soil just can't be reproduced.
So it follows that when any Korean relative or friend emerges from Vancouver International Airport customs unscathed, it's a small miracle. An "immigration" suitcase (a moniker given to those multi-levelled zippered suitcases that can extend to a monstrous size able to gobble up at the very least two anorexic Korean teens) often carries a year's supply of hot chili powder, dried kelp and tiny anchovies -- a cornucopia of dried, salted and marinated foodstuff.
My mother's secret weapon against the terrifying power of Canadian Customs, is, as she smilingly puts it, Jesus Christ. "A short prayer before landing, and look! Thirty years and I haven't been caught yet!" Jesus saves and protects us all.
Thus, it was no real surprise to me when I found in Vancouver, at the Denman end of Robson, in the Korean student ghetto comprised of hot-pot restaurants, Internet cafés and karaoke bars, an example of Korean entrepreneurship. Twenty-one-year-old "Kim" had an open suitcase full of wares that flaunt customs regulations.
He was selling candy.
Not the super tasty, deliciously packaged and cleverly marketed brands, tied to popular anime or video games, easily bought at slightly inflated prices at most Korean stores and pan-Asian super-markets. Oh no, no. This is the crappy variety, remembered only by those Koreans raised during the 60s to mid-80s, the "developing" years of the Korean economy, when polio shots were mandatory, TB check-ups were de rigueur, and government trucks engulfing whole neighbourhoods with anti-malarial spray were just part of the summer scenery.
Cultural glue
Kim's luggage held no Willy Wonka-esque world of flavours and colours. Just sugar artificially flavoured and coloured, encased in thin plastic straws, or solidified into tiny multi-coloured cubes, stars and animals. Sugar modified by xanthan gum, stretched and flattened out into chewy caramel strips.
Funnily enough, I bought the only non-sucrose, non-edible item of the lot: a small tube of bond-glue with an even tinier plastic straw. The point of this item is not what you're thinking. Really, it isn't. Let me set it out for you. Step 1: squeeze out glue into tiny, tiny ball. Step 2: fasten tiny, tiny ball onto tip of tiny, tiny straw. Step 3: blow ever so delicately. Step 4: admire (do not sniff) small bond glue bubble, balloon, whatever. Step 5: do not sniff bond-glue, do not!
A Korean woman also picked up the glue, and smiling, she said: "Ha, it's bul-ryang-sik-poom -- sub-quality food." (This pejorative, but accurate stamp was part of the Korean government's campaign against such products.) So cool! How did you get this? Do you have a license?"
Mr. Kim smiled and replied: "It's only been three days so far. I figure I can get the licence when I get picked up by the police. It's been good so far."
Generational taste
Despite its sub-quality food-status, this type of candy has a certain retro-kitsch and sentimental value. Some years back during the IMF crisis (the late-90s Asian economic crisis period), some food companies re-released old ramen (noodle soup) brands and other packaged foods in their old 60s or 70s packaging. Their strategy was to link these products with the "tightening waistbelt" sentiment that was popular during those economically troubled times, and increase their appeal.
So this sub-quality candy appeals to the nostalgia of certain generations of Koreans. Ones who know and sentimentalise "sub-quality" MSG-full ramen and sub-quality candy, because simpler tastes and flavours recall a simpler time, before the hectic pace of globalization and westernization that have engulfed Korean society. Subquality candy doesn't quite have the sophisticated ring of Proust's "madeleine" (involuntary memory) effect, but often I hear and share this wistfulness in the childhood memories of Koreans my age and older.
They describe these simple, plain candies and snacks bought from the pushcart vendors and the simple games they played until at last the playgrounds would grow dim and ring with the voices of their mothers calling them home. They tsk-tsk at Korean kids today subsisting on burgers and online games, with their days spent being shuttled from one organized after-school activity to another.
Lotus land, reimagined
Observing Mr. Kim and his wares makes me realize that there is a critical mass of Koreans here in lotus land, enough to support a nostalgia-based trade with cultural markers unfamiliar to Canadians.
A similar realization hit me when I saw the first izakayas (Japanese-western fusion bars/restaurants) muscle into the Vancouver Asian eatery scene, then populated by teriyaki and sushi joints. It means that there is enough cultural traffic between both sides of the Pacific to trade new products and experiences that may not fit the older expressions of North American Asian cultural production and consumption. Simply put, it shows that karaoke, all-you-can-eat-sushi and Mongolian grills no longer represent all the possibilities of this cultural trade.
Hanging around Mr. Kim's open suitcase that evening was a young Taiwanese family, partaking, I suppose, in a larger, evolving pan-Asian experience. Mr. Kim's candy offers a small example of how cultural products migrate among different societies, some to meet a need for cultural preservation, and others to undergo a certain reinterpretation, reinvigoration -- something that academics call transnational fertilization.
But as always, I'm getting ahead of myself. Let's see if Mr. Kim gets his license. And please, don't sniff the glue.
Related Tyee stories: