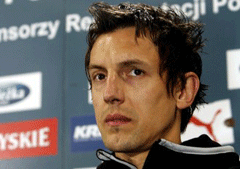 My family has a rule: no drinking before noon. (A little Irish cream in the coffee doesn't count.) This month, however, I have broken and will break that rule several times as part of the World Cup family.
Gatherings can start as early as 6 a.m., and if the game is on, the beer is cracked. Many people have seen this family hugging and hooting up and down Vancouver's Commercial Drive, where the random conga lines are open to the public.
Sometimes, though, cultural centres offer more familial intimacy. As the World Cup kicked off last weekend, I went to a couple of them to see how my cousins were doing.
Polish Community Centre, 4015 Fraser Street, Vancouver
It's day one of the World Cup and the fellas at the Polish Community Centre are optimistic -- every team starts with a clean slate. If this is a family reunion, it appears as though only the uncles have shown up. "I guess it's not just the delicious kielbasa that makes this a sausage fest," my girlfriend says quietly as we take a seat in the centre's dimly lit ballroom.
At our table sit Lucas and Scotty, two young Polish-Canadian flight attendants who guide us into the Polish family with the slightly distracted air of stewards pointing out the exits on a 737. The bar is doing brisk business in two things: Lezajsk, a smooth Polish beer that comes only in half-litre bottles; and paczek, a homemade Polish-style doughnut filled with a fruity jelly. Before the Poland-Ecuador game starts, the boys must sit through a German victory over Costa Rica. The Poles are not cheering for their neighbour.
"I guess we don't like Germany, for obvious reasons," Lucas says with a hint of an accent.
From 11:30 a.m. to noon the crowd increases tenfold until nearly 150 people pack the hall. The Polish anthem plays and everyone stands. Game on.
By halftime the Poles are down 1-0. Then, the breakthrough. A Polish forward streaks down the left side and fires a shot inside the near post. The hall erupts. Scotty jumps up and down and holds my arm in the air like we're heavyweight champions. It takes nearly half a minute to realize what has happened. Offside. No goal. Replays of the disallowed goal are inconclusive but everyone in the hall believes it should have counted. It becomes evident what the Polish word for 'shucks' is.
The game ends 2-0 for Ecuador. Poland deserved better, I say. "We always deserve better," Scotty says. "Look at our history. We always get screwed. Why should today be different?" I feel Polish pain.
Italian Cultural Centre, 3075 Slocan Street, Vancouver
After a little multi-ethnic Commercial Drive craziness on the weekend, Monday morning brings a visit with my Italian cousins. The atmosphere in the lounge is bright. Some nephews have joined their uncles.
Old men sip red wine while I pick up a fantastic prosciutto-and-salami sandwich and a Birra Moretti -- a lager almost light enough to pass as a legitimate breakfast beer.
"My name is Walter," says my guide for the day, "but don't let the name fool you. I am Italian." That much is obvious from his bright blue shirt and the mesh "Italia" hat perched above his bushy eyebrows.
A server brings him over a glass of wine filled to the brim. "It's an Italian place," Walter says. "They can't get away with filling the glasses below the top. We already complain about the prices so they have to fill them up."
Walter, who says he is so old that he came over "with Columbus," feels that Italians are far too prone to complaining and acting up. "Last time I went to Italy I was supposed to stay three months and I was back in three weeks. Italy is a beautiful place but there are too many Italians."
Italy takes a 1-0 lead over Ghana and Walter sits kibitzing with his old pals in Italian. On-screen the camera zooms in on Francesco Totti, an Italian star who was kicked out of a game during Euro 2004 for spitting on an opponent. "What you have to understand is Totti comes from Rome," Walter says. "That's how they are. Just because you come from Rome doesn't make you a Roman, you know? If I was in charge, he never would have played for Italy again."
Still, Walter throws his arms in the air and joins the chants of 'Italia, Italia" after Vincenzo Iaquinta scores a late goal, giving the Italians a 2-0 victory. I can't help but join in the cheers.
One Cup, many families
If you long to drink beer at 9:30 in the morning and share in soccer's communal experience, there are many places to do it in Vancouver. The British Ex-servicemen's Associaton on Kingsway and the Croation Cultural Centre at the south end of Commercial Drive are two hotspots. Many pubs are listed at Live Soccer TV. There's also the Rio theatre at Broadway and Commercial, or any number of coffee bars down the Drive. The SoccerRio website has details.
And unlike your own crazy family, you can leave your adopted soccer family whenever you please.
The Tyee will also provide World Cup soccer dispatches from the bars of Europe, culled from Gone Footie! by Vancouver writer and photographer Laurie Mercer.