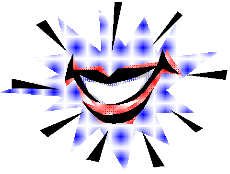 "Don't take this the wrong way," said the Extremely High-Strung Miss A out for drinks one night, "but you'd look a lot better if you got your teeth whitened." She tapped her own creamy Chiclets to illustrate and took another swish of her Cuba Libre. "I did mine a couple of years ago," she explained. "I drink coffee, red wine, everything. No problem."
I wanted to hate her for this, but unfortunately, I agreed. I've pretty much cured myself of obsessing over my body, but every once in a while, I start noticing some minor defect and last year it was teeth. Mine were, I was forced to admit, an unflattering buttery shade. The complicating factor was that they were also fake; the two front ones at least. Which would make cleaning them up a relatively expensive and time-consuming task, all for the sake of, what? Dental vanity? Wasn't it writer Martin Amis who was mercilessly derided in the British press for spending part of an enormous advance fixing his only-in-England horror of a mouth?
At least my yellow teeth weren't the result of too much smoking or beet-imbibing. They were mine by right and I had the matching yellow crowns to prove it. When I got the crowns put in at the tender age of nineteen, something I have to say I didn't pay much attention to up to the crunch, I was horrified to discover that a) my regular teeth, or what remained of them, were filed down to stubs and b) the crowns that fitted over them had naked metal behind the porcelain frontage. I'm not saying the dentist didn't tell me this beforehand. He might have. But I tended to zone out during visits, staring at the extremely uninteresting souvenir button collection on his ceiling and piping up the classical music on the Walkman á la Clockwork Orange.
'Metal backsides'
"Don't worry," said the dentist afterwards, swatting me jovially as I lay with my head tilted back and my mouth open like a hinge, mutely expressing my horror at the flat metal backsides he showed me in a mirror. "Only your boyfriend will ever know." Since I was in the process of becoming a lesbian, I considered this remark in extremely poor taste.
Social skills or no, the good dentist had given me crowns so rock-solid they withstood caramel apples, artisan loaves and laughing while playing football (I've always been clumsy). What I never noticed was that teeth, like everything else, have their fads and fashions. My crowns had been state-of-the-art in 1989. A decade and a half later, they stuck out in a protuberant fashion and were an unflattering grey around the edges. It was as if I was sporting a hip-length jacket with big gold buttons and exaggerated shoulder pads. In my mouth.
There were three separate offices involved in my dental reconstruction: my regular dentist, the crown factory and the Tooth Whitening Clinic, as I'll call it. My regular dentist doesn't do tooth whitening, which I find reassuring. I'd be more than disturbed if Doctor P., while peering at my molars, mentioned that a little veneer would cover that pesky stain right up.
Dental infidelity
Doctor P. is a modern dentist and took my tendency to stray in good stride. "All they were ever interested in was money," she mused, before directing me towards some dental-school colleagues who had opened up an esthetics emporium in a posh part of town. The Tooth Whitening Clinic excelled in, what I believe is known as, customer service. Every other day, I called up the receptionist, who professed herself thrilled to hear from me again, with new questions. Could she explain the procedure once more? What experience did my technician have again? How long did I have to wait to match my new teeth to my new crowns, which Doctor P. would install? On arrival at the clinic the fateful day, I sensed, even before removing my shredded bike gloves, that the place was a little high-class for me. There was a vaguely Roman-temple air about the whole thing; I think the doorway had columns. There was a valet. I didn't bother asking the valet to park my bicycle. I already knew what the answer would be.
Every lady at the Tooth Whitening Clinic, down to the dark-skinned doctor who wandered in swilling from a Starbucks cup -- something I thought was entirely verboten in the world of whiter teeth -- had what Doctor P. dismissively called "baby teeth." These were small and even, of a milky, blue-white translucency, and they sat complacently in the mouths of the clinic ladies like advertisements. Striving for common ground with these toothazons, I seized on the doctor's blazer, which was constructed of black cotton lace in a familiar pattern. "Oh, I have the matching skirt!" I exclaimed. "Did you get that at the Gap?"
"Holt's," she corrected, shortly.
The 'house of sin'
Next week, putting in my crowns, which didn't match, Doctor P, the good dentist, was eager for details of what exactly happened in the house of sin. "They have these little headsets," I told her, "and you can see movies on them." I'd picked SuperSize Me, which involves a lot of french fry ingestion and one spectacular puke scene. Watching while having my teeth lasered was an odd experience, though perhaps no odder than getting my teeth lasered in the first place. After my treatment, while my teeth were still stinging, the receptionist and the technician and the doctor and another lady just passing by had all gathered around my mouth. "They're lovely!" everyone said, looking down at me with their teeth gleaming. "What a wonderful result." It was like going to an expensive store to try on a dress and having the clerks assure you that it looked just fabulous on you. I couldn't help but suspect the compliments were just another part of the package.
Having whiter teeth has opened up all sorts of new worlds to me, none of them good. Like Miss A., I now do a quick evaluation whenever looking into someone else's mouth: could be whiter or could be a lot whiter. I haven't gone so far yet as to proffer helpful advice on the subject, but give me time. Meanwhile, my taste for red wine and hot cocoa has mysteriously eroded. Such indulgences now come with costs attached, and I ain't talking calories. Most of all, I'm a little disappointed in myself; I was so easily bamboozled by American pop culture's latest grooming imperative. But then I give myself a fake, movie-star smile in the mirror -- something I'm doing a lot these days -- and remind myself that vanity has a price. $399, plus tax, on special, to be exact.
Oh, baby. White looks so good on you.
Carellin Brooks Barnes is a Vancouver-based writer.