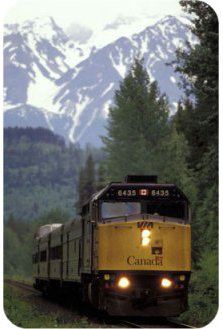 Mike has his own method of gauging the speed of a train to avoid being ground beneath its wheels. As he runs alongside, he stares at the spinning wheel bolts. If he can still see each of them individually, then it's probably slow enough for him to leap aboard without getting killed.
Mike is one of many youths hiding out in 'hop-out spots', studying the comings and goings of trains in rail yards across Canada. Once they've picked a freight car, they hop on with their backpacks, and go.
Ever since trains have chugged, people have caught free rides. After the American Civil War ended in 1865, 'homeward-bound' soldiers were the first genre of train-hoppers. In the Great Depression of the 1930s, an estimated quarter of a million people traveled illegally on freight trains looking for jobs. The term "hobo" most likely comes from the slang "hoe boys" for migratory farm workers.
The next generation of freight train hoppers, in the 1950s and 1960s, formed gangs. The largest and still active is the Freight Train Riders of North America (FRTA). They still dislike non-members riding their rails. Now come young rail riders seeking adventure and escape and calling themselves "yohos".
Illegal thrill
Mike, 24, and Kate, 17, consider train-hopping a hobby and not a way of life. Displaced from her mom's house at 15, Kate wanted an escape from Vancouver. Mike got the idea when he was "skipping a lot of high school and hanging out downtown [Winnipeg] and all the older traveling kids were doing it."
Kate usually likes to travel out of Vancouver in the spring when it gets warmer. She travels to nowhere particular, stops off in towns and she's not on a particular timeline.
This year she left with $1 in her pocket and, after a friend's plea, accepted his $10. She loves the feeling she gets from riding the train. Kate finds the vibration of the freight car soothing and the noise doesn't really bother her.
She spends a lot of her time sleeping or reading non-fiction murder novels on the train. If she's with others, they play games with cards or dice, and they tell stories to past the time. If they have any alcohol, they share it. But unlike last year, which Kate spent partying, this year, she spent a lot of time alone traveling and thinking, "What the hell am I doing on this train and how did I get here?"
Crash course
Learning how to catch a moving train is harder than it looks. Mike learned his wheel-bolt watching technique not just from experience, but an underground source he's hesitant to divulge -- a 100-page photocopied "book" called Crew Change which lists where to catch trains in North America, whether the yard is hot (strictly monitored for train-hoppers) and where to find hop-out spots.
Others choose a mentor to help them learn and Kate says this makes it safer for everyone since "if you get caught, you make it more difficult for everyone else". A worse situation is if you get hurt. Public pressure will lead to an increased vigilant patrol by the railway "bull" (police) in the yards.
Kate's mentor, Macky, advised her to hop out at night (less likely to be seen). She also wisely told her to "never stand between the cars because the train can move at any minute and don't get on the train when you're really intoxicated" due to accidents. Mentors, books and websites also teach hoppers how to identify the different types of freight cars, which can be the difference between life and death on the trains. There's the "hotshot," or "intermodal", a high priority freight that travels non-stop, except for crew changes to a particular destination - making it the first choice for most hoppers. The "junker" or "shitshot" is a bunch of boxcars put together that is either going nowhere or to the repair yard. The "unit" is the train's engine, which is used for extra power, heated in winter and air-conditioned in the summer -- making it the most likely place to get caught. The "double-stack," or "forty-eight" is a low-lying car used for moving shipping containers, which gives riders four feet of space on either end to sit outside and enjoy the view. And the "piggyback" is a trailer truck sitting atop a flatbed, where the rider can easily be crushed by a shifting trailer.
The piggyback trailers aren't the only dangers. Kate says, "There are places if I were to fall or be thrown off, no one would know".
Danger rush
Last year, there were 67 fatalities and 34 serious incidents according to Transport Canada. "These thrill seekers are found dead locked in empty boxcars or completely dehydrated with serious injuries caused by the heat or cold in the winter," says Daniel Di Tota, National Director of Operation Lifesafer. "It's not as glamorous as some make it sound to be. It's dirty, unpredictable, and very boring." Many train hoppers get detained after getting lost or find themselves in foreign destinations not realizing that they have crossed the border. This may lead to being unable to enter the US again. Kate knows firsthand about being lost on a train. "If you're not in an IM, it's easy to get lost on the prairies," Kate said. "You could end up walking for hours to the next railway yard." Last year, Kate almost ended up southbound in North Dakota when she was headed eastbound for Winnipeg. She ended up 30 kilometers out of Saskatoon, where she got caught by a "bull" (railway police officer) then got caught again in Winnipeg. The police ran her name but let go.
Been there, done that
But hoppers aren't easily deterred. Over the past decade, Mike has done a dozen trips. By a combination of hitch-hiking and train-hopping, he's been across Canada. Nowadays, Mike's at a stage where he's "trying to put it away and not glorify it". Mike rarely discusses his train-hopping. He doesn't want to be stigmatized as a "dirty kid bum". "It fun and games for a little while, but you have to grow up and do something with your life one day," Mike said. "I got sick of traveling around and being a bum". Nowadays, he's a manager for a restaurant on Granville Street. Mike may train-hop again but "maybe just a short trip". If he were to travel now he would take a bus or plane. "It's more convenient and it takes a lot less time".
Like Mike, Kate realizes that living on the street isn't that great. "It can wear on you, sleeping outside, living like a bum". Yet, when the weather heats up again, she's headed for Halifax, or at least to Montreal.
Amy Chow is a writer in Burnaby.