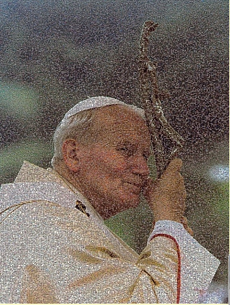 When Pope Benedict XVI was inaugurated last April he and the Vatican made sure to give several nods to the legacy of John Paul II. Some might say they were pandering to the status quo.
Nowhere are that status quo and the memory of JP II more important than during this week's World Youth Day festivities in Cologne, Germany - the celebration of faith that he founded 20 years ago, and hoped to lead again this year. In fact, as a way of thanking JP II for the gift of World Youth Day, the organizers have partnered with Fuji Film to bring to life the world's largest mosaic of his likeness, currently being made with photos submitted by Catholic youth.
Pope Benedict XVI's first foreign trip will be his four-day jaunt to Cologne this Thursday to fill the very large shoes JP II left as shepherd to his young herd. All eyes will be on him to see if he is able to inspire the crowd to the frenzied pitch of past celebrations. The future of Catholicism rests with the loyalty of his young recruits. Of course, the German pope has being on home turf going for him. As well as the theme of this year's World Youth Day, "We have come to worship him." From the church's point of view, that message applies to both Jesus and the still-beloved, departed JP II.
It's fairly easy to be cynical about the hold JP II had on youth around the world. After all, aren't these gatherings just another excuse to party, a kinder gentler Woodstock? This year there was yet more controversy over whether or not condoms should be made available for the kids.
Out of step
How can youth possibly believe in the teachings of an outdated church that is out of step with all temptations on offer in our permissive society? Somehow they do. Of the 4 million people who descended on Rome to see JP II laid out and buried last April, an estimated one million were youth. Think of how badly Hollywood and advertisers have tried, and for the most part failed, to harness the loyalty of this fickle cohort. Yet, there they were, chanting for their beloved JP II, interrupting the mass at several intervals. At times it became difficult to tell the funeral from a lively world youth event.
"JP II, we love you!" they chanted in Toronto at World Youth Day 2002 as the man himself rapped his hand on his chair to the beat of their voices. He beamed, they shouted, and it looked strangely like some kind of rock concert, except it was the frail 82 year old Holy Father, whom many thought might drop dead any minute of his many ailments, and they were his young, faithful pilgrims a quarter of a million strong. But still, they cried, they cheered; they declared their love for him. They said their lives were changed by their proximity to him on this day, by their communion with other pilgrims from all over the world.
At the time I took it all in with interest - from the media saturation to its collective underestimation of the late Pope's will to be there and to perform in anything but top form. But mostly I marveled at his ability to draw hordes of doting and admiring young people.
Youth infatuation
Long before the advent of World Youth Day and the enchantment of a "people's pope," I was one of them. I spent every Sunday until adulthood at mass, was a Choir and Youth Club member, and attended Catholic school from kindergarten to high school. Much, if not all of my social life revolved around St. Andrew's in Etobicoke, Ontario, which sat right beside my Catholic high school and across the street from my house. There was really no escaping it. I remember having a wild, secret, oh-so-forbidden crush on Father Andy, our youngish priest. Youth Club nights - complete with singing, dancing, general mingling and after hours trips to MacDonald's for milkshakes -- were tailor made for meeting the cute parish boys I eyed at Sunday mass, and kept the habit of Catholicism strong.
In my twenties, I turned away from the church and a little from faith too. Mostly, I think, because it was all a little too mysterious to me. I liked to live in the concrete I strived to find the root meaning in everything. For quite a few years I only saw the inside of a church at weddings and funerals.
'Comfort' of church
Then my mother died, and the only place I could feel any kind of comfort was sitting in a church, listening to the poetry of the mass, the litany of the saints, the repetition of the rosary prayers, staring at the stain glass windows and the stations of the cross - recognizing and taking solace in the symbols that marked so much of my young life. I would sit and think about my mother's hands, which I remember almost more than her face because of all the times I held them while we buried one relative or another or watched friends or family members take marriage vows. During the time that I was actively grieving her, I began attending church most Sundays and a couple times a week on work lunch hours. To this day, I can't get through the mass without tears. That doesn't mean I enjoy the patriarchy of my learned religion, and I do have an urge to bolt when, after communion, the bulletin includes a call to a pro-life rally. Though I admired JP II immensely for his prayerfulness, his intellect, his spirit, the sheer will of his "body pulling a soul," I did not agree with his immoveable stances against abortion and birth control, and his view of women as only mothers and secondary servants of God. And these are the things Pope Benedict XVI will likely continue to enforce.
Faith mystery
Last spring, I watched John Paul II's funeral live in full as closely as I watched World Youth Day 2002. The ultimate in traditional masses more than satisfied my continuity need. The symbols were luminous. They weighed heavy, and light. I am old enough to remember a less modern church when mass was delivered in Latin. I was surprised at how little translation I needed.
I listened as journalists and pundits tried to make sense of a religion that its experts -- the priests, bishops and even the pope -- can't really explain. It's a faith born into and nurtured from the cradle to the grave.
Here is one way to explain it: Jesus loved me and died for my sins so that I might live. I owe him at least a little respect and attention in return. Guilt is the Catholic version of karma. My mother tolerated my fidgeting in church when I was a child but couldn't even hear my declaration later on that I didn't think I believed in her God. She was heartbroken and perplexed but willing to be patient until I came to my senses. Strangely, she knew I would, though she isn't here to see it.
Now, like many modern Catholics of all ages, I have come to take what I want from my religious upbringing and disregard the things with which I cannot agree. Not because I need it. Rational, intelligent people can and do choose belief in the unknown. I choose it. It's the comfort, beauty and even the traditions that I enjoy.
Catholic faith is rich with mystery. That doesn't bother me any more. It may sound paradoxical, but there is certainty there. John Paul II believed there are no coincidences. And neither do I really. The ritual around his death gave me a well needed reminder of my faith and belief in divine protection. That is something that youth of today converged in Cologne, amid a singularly jaded and un-mysterious world, might feel they need more than ever.
Carla Lucchetta is a freelance writer / associate producer Citytv's BreakfastTelevision. Her website is here .