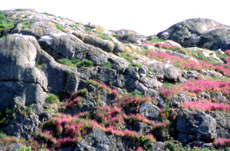 All week the tiny islet of Mitlenatch called to me, as I taught a writing course on nearby Cortes Island. Seeing an uninhabited islet, splendidly alone in the middle of British Columbia's Georgia Strait and being unable to reach it, is an excellent prescription for fable. During class breaks I would go outside and stare fixedly at the islet. I had heard stories about Mitlenatch, how its small size, together with its position in the middle of an open stretch of water, meant its climate was totally different from the wet coastal regions that surround it.
Mitlenatch became more and more fabulous to me as the course wore on. In my mind it became an exotic, treeless desert. Next it morphed into a land populated by strange and wonderful beasts, and bizarre flowers of every description. Then it became a shape-shifter, now appearing close, now far off on the horizon.
In class, I volunteered the information that Mitlenatch was an ecological marvel and that I, an ecologist from the Interior, had never visited it. Finally, one of my students, Maurice, a grizzled Cortesian oyster farmer, agreed to take me there, but only upon one condition.
"Great. What's the condition?" I asked.
"After the visit, you must bear witness to the Presenting of Arms of the Cortesian Spud Gun Militia," Maurice said, gravely.
"Absolutely," I agreed, having no idea what he was talking about.
What Mahkweelaylah means
Maurice's boat was what you call a working boat, an open eighteen-footer with plenty of gas cans, few frills, and a thin, crunchy layer of oyster shuck underfoot. The seats were eminently practical: legless former bar stools bolted on to plastic milk crates. Maurice fired up the big old Mercury outboard and soon we were in open water, sliding laterally up and over long, rolling swells. The water was not at all rough, but the swells put the boat into a rocking-horse motion highly disturbing to landlubber ecologists. I fixed my attention on Mitlenatch in the distance, trying to ignore the periodic alarms coming from somewhere near my esophagus.
Maurice said something to me, but he was inaudible over the noise of the engine. I moved closer and leaned toward him.
"The native people called the island Mahkweelaylah, meaning the closer you get, the farther away it appears," Maurice shouted. "Do you want a beer?"
I hastily declined. Looking back to the islet, hoping the fixed point of reference would quiet my stomach, I saw what Maurice was talking about. Sure enough, the islet which at first looked to be only a few minutes away, now appeared quite distant, with a vast stretch of open, very swollen water between it and us. After an interminable, rocking-horse ride, we finally approached the east shore. I realized the trick Mitlenatch plays on people; with no trees on its horizon, no houses, and no other islands near it, the islet gives the eye nothing to calibrate size against. A simple trick of perspective, I told myself.
By now we had rounded the south point, and what I first took to be lumpy black rocks turned out to be a fine herd of massive California sea lions. The air above us was thick with glaucous-winged gulls, harlequin ducks, surf scoters, ravens and crows. Gawky double-breasted cormorants festooned the rocks, and bonded pairs of oystercatchers picked delicately along the shore. An eagle passed overhead, and as it did so, hundreds of nesting birds swarmed, herding the predator away from their rocky nursery. As Maurice gently steered the boat in toward a small bay, we passed a clutch of fat harbor seals.
The incredible biological abundance continued as we stepped ashore. Drifts of pink sea blush, interspersed with yellow monkey flower and blue camas, were strewn artistically across the rocky slopes. Tiger lily, alumroot, saxifrage, saskatoon and Pacific sanicle were all in flower. The lush interweavings of color were like French Impressionist paintings, but if Claude Monet had seen Mitlenatch, I believe he would have laid his brushes down out of sheer respect.
The magical is also fragile; tiny 36-hectare Mitlenatch and its host of creatures are prone to many human-caused disruptions. As a result, it has Provincial Park status, and volunteer wardens monitor it closely.
Time to go
I was reluctant to leave the island, but Maurice reminded me that we had to check his prawn traps, pick up some oysters and return in time for the Presentation of Arms.
Back at Maurice's snug home, tucked under the cedars of Cortes, we had a delightfully messy feast of fresh oysters, prawns and beer. Utensils were not offered, or requested. By the time we were finally finished, our respective beards were smeared with garlic butter, prawn juice, and cracker crumbs, and neither one cared.
It was time to talk of the Cortesian Spud Gun Militia. Maurice drained one last half-shell, opened another beer for each of us, and settled back to tell the story.
"You've seen those big yachts cruising by to the east of us, eh? Well, they're all headed for Desolation Sound, which is the playground not for the rich, but for the super-rich. The Bill Gates types. Every now and then one of those rich ones gets bored with their private island in the Sound, and starts sniffing around our beloved Island of Cortes. They get the idea they can buy up a big chunk of island property, fence it off, and build a monster mansion, or what we call a starter castle, so they can come up and live in it for two or three weeks every year.
"Now we Cortesians are pretty much plain folks, nothing fancy. We're fishermen, gardeners, back-to-the-landers, and pensioners, and we aim to keep the island safe and affordable for those kind of people. So the Cortesian Spud Gun Militia is ready at a moment's notice, to man the beachheads as soon as one of those hundred-foot luxury yachts start snooping around our island. And now that you mention it, the time is exactly-eleven twenty three pm-which means it's time to Present Arms."
We stepped outside into enfolding quietness of cedar and starlight, and filled our lungs with night air the texture of velvet. Maurice went to the toolshed and returned with an eight-foot spud gun, a real beauty. The combustion chamber was made of five-inch diameter PVC sewerpipe. It was fitted out with a hard-wired Bic barbecue lighter ignition system, a screw-on, gasketted breach, and ergonomic hand grips. The style, construction and features made this spud gun a true classic of the genre.

"Most of the other Militia guys have gone with a straight three-inch diameter gun, but the five-inch combustion chamber, stopped down to a three-inch barrel, was my invention," Maurice said proudly. "It packs way more punch."
Maurice deputized me as a Militia subaltern, and handed me a large potato he had brought from the kitchen. Following precise instructions, I forced the potato down into the sharpened muzzle, making an airtight, potato-to-PVC seal. Meanwhile, Maurice shook a can of hairspray vigorously. "Paradoxically, the cheapest brand of hairspray makes the most effective propellant," he said, as he sprayed a long blast into the combustion chamber, and quickly screwed the breech back into place.
Hoisting the weapon to his shoulder, bazooka-style, Maurice yelled "PRESENT ARMS!," and flicked the Bic. A shockingly elaborate cauliflower of purple and orange flame burst from the muzzle. A split-second later came the wet, potato-sounding explosion, like a popgun on steroids, and a humble Russet No. 2 was flung deeply into the starry and cedar-filled night, in the general direction of Desolation Sound.
A word that lost its way
Someday, I should like to take the word fabulous back from the Hollywood types who stole it, and return it to its original meaning. Then I could debate whether the ecology of Mitlenatch was more fabulous than the human culture of Cortes, or whether that comparison was even a valid question for debate. Perhaps the important thing, for both sanicles and oyster farmers alike, is to live as close as possible to the edge of fable.
Don Gayton is an ecologist in Nelson, B.C., frequently published in The Tyee, and the author of The Wheatgrass Mechanism and Landscapes of the Interior, which won the U.S. National Outdoor Book Award.