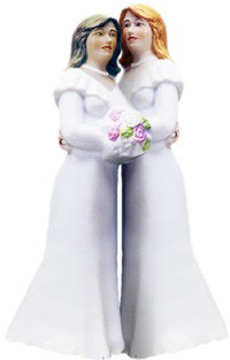 Until a few years ago, my feelings about marriage were neatly summed up by a postcard produced by some radical lesbians in New York. "Why Be Boring for a Blender?" ran the legend, over a photo of two hysterical brides. Point taken.
"We could just elope, you know," my fiancée kept pointing out. But the prospect of a party with witnesses - er, friends - was the only intelligent reason I could see to stage a public exchange of vows.
Or so I thought before I was deflowered by the wedding "industry."
As homosexuals, I naively figured we'd be pretty much immune from the acres of acrylic meant to connote marital spectacle – sorry, bliss. Whenever I'd gingerly crack one of those horrible nuptial planners ("Two years before the wedding, you should have...") I'd hastily bang it shut. My own planning consisted of a series of negatives. Chair covers, nope. Centrepieces, uh-uh. Programs, enclosures, rain cards: all unnecessary. Well, this is easy, I thought. It left us an adult budget - the kind of money that, if you spent it throwing a regular party for your 50 closest friends, would have them talking about your lavishness for years.
Nailed
At the word "wed," though, potential suppliers' prices seem to double or triple. I took to lying. "We're having this, uh, celebration," I told photographers, which was accurate, in its way. "I need a dress for a special event," I said to designers. "You know, something, oh, I don't know, floor-length and strapless. In pastel."
Wandering into a big-box bridal emporium, I amused myself by asking the clerk if any of the 200-plus dresses on display came in a natural fabric. Do I have to report the answer? The infrastructure of those gowns reminded me of a piece by artist Jana Sterbak, of Meat Dress fame: she once designed a ball gown with an electrified metal hoop skirt on wheels. The wearer's feet dangled uselessly above the ground as the device rolled about, emitting little sparks. Maybe when Liz Phair sang about "polyester bride" she wasn't being ironic, just reporting the facts.
My own Bridezilla moment came as I contemplated the gel nails of a hairdresser and makeup artist who was prepared to offer me a big-day updo and makeup application – cut and colour not included - for $200-plus, not including the $65 "convenience fee" she'd charge for coming to me. "They're great," she enthused. "They stay on for ages without chipping." Though I'm regularly a wash-and-wear gal – I don't even shave, for goodness' sake - I found myself staring at the shiny half-moons in a kind of trance. Here was something I could do to become The Bride: exquisite, perfect, and not coincidentally, completely fake.
All of which obsessing served to distract me from the Big Questions. What, in fact, would being married be like? My fiancée and I already lived together; we already had kids. I wouldn't be able to threaten to leave anymore, that much was clear. Nothing about our happiness, which is considerable, would require regulation: it's only our unhappiness that would be legislated. Given that I'm someone who, as one ex joked, should take "Don't Fence Me In" for her theme song, I anticipated a new experience.
And it is. Even though our union is not exactly conventional, and allows me to jet off to other continents alone for weeks at a time, go out at night unencumbered and date around without so much as a by-your-leave. (Her, too, of course).
Negotiated settlement
For the months leading up to our wedding, my fiancée and I fought bitterly, constantly. We had arguments so scarring we met the caterer and the marriage commissioner while seething and barely speaking. Needless to say, this made planning difficult.
Writing this, I break off to ask her: "Do you mind that I discuss our fights in public?"
"Only if I come off looking blameless," she says, and kisses me.
For the record, she is blameless. I'm the volatile one, who threatened repeatedly to call off the wedding for reasons that, days after, I barely could remember.
When she started smoking again, I declaimed that I'd rather die than have our holy matrimonial kiss tainted by tobacco.
She retaliated by striking a deal: she'd refrain from smoking if I didn't drink. This, when nearly a quarter of the wedding budget had been given over to fine French champagne!
I acquiesced.
In the end, I can't help but think of marriage as a secular society's antediluvian nod to a more religious age. None of us know, when we step up to that altar, what we are promising. We may think we do, or we may look upon it as a grand adventure. What is clear is that we are saying "I do" not just to our new husbands or wives, but to our own potential for something we were supposed to have lost forever: faith.
Carellin Brooks was married this summer on the beach in Vancouver. For the record, she drank champagne.