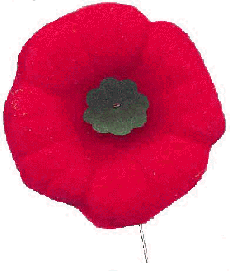 How do we best remember our history? This Remembrance Day, some of us will mark with silence the sacrifice of those who fought increasingly remote wars in another century. Many more will remember by wearing a poppy, a potent and particularly Canadian symbol of loss.
Officialdom would have us remember with symbols that evoke simple nationalism. With flags, with statues of heroes, with arches of triumph. But those symbols don't help us remember well; they don't convey the complexities of war, its ambiguous morals, the fact that those who decide when nations will fight rarely do so themselves.
Officialdom's symbols certainly don't help us to remember that those who dissent also act from moral conviction. We were reminded of this in September by the controversial proposal to honour Canada's role as a haven for Vietnam War resisters with a sculpture in Nelson, B.C. Veterans of that war felt such a symbol would dishonour their sacrifice, just as they argued nearly 25 years ago that the Vietnam Veterans Memorial in Washington D.C. was an affront to them, "a black gash of shame and sorrow."
Remembering is a complicated business. One thing I'm sure of, though, is that the touchstones that matter — a roadside memorial, a panel for the AIDS quilt — are created by the public and not by politicians. And the touchstones that matter most are the abstract ones that allow all of history's complexity to be projected upon them.
Visiting the black wall
In the spring of 2001, I went to Washington, D.C. The culture of Washington is defined by the Mall, and the Mall is a collection of monuments to American wars. Most of those monuments are flat white stone, virtuous, imperial and unreflective. Some, such as the rows of soldiers honouring those who served in the Korean War, are blandly literal. How in a capital that creates heroic monuments to so little beyond war can the country's leaders aspire to peace?
The Mall's Vietnam Veterans Memorial stands well apart from the rest, though. I have no doubt that's because the project was advanced by citizens rather than being imposed upon them, and because it was created by an artist rather than a committee of politicians considering the implications for their next election. A single Vietnam veteran, Jan Scruggs, initiated the effort. A single artist, Maya Ying Lin, then a 20-year-old Yale architecture student, designed it. And in so doing they tapped into all of the emotions that the United States' most contentious foreign war evoked.
In other words, people really remembered.
It was a project that might have been defeated by its honesty, by veterans and politicians opposed to it. Opposition was calmed sufficiently only when the proponents agreed to include the requisite bronze of three young soldiers, which stands ignored nearby.
On November 13, 1982, the memorial was officially dedicated. It has become the most visited memorial in Washington, attracting 10,000 people a day. It is a gash in the earth. It begins with a single name of the first soldier killed, in 1959. Visitors descend along the wall until the 58,183 names, listed in the chronological order of their deaths or disappearances over 16 years, seem incalculable. At the height of the war, at the centre of the monument, the names on the polished black granite loom 10 feet high. I felt like I had entered their grave, and I wept. Beside me, a veteran reached to touch his brother's name, his face reflected in the polished granite's surface, and wept as well.
Victims of Lepine and AIDS
The Vietnam Veterans Memorial's influence is felt even in Vancouver. On Dec. 6, 1997, Marker of Change, a memorial initiated by a Capilano College student, was unveiled in front of the VIA Rail station on Main Street. When it was proposed, outrage ensued, because of its dedication to "all women who have been murdered by men". The Vancouver Sun's Trevor Lautens noted that women also sometimes kill men, and that not all men are killers. That's true, of course, just as it's true that women have been legal "persons" since 1929, thanks in part to the efforts of the Famous Five women only recently honoured with a statue (unfortunately literal and bland) on Parliament Hill.
Marker of Change was established in response to the murder of 14 women by Marc Lepine at L'Ecole Polytechnique in Montreal. Their names are inscribed on the circle of 14 coffin-like slabs of pink Quebec granite. The site near the Downtown Eastside was chosen because so much violence is endured by the neighbourhood's women. Who knew then that today we would be counting the names — first 21, then 45, now 69 — of Downtown Eastside women who are presumed to have been murdered since the memorial was dedicated.
This spring, a controversial, privately funded memorial to victims of AIDS was finally constructed at Sunset Beach. The names of more than 800 people who were connected to B.C. are cut in sheets of corroding steel, intended to evoke the Vietnam memorial's granite wall.
When the Vancouver AIDS Memorial was proposed, park board politicians were unanimously in favour. Outrage ensued. Opponents suggested a ban on all such memorials in public parks, to prove they weren't motivated by discomfort with homosexuality. Ninety-six percent of 13,000 callers to an informal BCTV poll opposed the monument.
The park board, facing an election, suddenly became unanimously equivocal.The board eventually created guidelines that forbid monuments intended to "cause distress." "We don't really want to have any controversy," said one commissioner. Following a long period of public consultation, the monument site was moved from Stanley Park to a less precious location.
Honouring complexity
Still, the AIDS Memorial was built, and public passion was ignited. It will be officially dedicated on Nov. 30. And although Vancouver's women's and AIDS memorials only hint at the artful power of the Vietnam memorial in Washington, because of them we are better able to remember and understand two complicated issues that make us uncomfortable. That's what memorials must do.
When we're remembering wars, it's critical that our symbols reflect war's complexity. That's why, for me, the most moving war memorial in Vancouver is the 1920 granite column in Stanley Park that honours Japanese-Canadian soldiers who fought for Canada in the First World War.
And that's why, for me, the poppy is charged with meaning. For some, the poppy's symbolism isn't a complicated. It simply marks the sacrifices made by the side of all that is right and good in two noble world wars.
The poppy's symbolism has its roots in the poem by John McCrae, a doctor and officer in the Royal Canadian Army Medical Corps. He wrote it following the death of a friend in May 1915 at Ypres, on the French border with Belgium. He died himself of pneumonia and meningitis three years later in a French military hospital.
Today, "In Flanders Fields" adorns the Canadian $10 bill:
In Flanders fields the poppies blow
Between the crosses, row on row,
That mark our place: and in the sky
The larks, still bravely singing, fly
Scarce heard amid the guns below.
We are the Dead. Short days ago
We lived, felt dawn, saw sunset glow,
Loved and were loved, and now we lie,
In Flanders fields."
Take up our quarrel with the foe,
To you from failing hands we throw
The torch: be yours to hold it high.
If ye break faith with us who die
We shall not sleep, though poppies grow.
The last verse, often omitted, is most easily read as a simple call to arms. And the poem is nothing if not sentimental. Yet for me, the first two verses nevertheless provide a deeply resonant reminder of the cost of violence, and the need for caution and wisdom.
Ground Zero
After I visited Washington, D.C. in 2001, I went to New York and briefly visited a monument to commerce, the World Trade Center. It housed a bloodless mall and a half-price ticket booth for Broadway shows, and it seemed empty. Even then, I thought of it mainly as the place that had been attacked by terrorists, on Feb. 26, 1993.
Six months later, those two towers collapsed as I nursed my morning coffee and watched CNN. I went to work at the Vancouver Sun, and we produced a hopelessly naïve special edition of the paper. Entrances to our building were sealed against potential attacks. Our society became lost in deeply misleading paranoia, the kind that the media encourages and officialdom preys on.
Two months later, on Nov. 11 at 11 a.m., I wore a poppy at the Victory Square cenotaph. I watched a sombre parade, listened to a mournful "Last Post" And my poppy was a remembrance of much more than the cost of distant 20th century wars.
Today it's clear we have not learned enough. We have not remembered enough. We have not spoken enough difficult truths.
For me, the poppy is a symbol of our lost innocence, and of the importance of remembering all of the complex tragedies that have befallen us. I don't want to break the faith with those who've died. I do want us to understand that when we fail to fully remember, we are our own worst enemy.
Charles Campbell is a contributing editor to The Tyee.