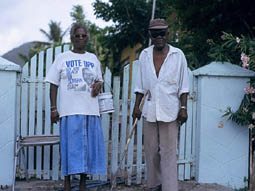 I took a vacation recently. I went to Antigua, a small Caribbean island where I spent five years as a child. It was strange to be back in Antigua, where slavery is the subtext of so much conversation. My memories were a poor guide. A child's mind cannot quite grasp the complexity of such a society.

On the night before I was to return to Vancouver, a childhood friend threw a party. At the party were people I had gone to school with. I went to a private Catholic school (the public school system in Antigua is atrocious) and these were rich or upper middle-class people. Some were curious about why I had come back. To visit, I said. There was a brief, knowing but disbelieving look, and then: "Oh, sure, just to visit."

You see, Antigua is the kind of place where outsiders often arrive to do business of a shady nature. It's the kind of place where, as Antigua's best known author, Jamaica Kincaid, points out, it's become a cliché to say that everything is for sale.

Kincaid's Antigua, as described in her essay "A Small Place", is populated by corrupt politicians, greedy ex-pat businessmen and the curdled remnants of the British Empire. She describes a society turned inward on itself, an uneducated populace bickering and laying blame on one another for the harsh reality of their daily lives, yet electing the same corrupt officials year after year. She wonders whether today's self-governed Antigua is any better off than one run by an exploitative colonial power.

But this is all under the surface of an Antigua of palm trees and white sand, a laughter-filled society that beckons to the tourist, the tourist who is reviled even as he is being waited upon with a smile.


'Don' really like white people'


John had heard I was visiting and called me the night I arrived. He happened to be in Antigua for a few more days before flying back to London where he works for an investment firm. He offered to take me for a drive around the island. We would do the tourist thing - stop at a few beaches and other sites like Nelson's Dockyard, the restored 18th century headquarters of the famous British admiral (or "pirate", if you're not British) Lord Horatio Nelson.

John picked me up the next morning in a tin box of a Suzuki, the stripped down third world version sold at his parents' dealership. I was happy to find that, unlike many of the cars on the island, this one had seatbelts. The Suzuki's fuel gauge was broken, but John was fairly sure the tank was full. We ran out of fuel in All Saints, a village in the middle of the island. We started walking to the nearest petrol station and were immediately peppered with questions by a boisterous 11 year-old, curious about the rare sighting of two white men strolling through his village. I asked his name - Brian O'Reilly.

"People from Antigua don' really like white people, you know," said Brian O'Reilly.

I remembered this now. When I was a kid I was constantly being confronted about my race, but in a curiously non-aggressive way. Like they were testing me, more interested in my reaction than my response. I took the bait anyway.

White people are mostly thieves, he explained, and just generally bad people. He said that most Antiguans thought all the white people should leave the island and go back to where they came from.

"There are white Antiguans, you know," said John, to Brian O'Reilly's disbelief. "My mother was born in Antigua." The kid looked baffled.

We walked back to the car with a full jerry-can and discussed racial politics with the extroverted 11 year-old: there are good white people and bad white people, good black people and bad; people are people, etc.

John bought a couple branches worth of guinips from some kids on the side of the road and shared them between the three of us. The taste brought back childhood memories of gorging on the plum-sized fruit with its layer of sweet flesh between its large pit and brittle, green shell.

We stopped at a small roadside store and I bought two soft drinks. I had the grapefruit flavoured West Indian favourite, Ting. Brian O'Reilly had a Coke.

"What do you say to the man?" asked the old woman who ran the store, as she popped the cap off the Coke bottle and handed it to him.

"Thank you," he said, a little sheepishly.

"Good afternoon," I said to the woman, who gave me a sweet smile and wished me the same.

"I don' think all white people are bad," said Brian O'Reilly, as John filled the gas tank. "You're good people."

We left him there, waving and sucking on his Coke. I wondered whether we had in some small way done our part to bring Antigua closer to racial reconciliation, or whether I had merely eased my conscience for the price of a soft drink.

Can a tourist be true?

Of course, the whole thing is, once you cease to be a master, once you throw off your master's yoke, you are no longer human rubbish, you are just a human being, and all the things that adds up to. So, too, with the slaves. Once they are no longer slaves, once they are free, they are no longer noble and exalted; they are just human beings.

Kincaid is as merciless toward those now govern her native country as she is toward the "human rubbish" who once did. Her rage is palpable, and she names names. When the book was published in 1988, the government made it clear that Kincaid could very well stay in her adopted home of Vermont. She may be the greatest mind Antigua has ever produced, but she is not welcome in her own country. The truth hurts.

The truth is, I am a tourist. I love to travel. I don't own a time share condo, or frequent upscale resorts. I don't have the money for that sort of tourism, and I wouldn't do it even if I did. I'm a backpacker, which is somehow different, somehow more real, more connected to the
indigenous people of country X. Right. Every tourist is a hypocrite.

The truth is, Kincaid doesn't know who to blame. How do you blame history? How do you blame an empire that no longer exists? Should she blame the United States, a country she now calls home? Can she blame the tourist, buying two weeks in a cheaply manufactured fantasy world? Kincaid's anger flies in all directions and, as she rightly points out, it is this sort of directionless rage that makes people want to blow things up.

It is a telling fact, as Kincaid points out, that every member of the Antiguan government (and in fact pretty much anyone who is anyone on the island) holds an American green card in addition to an Antiguan passport. If their world blows up they will have an escape route.

[E]very native of every place is a potential tourist, and every tourist is a native of somewhere. Every native would like to find a way out, every native would like a rest, every native would like a tour. But some natives - most natives in the world - cannot go anywhere. They are too poor. They are too poor to go anywhere.

This, I think, is what Kincaid is getting at: Even when empires crumble, someone is left holding the pieces. If you are unsure of who is who, just ask yourself who is the tourist and who is the native.

Jared Ferrie is on staff at The Tyee.