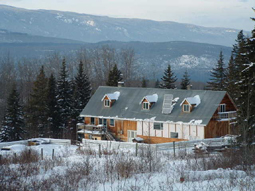 A friend who visited recently calls. "My roommate's got all the lights on," she complains over the phone, "and I keep thinking I should be turning off power bars." I have to laugh; after spending 10 days with me in my off-the-grid house in northern B.C., my friend has become adept at tracking down phantom loads and power drains. Not exactly a big concern in her Vancouver condo with its cost-shared Hydro, but I do what I can to encourage people to conserve.
Not that I set out to be a champion of rugged self-sufficiency. Hydro made it almost a no-brainer. When my ex-partner and I first bought this house, it was wired for 110V and the previous owners had run a large diesel generator for power during waking hours. Deciding this was noisier and more polluting than we'd like, we looked into alternative power sources and compared them with putting in Hydro.
I meet up with the BC Hydro representative in February. "I can't give you a quote until we've staked it," he says. Great, when can you stake it? "Well, to begin with, you'll need a permit to put in utilities since this is a public access road." The list continues: a permit to cut on Crown Land, someone to cut and remove the trees, a permit to blast because two poles will be in bedrock, someone to do the blasting, approval to go under the high tension lines.
All of this amounts to about $5,000 and the government agencies brag about a 'maximum' six-month turnaround policy for the permits. "Then," he continues, "we can come in, stake, and give you a written quote." I get a guesstimate of anywhere from $15,000 to $50,000. "But," he cautions, "I won't have a crew available till the fall."
Hosting a wind-tower raising party
Friends with solar panels and generators told us to get Hydro. They told of old systems, diesel generators, propane appliances, 12V lights, no kitchen aids, wiring nightmares. After a long list of pros and cons, we went with a state-of-the-art off-the-grid system: four solar panels, a 104-foot high wind tower with turbine, a backup propane generator, a bank of 12 golf cart batteries, and an invertor to run the whole thing automatically. For $30,000 we got to install it ourselves. It arrived in boxes. Heavy ones.
It's 10:30 pm and though it's July, I'm chilled from holding this position all day. Sometimes I forget that I'm standing on the rope until a shout jerks me back. My partner balances precariously between a scaffolding and the hot, steeply sloping metal roof of the house. A 4x8 sheet of delicate solar panels are partially mounted; the rope holding them up there winds around the chimney and down to me. It will take us another full day to get them installed.
Two cubic yards of concrete need to be divided among five anchor holes, four of which will brace the 104' wind tower. Pity that the trench for the cables cuts across the access road; the cement truck cannot get onto the rough clearing and so all two yards are moved by wheelbarrow. Only my partner is strong enough to move a barrow full of wet concrete. He can't get out of bed the next day without drugs. But 10 people show up to help us raise the tower using a pickup truck and 20 guy wires. It's frighteningly easy.
Making of a conservation obsession
One evening as I return from a trip in an airplane, I look down at my house and see the porch light on, a 100W bulb that I haven't yet replaced with a compact fluorescent. I calculate the amount of time it's been on since my house-sitting friend would have left for her job, how much power it's sucked from the batteries. I wonder if she's had it on the whole time I've been away. I picture her house in town: fully lit, music going, computers left on, even when there's no one home. I wonder if she found the rural darkness intimidating or thought she was welcoming me home. Or if she just didn't notice.
Far more reason for anxiety arises during a stay by mom. She has been staying with me for four days. Translation: power consumption has gone up dramatically because she has vacuumed every single surface in my house. My batteries have been drained to 50 percent, the minimum they should be before being recharged, if I want them to last 20 years. Around 9 pm I hear the gratifying sound of the generator kicking on, then the heart-dropping sound as it dies. Mom looks at me. It's -34C out and the genny shed is neither heated nor lit. Last week I performed my first oil and air filter change on a generator; it's run once since then so I know I didn't break anything. I will try to fix it in the morning. Maybe it will be warmer out by then.
How to make love to a generator
The local newspaper mentions me in their editorial on the Ontario blackouts. People envy my preparedness, my lack of dependence on the power companies, my self-sufficiency. "You can run your computer during a windstorm," they say admiringly.
I stare at the oil oozing out of the generator. It looks like melted chocolate ice cream. On the bright side, there's no water in it; the whitish bubbles turn out to be air. The manual emphasized not overfilling the oil reservoir but my small hands trying to pour part of a 4L container of oil into a too-narrow funnel…well, it was a bit tough to tell how much oil actually went into the generator and not on it or me. I drain a bit more oil, unscrew the filter, screw it back on. Try a manual start. No luck. My neighbours have come to offer moral support. One gently pokes a hose. Try again. It turns over but won't stay on. My fingers are numb. My neighbour shows me what a healthy spark plug looks like, puts it back in place. I wonder how much a mechanic will want to come all the way out here. My batteries are down to 32 percent and I push away the thought of having to replace them all. At this time of the year, solar power is too weak to give much charge. Candlelight is romantic but not practical. I miss my electric blanket. I put both hands on the casing and talk to the generator for a minute. Another press of the button and it runs! I keep talking, encouraging it. The relief makes me giddy.
If I'd known I would end up here alone, I might have opted for Hydro, simply for less responsibility (rural living is challenging enough as it is). I'll probably never have central heating or a dish washer. When my batteries are low, I'll read instead of watching a movie. Laundry tends to be done on really windy days or when the generator is running. But my house is amazingly silent, no power hum inside or out. My friends tell me my eyes light up when I discuss my system. And the sound of a spinning wind turbine makes me smile.

Anastasia Ledwon lives in Telkwa, B.C.