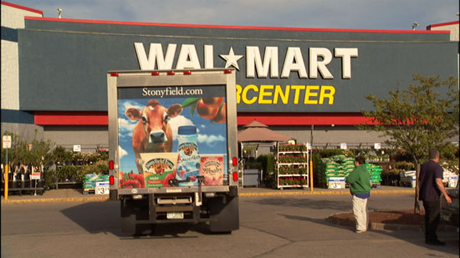 It's getting so you can't trust anyone these days. Even the good guys are suspect.
The biggest round of applause at the screening of Food Inc., came when the nice lady at the front of theatre told the audience that everyone would receive a free gift bag after the show, packed with Whole Foods store brand "365". If some part of me hadn't been suspicious before "Why are all these people coming to see a documentary about industrialized agriculture?" (short answer: free tickets), the swag should have made it crystal clear.
More insidious questions arose when the house lights went down and Eric Schlosser and Michael Pollan filled the screen. If you've paid even the smallest attention to the tsunami of green-foodie-locavore-blah blah, you will recognize these two. In the star system (that has seemingly overtaken everything and everywhere) they're big cheeses, respectively responsible for two of the biggest foodie favorites, Fast Food Nation and The Omnivore's Dilemma, respectively. Schlosser also helped co-produce Food Inc.. Or perhaps the term ought to be over-produce the film, since this is one slickly marketed piece of work. Purely as a cultural object, it deserves some careful disassembling to understand the forces that are at play.  
First off, since Food Inc. patterns itself as something of a survey, covering a vast collection of different ideas -- everything from obesity and diabetes to the draconian Monsanto Corporation -- it cannot deliver in-depth or critical analysis of any one topic, but, by sheer dint of information, must try to convince its audience of the rightness of its motives. As a film, it functions almost to snow you under with bits of little-examined, often unconnected ideas. The narrative is segmented into extremely short intervals, all helpfully introduced by inter-titles with cute plays on words. One should always be suspicious of anyone bearing dark tidings in a cute package. Not only is it pandering, but it is dangerously oversimplifying an insanely complex system. 
Snacking on situations
The film opens with narration from Schlosser and Pollan (neither one of whom is identified), explaining that the modern American supermarket, despite its apparent abundance and fecundity, is actually a bit of a wasteland. Despite the happy scenes of farmland bliss depicted on every jar and can, what's inside is actually engineered and manufactured in mega-factories or abattoirs. The "Dark Satanic Mills" William Blake was on about in England's green and pleasant land haven't a patch on modern industrialized agriculture, with its chemically-dependent monocultures, vast seas of hog manure, rotting carcasses, and sick and dying animals. Yummy!
As the narrative variously travels from the origin of unionized labour practices in the meat-packing industry (name checking Upton Sinclair's book The Jungle) to the MacDonald Brothers, who created a multibillion dollar fast-food industry based on the idea of making a restaurant function like a factory (cheap labour, cheap ingredients, and extremely high volume equals massive profit), to current labour practices at slaughterhouses, I began to wish for some greater insight, an attempt to draw the connections between all of these different things together.
A labour organizer who is working to help migrant slaughterhouse workers is given only a few sentences in the film to sum up the situation of Mexican workers (who are routinely busted in small batches, so that work on the factory line is never interrupted). This becomes something of a pattern. An enormously difficult situation is raised (i.e., hybridized chickens too fat to walk) and then almost immediately dropped in favour of some other equally enormous and intractable issue (government subsidies to the corn industry). 
A flourishing genre
I can name dozens of documentaries that take respective aim at any number of these topics and have the space and depth to address the dizzying complexities of how the modern food industry actually works. One of the best films I have ever seen about industrialized agriculture doesn't contain a single word. Nicholas Geyrhalter's Our Daily Bread is absolutely stunning and a piece of art. Some other films of varying interest and skill include King Corn, End of the Line, The Garden, We Feed the World, Food Fight, The Future of Food, and The World According to Monsanto. There is an abundance of information out there, but that's beside the point. For all the facts presented, there is often something missing, and that is usually plain old simple knowledge. Telling people how to grow food, organize collectively, or simply act, without having to buy anything, be it a book, a film, or a lifestyle choice. 
Food Inc., unlike many of these earlier films, is being widely distributed. I'm not sure whether this is actually a good thing or not. The film is obviously aimed at an upper middle class audience, the same people who buy Pollan's books and get terribly excited whenever Oprah Winfrey gives away free stuff. But this is perhaps another source of its problem. In Food Inc., the connection between food and socio-economic status in the U.S. is illustrated by the example of a Hispanic family, stricken with both diabetes and obsesity, buying their breakfast at a drive-through restaurant and explaining their lack of choice between health and money. It's either buy junk food, because it's cheaper, or buy medicine to offset the costs of eating the junk food to begin with. The casual (lazy) racism inherent in this segment is not examined. It's merely another odd instance of the film's innate class-ism. Here, the snobbery of foodie world is most readily apparent. If you can afford to eat well, shop at farmer's markets, pay ten dollars for a bag of organic apples, all is well and good, but if not, you are doomed to be fat and sick. 
My mother calls this phenomena "greenwash" and really, that's actually such a good term that I think I will steal it. I'm sure she stole it first from someplace. The most basic ingredient in greenwash is the innate human need to feel good about one's own self, and one's own choices. The emphasis is always on the power of the consumer. But a consumer is very different from a producer. A consumer doesn't actually do anything except buy more, and usually more expensive products. It is inherently a passive position. 
Purchase a healthy conscience?
This is a paint-by-numbers style of filmmaking, which means that it's not really filmmaking at all, but perhaps, more correctly, a type of propaganda. As such, you must be extremely careful to understand what it is that you're being sold, especially by people whose side you are supposedly on. Whether it's a book (both Pollan and Schlosser have a vested interest in being pursued and perceived as gurus), or a store brand. The creepiest sentiments voiced in the film come from the corporate sector, such as a Walmart executive eyeballing local farmers as the latest marketing tool, or the aging hippie who started Stonyfield Yogurt prattling madly on about profit and working inside the system (this after he sold his company to Danone for millions of dollars). The film, for all its appearance of being alternative, is not anti-big business. Even James MacKinnon, part of the panel discussion after the film, said, "An organic Walmart is probably better than a regular Walmart." But is it really? Isn't that just pasting a new label on the same old bullshit, and charging significantly more money?
There is nothing radically different about any of the options that the film offers up, nor even anything radical at all. Even if you stick an organic label on Walmart, the system remains the same. The same distribution chains, the same scale of practice, the same billions upon billions of Stonyfield plastic yogurt containers shipped around the country, all so that people can buy more shit with a clean conscience.
The film makes a big deal about the need to lift the veil that hides the practices of factory farming. (If you can't see the dying tortured animals, then you can eat them with impunity.) But let us lift, also, the green screen of marketing and feel-goodism that effectively says, "Just buy what we tell you to buy, and everything will be okay."
Read the labels
The 1984-ish scenario gets darker still with a bill (H.R. 875: Food Safety Modernization Act of 2009) currently before the U.S. Congress that would effectively outlaw roadside fruit stands, farmers markets, and small scale farm-practices everywhere. But for all its fear-mongering (Monsanto's big men in black cars terrorizing farmers or e-coli outbreaks in everything from peanut butter to spinach) there is little anger here. Everyone seems so oddly cowed. Farmers, who are renowned for being a stubborn and irascible bunch, roll over for Monsanto and rat each other out. Even a woman who lost her toddler to tainted meat, refuses to critique the ground beef industry for fear of a lawsuit. 
The same images of bucolic farmers that are pasted on hydrogenised tubs of petroleum GMO goo, are also pasted on Whole Foods products, but are they all that different? An article on Counterpunch titled The Organic Monopoly and the Myth of "Natural" Foods: How Industry Giants are Undermining the Organic Movement says, "The overwhelming majority of WFM [Whole Foods Market] products, even their best-selling private label, '365' house brand, are not organic, but rather the products of chemical-intensive and energy-intensive farm and food production factories. Of course there are many products in WFM (and in UNFI's catalogue} that bear the label 'USDA Organic.' But the overwhelming majority of their products, even their best selling private label, '365,' are not."
Guess what was in those free swag bags after the screening?  And yet we all stood in line to meekly accept our freebies. It was free food after all. Or was it? We have met the enemy and eaten him. Or is it the other way around?
Related Tyee stories: