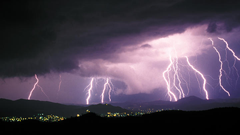 Programming a documentary film festival is a little like rounding up a herd of wild horses. Some run off. A few are haltered by other film festivals. Some buck you off and kick you in the head for good measure. After you've culled the lame and the jugheaded, and corralled your final selection, if you're lucky you will be thrilled by the diversity at hand -- bays, dappled sorrels, sleek grays, maybe even a palomino!
So, it is with the films assembled for DOXA Documentary Film Festival, which begins May 22 and runs to May 31 in Vancouver.
To be utterly upfront and honest, as a board member and chair of the programming committee, I had a hand in choosing the films at DOXA this year. Only a hand mind you, since it's very much a collective process. To extend the analogy till it begs for mercy, there are a lot of hard-working ranch hands at DOXA, and a gimlet-eyed head wrangler, who has seen it all before. Riding herd on a passel of films requires late nights, a lot of work, occasional heartbreak and now finally delivery. So here they are... Some prize ponies, consider them hand-picked, bridled, saddled and waiting to be galloped off into the cinematic sunset.
'Act of God'
Jennifer Baichwal's sophomore outing Act of God, which recently opened the Hot Docs Festival in Toronto (the first Canadian film to do so, oddly enough) is DOXA's closing film this year. For a documentary that's ostensibly about people being struck by lightning, it's a quiet and deeply philosophical treatise, filled with subtle grace and mortal agonies, often occurring side by side. It isn't what one might expect, which is probably the best thing about it. The film includes a terrific soundtrack from musician Fred Frith, who gets into the action, mapping the electrical storm that lights up his brain while he is improvising on his guitar.
Ultimately, most affecting are the stories of people marked forever by a bolt from the blue. A man walks through the forest, recounting the death of a friend who was struck and killed, while the branches of the trees above him form their own secret message. A woman recalls the series of tiny incremental events that lead her and her young daughter to visit the site of a religious pilgrimage, just as a storm was brewing.
Underneath these scenes, the big old conundrum of causation or chance, destiny or simply dastardly luck, courses like a current. Really, why does anything happen when it does? Act of God has the reserve and cool intelligence to let you draw your own conclusions, or lack thereof, about the essential nature of the universe. The film is also insanely beautiful, capturing the massing of clouds, and epic storms forked through with deadly light. It is an ancient drama, yet it is still so effortlessly artful and commanding, that it demands to be witnessed.
The human need to make sense of it all is the film's real story, and lightning just a dramatic conduit. As the different people interviewed grapple with the need to assign meaning and purpose to a random and unpredictable world, to pin it into place through ritual, culture or story, the mystery of existence, like the face of God, remains hidden, peeping out occasionally to throw zingers  at humanity.
'The Dungeon Masters'
I'm not quite sure why Act of God leads me to The Dungeon Masters. Perhaps because the quest for meaning often takes very different shapes. Sometimes it even dresses up in elf ears and purple capes. I must confess I was curious about this film since director Keven McAlester's first film You're Gonna Miss Me, about Roky Erickson, won the jury prize at AFI's Silverdocs festival, and was nominated for Best Documentary at the 2006 Independent Spirit Awards.
The Dungeon Masters follow three people (Scott, Elizabeth and Richard) who are each deeply immersed in the fantasy world of Dungeons and Dragons and its related ilk (World of Warcraft, Live Action Role Playing Games, and comic book conventions). Although it would be pretty easy to make fun of these folk, dressed up like escapees from the Society for Creative Anachronism, the film is at pains not to impose judgment. There is a great deal of pathos here, whether it's Scott, the aspiring novelist, who works (sort of) as a building manager for a shabby apartment complex, or Elizabeth, whose dark elf persona, is somehow far more real than her actual personality. It's something of a shock when we finally see her without her full-body makeup, and a silver wig, her pale freckled face undefined, yet deeply unhappy. 
Of the three central figures in the film, probably the most troubling is Richard, who views himself as a master manipulator in the world of D&D, but can't handle his actual human relationships, nor even the most basic task, like cutting the bushes outside his house. He may appear to be a nasty self-satisfied little man, but he bears out a lot of what Pulitzer-prize winner Ernest Becker dubbed the "immortality project," namely the human need for larger, more heroic narratives. Reality is often so difficult, intractable, and dreary that it's little wonder that fantasy beckons so hard.
Living with a child, who is more often than not, inside a world of his own devising, I can commiserate with Richard, Elizabeth and Scott's families and partners. The silent language of resentment, yearning, frustration and love captured by famed cinematographer Lee Daniel (Slacker) is often so thick you can taste it, but is also terribly, ridiculously, and wonderfully human. Whether it's Christianity or the Church of J.R.R. Tolkein, often the only way to continue in a world that has no meaning is to create your own, or as Ernest Becker famously wrote, "The essence of normalcy is the refusal of reality."
'Inside Hana's Suitcase'
Sometimes a true story seems like it couldn't possibly be unscripted. Some unseen hand appears to be hard at work, twisting sinews of story, framing, hammering and nailing, orchestrating reality into story and back again. So it is with Inside Hana's Suitcase, Larry Weinstein's new film, that takes inspiration from Karen Levine's best-selling children's book. The story is familiar to kids around the globe, but it takes on new relevance, and new power in Weinstein's documentary. When the director of the Holocaust Education Centre in Japan, a woman named Fumiko Ishioka, received a battered suitcase from Auschwitz, she became obsessed with finding out more about the little girl named Hana Brady who had once owned it.
The film mixes interviews with the real people and sepia-toned recreations of Hana's life before and during the war. Weinstein's decision to use recreations to tell Hana's story may at first seem problematic, but I think ultimately it is a necessary and right decision. The story-book quality doesn't detract from the events, rather it's way to shape reality into something that can be coped with, understood and managed in some fashion. That's what art does -- it helps to shape the raw and often unbearable material of reality, into a symbolic story that takes on a life of its own. That is precisely what Inside Hana's Suitcase also does. It is a graceful and important film.
More great docs
I would also heartily suggest The Tree Lover, American Swing, The Garden, Eternal Mash, Nobody's Perfect, The Meaning of Life, Who the Jew Are You?, and most especially, Yodok Stories. Yodok Stories uses the real experiences of survivors from one North Korea's most infamous concentration camps as the raw material for a piece of musical theatre. The juxtaposition of these two things might at first seem patently unwise, but somehow, paradoxically enough, it is fascinating and moving.
The thing that strikes me most, when looking these films together is the curious connection that emerges between them. Like fingers of coral, or neurons firing, the connections begin to snake between different stories, creating an infinitely larger narrative. It is strange, wonderful and utterly inexplicable, I don't really want to figure it out, but in the words of cowgirl singer Iris Dement, "I think I'll just let the mystery be…"
Related Tyee stories: