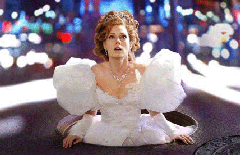 Last Halloween, I was standing on the playground of my child's elementary school surrounded by a sea of princesses. Every little girl, it seemed, was dolled up in a froth of pink tulle and satin, topped off by a tiara. It was eerie, in a very frilly way.
Still, I can see the lure of princesses for little girls, sort of. But for fully grown women?
Director Kevin Lima's new film Enchanted is seemingly made for all the women who grew up on fairytale endings. But growing up is perhaps the wrong word to use. Permanently infantilized might be a better term. Giselle (Amy Adams), the heroine of Enchanted, has all the mannerisms of a demented eight-year-old. She flits between cloying and coyness, and occasionally bursts into song and tears. Sometimes both. Get this woman some mood levelling medication. She might be a Disney heroine in the old school tradition, but she also seems to be suffering from bipolar disorder
Just a bucket of sugar
The film begins with an extended zoom into Uncle Walt's Disney Castle, and before you know it the voice of old suckie-pants herself, Julie Andrews, is coating you all over with a spoon full of sugar. Make that a bucket full of sugar. Andrews narrates an age-old tale of young love and old power that begins, "Once upon a time in a far-away land called Andalasia lived a young maiden named Giselle. . . ."
Like all good girls, Giselle is patiently waiting for her prince to come. In the meantime, she's fashioned a rudimentary semblance of said creature to smooch with. This is not a giant sex toy, however, since sex doesn't actually exist in Andalasia. Alas, the stiff also lacks a pair of lips for true love's kiss, since, as Giselle trills, "Only lips can touch." Keep your other body parts to yourself, thanks very much. George Bush might want to adopt that line for his abstinence-only programs.
Giselle's warbling soon draws the attention of a real live cartoon prince (James Marsden), a handsome dolt. The pair meet, sing and get married the next day. Or at least they try, but true love's course never runs smoothly, thanks in part to a jealous old queen named Narissa. Where's Quentin Crisp when you need him? Susan Sarandon will have to suffice, and as Narissa, she works her evil eye shadow for all its worth. Next stop for Giselle: Times Square, NYC.
God apparently watches out for drunks, small children and fairytale princesses, and instead of getting beaten and shanked in a dark alley, Giselle bumps into a divorce lawyer named Robert (Patrick Dempsey) and his young daughter Morgan (who still believes in fairytales). They fall under her spell and the rest is history of the happily ever, chaste kiss on the lips, kind.
Fairy tale consumers
Sometimes you learn more about a film from watching the audience than you do by paying attention to the action onscreen, and that is the case here. Pity the poor slumped-over kids who came thinking it was Disney animation, and got suckered into some wretched excuse for romantic comedy. Most of them looked bored almost to the point of disgust.
Enchanted is not a film for kids at all, nor teenagers or the twenty-something porn generation, who might be hard pressed to get the shtick about true love waits. The film seems to appeal mostly to younger women of the kind who buy bridal magazines and watch Sex in the City without the icky bits. In the world of Andalasia, a fairytale kingdom of handsome princes, evil queens, and twittering forest creatures, of which Giselle is apparently the most twittering, love is instant and forever.
The twist is that the real world is governed by the same rules. Despite the fact that he's a downtown divorce lawyer, Robert is still a prince, as evidenced by his palatial New York apartment. Fairy tales can be about overcoming social barriers and superseding class divisions. But not this one. Giselle still ends up at the top of the heap, rich, beautiful and privileged, just like a real live American princess.
Much has been made of the fact that Enchanted is a Disney film that sends up the conventions of a Disney film, but the joke may actually be on the audience. Aside from a few instances of chest hair fondling, everything else is pretty much the same as it was in Cinderella's day, papered over with a very thin layer of irony.
It's not a new idea. Certainly The Princess Bride or the Shrek series demonstrated there's gold in rehashing, with dashes of irony, old stories for young minds. Even something like Beowulf takes an ancient tale and dolls it up with splashy stuff like CGI six packs and a golden Angelina Jolie. If we adapt fairy tales to suit our time and age, modern myth-making of the middle-class variety hammers gender divisions home with an iron fist. Films like 300 or Beowulf are to boys what Enchanted is to girls. Every girl is a princess and every boy a warrior king.
King Dollar
Just as the Brothers Grimm expurgated any sexual references in their collection of fairy tales, and the Victorians did likewise, Enchanted also takes out any real human emotion, and replaces it with sheer excess. Show-stopping sequences that make the entire city of New York into one enormous musical are so over the top they're exhausting. But the film wants to have it both ways. It wants to be both innocent and knowing, the full-on schmaltz waltz tempered by self-referential asides.
The product placement is so unabashed and shameless, it almost beggars description. As the camera carefully zooms in to frame individual logos for Calypso Perfume, or Jimmy Choo shoes, you can't help but feel any real feeling is completely undercut by the hard cold business of making money. It's not really a movie, just another extended advertisement for the fantasy world that only money can buy. And perhaps, that makes it more a Disney movie than anything else.
Maybe I harbour a lingering aversion to the entire Disneyland ethos, but the sense that this magical kingdom, like some enormous gossamer soap bubble, now extends to most of Western culture is more than creepy, it borders on malignancy.
Fairy tales were meant originally as a form of inoculation for young hearts and minds against the fact that life is nasty, brutish and short, a reality that holds true still in large sections of the world. In North America, stories like Enchanted do something else entirely. Every girl is a princess, and we all deserve a dreamy fairy tale ending. In this spun sugar fantasy land, where evil is vanquished, love never ends and shopping is so much fun, the moral of the story is keep sleeping, beauty.
Related Tyee stories: