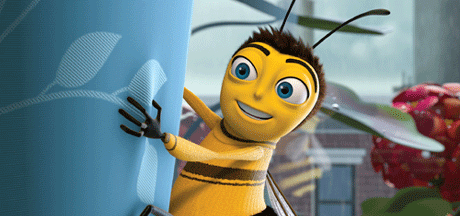 "If the bee disappears from the surface of the earth, man would have no more than four years to live. No more bees, no more pollination, no more plants, no more animals, no more man."
Whether or not Albert Einstein actually said this (the quote has long been attributed to him) probably doesn't really matter, the statement has the ring of truth. It's unlikely that the makers of Bee Movie were inspired by the real live disappearance of bees around the world, but the coincidence gives the film a weird frisson. Co-directed by Simon J. Smith and Steve Hickner, Bee Movie is bright and shiny, but I can't seem to watch kids' films lately without seeing conspiracies everywhere -- dark shadows lurking underneath the bright candy colours, strange disturbing ideas drowning in syrup. Bee Movie serves up a whole sticky wad of these.
The film is differentiated from the swarm of similar stories by the presence of Jerry Seinfeld, who plays Barry B. Benson, a young college graduate just entering the bee workforce. Like all his fellow newbies, Barry has reached the cusp of adult life and must now choose the job he'll have for the rest of his life.
"You mean you're going to work us to death?" he asks, during a tour of the honey factory. All of his compatriots accept their fate with inane cheerfulness, but not Barry, he has a taste for adventure and the outside world. If the echoes of Dustin Hoffman in The Graduate are obvious, they get even more so when Barry dives into a swimming pool of honey to escape the nagging voices of his parents. They want him to marry a nice bee-ish girl and settle down, but Barry has different ideas and a hankering for a shiksa goddess some 200 times his size.
Before your pervy brain gets carried away, remember this is supposed to be a children's movie, but any kid who gets a reference to The Graduate, I'll tip my hat to.
God's green Earth
Before he resigns himself to a lifetime of toil, Barry decides to venture out with the pollen jockeys, an elite squadron of Tom Cruise-like insects whose job it is to gather nectar and bring it back to the hive. Once he's out in the world, Barry is quickly overwhelmed by the chaos and confusion of the big city. Cars, tennis balls and rolled up newspapers all conspire to separate bee life from bee limb.
Purely by chance, or perhaps driven by some unknown apian instinct, Barry B. ends up on the windowsill of one Vanessa Bloome (Renée Zellweger), a florist with a kind heart and an idiot boyfriend.
Before long, love blossoms between this unlikely duo. Soon Barry is spending all his time chatting up his new (huge) girlfriend until one fateful day when the pair visits the local supermarket. One look at the honey aisle and Barry's life is altered forever.
Unbeknownst to the wild bee population is the fact that humans have been "keeping" bees, treating them like an enslaved workforce in order to steal the products of their sweet labour and turn them into Ray Liotta Organic Honey, shampoo additives, or elderly ladies' favorite tea time sweetener. After Barry stumbles upon this outrage, he sneaks onto a honey plantation that has echoes of darker, nastier places (e.g., concentration camps).
Here, hapless insects are regularly gassed into submission, while evil cackling humans steal their honey and call them names. Being an intrepid and hotheaded creature, Barry decides to sue the entire human race to have the ill-gotten gains returned to the bees. Low and bee-hold he wins, and of course, everything goes terribly wrong.
Slavery is good
With their all honey returned, the bees shut down production and go on an extended vacation. Instead of buzzing about, collecting nectar, and pollinating flowers, they flake out at home, turning from industrious little creatures into a species of slackers. The delicate balance of nature is tipped. Without the unceasing efforts of the bees, the entire world begins to wilt, no pollination means no flowers, no plants, no vegetables, and the fate of the planet hangs in the offing. Freedom from servitude is also doing the bees little good; they've lost their will to do anything and are leading meaningless empty lives.
The messages buzz softly in your ear -- slavery is good, even necessary for the continuation of society. But of course, the question is: whose society?
Every time the world is in peril, it's not the entire world that's in trouble; it's always those damn humans and their teeming, voracious culture. Every creature on the planet is subject to their use and any attempt to escape from this system is a surely mistake. Even though little Barry's intentions are good (the road to hell and all that), the end results are disastrous. The complex interconnection between all living things is reduced to the blunt monstrous fact that everything exists so that people can go on doing what they've always done. It's the natural order of things, don't you know. After a brief bid for freedom and independence, the bees are back in service to the hungry humans, Barry ends up stuck behind a desk, and life goes on exactly like it always did. Insert a reaffirmation of the status quo right here.
That stinging sensation
If you're a small child, this implicit message will probably enter your little brain with nary a difficulty. If you're an adult, you might feel a slight sting upon entry. This split between child and adult perception complicates the film in other ways as well. It is a complex proposition to appeal as broadly as possible to all ages -- often both kids and adults get bored, albeit in different ways and for different reasons. Bee Movie is a particularly egregious example. Seinfeld's dry delivery makes for a certain adult sensibility, but even the horde of celebrity cameos can't really lift the story off the ground. The film is too wordy for kids and too simple for adults. Both groups will probably end up feeling a little peevish by the end.
But that's not the thing that pokes me in the head. The curious thing about children's films is that the messages and ideas they contain are often an oddly twisted, perversion of some natural impulse towards affinity and empathy for animals and the environment. In Bee Movie, there is little, if any, difference between bees and humans, with the exception of size. Bee society is almost an exact carbon copy of our world; the appearance of difference is only on the surface. Really, what is good for people is also good for bees. Although the opposite is probably true.
In the real world, even as our enormous metropolis is revealed to be dependent on the efforts of tiny little creatures like bees, the bees themselves are apparently saying "Screw this!" and decamping en masse. Colony Collapse Disorder is the name given to the mysterious disappearance of bees, which have vanished into thin air, leaving behind their hives, and their brood. The phenomena represent a threat not just to honey bees, but also to everything else. (Supposedly one third of all the food on earth depends on bee pollination.)
The vanishing bees story has been picked up by various sources, but no one has quite figured out the source of the problem or, perhaps more importantly, its long-term impact (though recent research point to a virus). You can't help while watching Bee Movie think about how it might be perceived 10 or 20 or 50 years from now, maybe as a bright cheerful harbinger of doom.
Related Tyee stories: