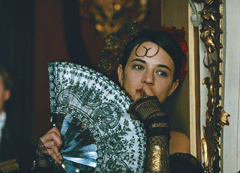 Given that there is almost an obscene amount of choice at the Vancouver International Film Festival this year, how do you decide what to see? If you want to be a pig about it, just gorge on all of the VIFF flicks, but since most people only have the time for a few films, strategy is necessary. Determining your emotional appetite can help you choose a corresponding cinematic entree that will satisfy. Do you want a platter of righteous anger, a small delicate documentary, or a heaping pile of art house deliciousness? Here is just a sampling of some of the taste sensations on the menu this year.
The taste of tears: 'Savior's Square'
The thin gruel of pain and suffering is an acquired taste. Since so many mainstream films taste like cotton candy -- sweet, fluffy and full of nothing -- the bitterness of despair can almost come as a shock. Co-directed by Krzysztof Krauze and his wife Joanna Kos-Krauze, Saviour's Square is story about a young Polish family (Bartek, his wife Beata, and their two small sons Adrian and David) who buy an apartment in a new building under construction. When the developer goes bankrupt, the family loses everything and is forced to move in with Bartek's mother, a veritable grandma from hell. This is the plot of the film, but it's only the barest surface; the real meat of the story is how economic and class differences manifest themselves inside families. Trapped with her mother-in-law and philandering husband, Beata slowly begins to unravel as the pressure of money, family and unemployment take their toll.
The personal costs of Western-style capitalism, and the class division between urban professionals and rural people are all carefully laid out, but it's the story of a young mother driven to despair and desperation that captivates. The actors borrowed a page from director Mike Leigh (Vera Drake, Secrets and Lies) and improvise dialogue over the course of production, and this gives the film the feeling of brutal honesty. Saviour's Square is a genuine tragedy, not the Paul Haggis variety in which beautiful actresses emote all over the place, but one where ordinary people try to cope with the inexorable forces at work in their lives, and all too often fail.
The world of flavour: 'La France,' 'You, the Living,' 'Alice's House,' '10 + 4,' 'Echoes of Home'
At the VIFF, international flavours abound. There is everything from a French war drama (Serge Bozon's La France), to Swedish oddness (Roy Andersson's You, the Living), Brazilian spice (Alice's House), an Iranian car film (Mania Akbari's 10 + 4), or Swiss yodelers in Stefan Schwietert's Echoes of Home.
Sometimes it's the films you have the least expectations of that come along and surprise you. Echoes of Home is just such a case. My first thought on screening the film was, "Yodeling? Oh, man..." But this is a gem of a film, profound, funny, odd, a wonderful surprise and sometimes surprise is simply one of the best things around.
The film follows three different musicians including Christian Zehnder, who took up the wordless art of yodeling after he lost the ability to retain lyrics; the entirely unconventional Erika Stucky, who started singing in bars when she was just a kid, and Arnold Nolder, a member of the world famous Alder Buebe. Schwietert's film combines sound and picture in truly artful ways, with scenes of the singers set against the majestic heft of the Swiss Alps. Musical collaborations with contemporary musicians or Tuvin throat singers demonstrate the ability of the human voice to access every possible range of emotion, but it's the more humble moments, such as Stucky and her daughter singing in their kitchen, that stay with you.
A Taste of Asia: 'Go Go Tales' and 'The Last Mistress'
That's Ms. Argento to you, boyo. The daughter of Dario Argento of Suspiria and giallo fame, Asia Argento has recently become something of a dark queen of the cinema. At the Cannes film festival, she ruled all. We haven't had a dark siren this enticing since the days of Ava Gardener. With her purring growl of a voice, and serpentine presence, Argento is a nice contrast to the heaping load of white bread actresses around. She is also seemingly a woman devoid of fear or shame. So, if you're in the mood for a steaming haunch of raunch, Ms. Argento delivers, getting her freak on in two films Abel Ferrara's Go Go Tales and Catherine Breillat's costume drama The Last Mistress.
Artful Appetizers: 'Black White + Gray: A Portrait of Sam Wagstaff and Robert Mapplethorpe'
Good taste is examined in all its implications in James Crump's elegant documentary Black White + Gray: A Portrait of Sam Wagstaff and Robert Mapplethorpe. Sam Wagstaff grew up in the golden age of New York City, a Camelot era of class, privilege and old money. Born into Park Avenue wealth, Wagstaff was a deb's dream (tall, intelligent and almost insanely handsome). He started his career in advertising, before moving into art curation. Wagstaff's personal vision became apparent when he organized several influential exhibitions, but his destiny truly crystallized when he met the young artist Robert Mapplethorpe. At the time, Mapplethorpe was living in squalor at the Chelsea Hotel with Patti Smith, making beaded jewelry. Together, Wagstaff and Mapplethorpe exploded onto the art world of New York, becoming a pivotal part of the era.
When Wagstaff inherited his family's millions, he embarked on a kamikaze spending spree, buying photographs literally by the bag full. Patti Smith recounts spending afternoons in Wagstaff's spartan apartment simply going through hundreds of photos, spread out over the floor. Wagstaff called his love of photographs his "vice," stating that photography "was a source of pleasure and joy which had been hidden from me, not only by myself, but by my mentors in the museum world, the dealing world and the world of scholarship."
The twist in Wagstaff's story is that his rarified upbringing and elite education afforded him the cultural fluency, the good taste to see into the future of collection, as well the ability to champion Mapplethorpe's work. Many of the photographic subjects that Wagstaff favoured would find their way into Mapplethorpe's photos, although it is difficult to determine who exactly influenced whom. Even while Wagstaff was amassing a body of culturally significant work, and almost single-handedly creating the leading contemporary photography collection in the U.S., his life was sliding into chaos. Both men died in the late '80s from AIDS, and while Mapplethorpe's outré reputation earned him a place in art history, Wagstaff was largely eclipsed from history, until now, that is.
If music be the food of love, play on: 'In Search of Mozart,' 'Antonia,' 'Control,' 'Nömadak Tx,' and 'Anita O'Day -- The Life of a Jazz Singer'
As usual, the VIFF has a great supply of films about music, including: In Search of Mozart, Antonia, Control, Nömadak Tx, and Anita O'Day -- The Life of a Jazz Singer. The latter film is simply wonderful. They just don't make them like the Jezebel of Jazz any more.
Anita left home at age 12 to start a life as performer, beginning her career as a singer in the big band era. She was one of the few white jazz singers to be mentioned in the same breath as Billy Holiday or Ella Fitzgerald, and one of the only artists of this calibre to survive into old age, although, she did die actually more than once. After a massive drug overdose, O'Day was pronounced dead. Thankfully, she was resuscitated and went on to even greater drama. Even in her 80s, she was still singing and recording, telling stories and cracking wise. Anita O'Day was one tough cookie, surviving not only 20 years of heroin addiction, but a couple of marriages, rape, jail time and sickness, through it all she just kept going.
One of the ironies of O'Day's life is that she was probably a better singer while she was a full-blown junkie; the loose mellowness of a jazz improviser was supposedly aided by heroin use. Filmmakers Robbie Cavolina and Ian McCrudden recreate O'Day's extraordinary life through archival footage of some of her greatest performances, as well as interviews with the woman herself. The lady is a hoot; she reminds me a great deal of my grandmother oddly enough, the same tough-talking, no nonsense view of the world, spiked with liberal amounts of gonzo humour. Anita O'Day was truly a class act, and the film does her justice.
Old-fashioned heart warmers: 'We Are Together,' 'War/Dance,' and 'Autism: The Musical'
Paul Taylor's We Are Together, Sean Fine and Andrea Nix Fine's War/Dance and Tricia Regan's Autism: The Musical are all excellent films that deal with the difficulties of childhood. Whether they're in Africa or L.A., children's need for love, family and compassion are the same the world over.
Regan's film tackles the subject of autism in an entirely intimate and personal way, following a group of autistic kids as they write and perform their own musical production. Although each of the children introduced is a fascinating individual, it is the parents that I found most compelling. As the mothers and fathers talk about the pressures of raising their kids in a society that has little use for people who are so profoundly different, you get a glimpse at the high costs paid by each family. Marriages crumble in the face of the autistic children's needs, and it is the mothers who often bear the brunt of the enormous care-giving effort required. Elaine Hall, whose adopted autistic son rarely slept more than two hours per night, and was prone to violent tantrums, is a case in point. After her first marriage ended, Hall started The Miracle Project, a theatre workshop designed especially for special needs children. Her efforts to reach her son provide one of the film's most triumphant moments.
Soul food: 'How to Cook Your Life,'
Master Eihei Dogen Zenji, the founder of the Japanese Soto-Zen, wrote about the close connection between Zen Buddhism and the ordinary activities of preparing rice and vegetables almost 800 years ago. Zen Master Edward Espe Brown takes these words to heart in the lovely documentary How to Cook Your Life. Director Doris Dörrie follows Espe Brown as he trots around the world (from the Scheibbs Buddhist Center in Austria and to the San Francisco Zen Center in California) offering heaping helpings of wisdom and culinary technique. Although the blank blissful looks of the middle-aged women who attend his classes can be disconcerting occasionally, there is still a lot of charm in this film. Espe Brown doesn't take himself, or anyone else, that seriously, and any puffy holiness gets pummeled down, much like bakers punch down bread. Salient points about the nature of food and culture are gently made, but the tone of the film is never preachy nor didactic, and the correlations between spiritual teaching and food make for a nice series of lessons learned.
Brain food: 'Redacted,' 'Taxi to the Dark Side,' 'Profit Motive and the Whispering Wind,' 'The Trap: What Happened to our Dream of Freedom'
If you're angry and you need a film to fuel your rage, there is ample stock on hand; perhaps none so angry as Brian De Palma's Redacted. The Brian De Palma of Scarface, Dressed to Kill, and operatic violence, that Brian De Palma you ask? The very same. Mr. De Palma has suffered something of a sea change, not that he's lost his appetite for gore (be forewarned, the final coda of this film is very, very disturbing), but he's learned to use the same tactics to a very different effect. Redacted garnered a 15 minute standing ovation when it premiered at the Venice Film Festival earlier in the summer. But while the Europeans have lauded the director's bravery, in the U.S. the hate mail has already begun to pour in (courtesy of YouTube and other websites).
Taxi to the Dark Side also examines the war in Iraq with clear-eyed rage. But it's one of the quietest films that deserves the most attention: John Gianvito's Profit Motive and the Whispering Wind is a journey through the cemeteries of American's radical past. Paul Robeson and Mother Jones may be are dead and buried, metaphorically as well as literally, but Gianvito's film is a pointed reminder of how much of contemporary history has been pushed into the margins, left to rot, unknown and unacknowledged.
One film that is particularly of the moment is Adam Curtis's documentary The Trap: What Happened to our Dream of Freedom. Curtis, with British steel and perfect enunciation, leads you through an alternate history of the last thirty odd years. Reading Naomi Klein's new book Shock Doctrine and watching Curtis's film could very well you convince you of the truth of a shadow society. The Trap is simply over-flowing with information, ideas and theories -- it is a veritable embarrassment of riches. Everything from Friedrich von Hayek's ideas about how human society is entirely motivated by selfishness to the game theory of the cold war.
The film wends its way from the French Revolution to the Iranian Revolution, to the rise of the Prozac nation in the U.S. Curtis pays particular attention to mathematician John Nash's ideas about human behaviour, citing his experiments while at RAND, devising cruel games that demonstrated humanity's basic inhumanity (the infamous game called "Fuck you Buddy!" is a case in point). Despite the fact that Nash was suffering from mental illness, his theories became the groundwork for much of modern society, from Thatcher's England through to the current U.S. administration. While it is sometimes difficult to follow each and every argument that Curtis makes, it's hard not to agree with where he finally ends up, in a world where the wealthy and poor are increasingly divided, and social systems of class and privilege, dating back to the 1900s, have re-emerged. Naomi Klein calls these divisions of wealth and power "red and green zones," but both she and Curtis seem to reach similar conclusions. Watch this film, read Klein's book, and then go and change the world, because it really needs changing.
Related Tyee stories: