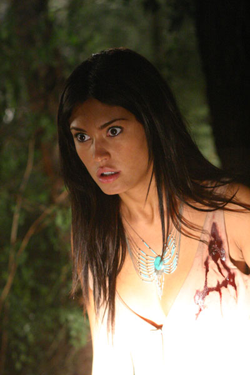 The new Vancouver International Film Centre opens next week with blood, guts, monsters, murder, and mayhem. And that's just the beginning. The Masters of Horror series, produced for Showtime network in the US, began with a gathering of gore meisters at pizza parties and coffee klatches organized by director Mick Garris.
After much gossiping and noshing, Garris and his gang of horror geeks decided to put on a SHOW! And the Masters of Horror and their dark batch of babies were born. The brood includes Dario Argento (Suspiria), John Carpenter (Halloween), Larry Cohen (It's Alive!), Joe Dante (Gremlins), Stuart Gordon (Re-Animator), Tobe Hooper (Texas Chainsaw Massacre), John Landis (An American Werewolf in London), Lucky McKee (May), William Malone (Feardotcom), John McNaughton (Henry: Portrait of A Serial Killer), and Japan's Miike Takeshi (Audition). It's a virtual who's booing who in the world of horror.
So what can they tell us about what scares people most? It appears to be dark woods, sulky teenagers, bugs, rats, strange country folk, The US government, and most of all, it seems, women.
Horror has the capacity to be a truly subversive genre, and no film makes this point quite as blow to the head bluntly, as Joe Dante's Homecoming, the first film to be screamed in the series on Friday, January 13th.
Satire can walk a thin line between didacticism and humour, and Dante skips lightly along this perilous road, with a thin coating of fantasy over some very real horror. It is 2008, and the casualties of America's "most recent engagement" are wished back to life by a Washington spin-doctor named David Murch. The zombie soldiers are probably the least frightening thing in the film, far more terrifying is the boney horror that is an Ann Coulter-look alike, a hillbilly preacher Billy Graham-type, and a very scary impression of George W. Bush. Dante wields his scalpel like a true master, cutting away at the religious and political rhetoric to show the true guts of the current US engagement in Iraq.
The fact that this takes place in a horror film is an curious indication of the ground swell of dissent in the US. The ground is swelling, and divulging its corpses, one rotting body at a time to protest a war sold on "horseshit and elbow grease." Dante is unafraid to state his intentions. In recent interviews, most notably in Cinema Scope, he lets the full extent of his rage howl forth, like a creature unleashed. It is stunning: read and weep. When the Masters of War meet the Masters of Horror it is one hell of a death match.
Screen misogyn-eek
If the primary function of horror movies is to show us, as a society, what we don't want to confront, then they are certainly showing us some interesting stuff. Dante's is one of the few films that has a political message, but many of the others, offer up fear of the female, in all its varied forms.
Beware the ungulates! Especially the sexy ones who dress like Shania Twain and flash a cover girl smile. John Landis's Deer Woman is a quirky, loving tribute to the terror that is woman. Landis long time alum Brian Benben is Detective Faraday, a disillusioned cop who has been shunted from department to department, finally reaching his lowest ebb, investigating animal attacks. A series of brutal murders, where dead men in states of arousal were apparently stomped to death, brings the detective back from his own living dead state. Benben has always been a somewhat under appreciated actor, and here he is in fine form: dryly wretched, yet still managing to plod along, determined to solve the mystery. Landis packs the film with inside jokes including one about a certain werewolf in London, and makes good use of Vancouver's Save on Meats as the sight of a particular nasty slaying. This film should be seen merely for the sake of an extended fantasy sequence, featuring the Paul Bunyan of deer. If you were one of the many people who has long harboured a grudge on Bambi's behalf, you will enjoy this movie.
Scary females also play a prominent role in Incident On and Off a Mountain Road from Director Don Coscarelli (Bubba Ho-Tep). Picture a young woman on a darkened highway, a grotesque murderer (Moonface the madman), a shack full of rotting corpses, a drill press, and yawn...haven't we seen this all before? Well, yes, in fact we have, so many times I've lost count, but Coscarelli has his own spin on events; unfortunately, it's just not a very surprising one, and the twist in this particular pair of panties is visible from a long way off. Expect the unexpected, until the unexpected becomes the expected, and then what do you do expect? Not too much.
Monsterette mash
There are a few too many similarities here to other films, even something like Jeeper Creepers, which also had a monster with ocular preoccupations. The film isn't helped by a actress whose resemblance to Ashlee Simpson may predispose you to want her disposed of. One can't help feeling a little sorry for Moonface; he might not be pretty, but at least he has character. And some nifty boots.
Much more sympathetic is the lead in Sick Girl from Lucky McKee. Ida Teeter (Angela Bettis) is a lesbian entomologist looking for love, who finds more than she bargained for when she beds a long-haired hippie girl with a penchant for drawing fairies. Beware the long-haired hippies, they're as bad the deer women. A mammal-hunting Brazilian insect completes the triangle and soon you have a storybook ending called "Bug Babies Have Two Mommies."
Bettis, who played the central role in McKee's earlier feature, May, is an interesting presence: odd, angular, a little bug-eyed, like a giant stick insect in human form, and never less than fascinating to watch. McKee plays with notions of gender, and different perspectives, insectoid or humanoid. Smaller moments, like those between Ida and her male buddy/workmate, add up nicely. If you like Lucky's style, then go and rent May, you won't regret it. Or maybe you will, as this one of those films that stays with you long after the screen fades to black.
Another girl, interrupted, brings hope to William Malone's The Fair-Haired Child. Tara, or is that terror, is a young geek, kidnapped by a couple of weirdos played by Lori Petty in Lady Macbeth-mode. Beware Lori Petty! She makes everything else in this film seem utterly benign by comparison. A variation on a monkey's paw story, where a mother's love brings forth the spawn of Satan, this is creepy little story. Mothers: is there is no escaping their influence? They'll call you back from the grave, if they can, and indeed, it seems they sometimes can do just that.
Scary enough to eat
Series producer, Mick Garris's contribution to the cadre of killing is Chocolate, the story of a divorced man who tastes and smells like a lovely lady. Dreams in the Witch-House is director Stuart Gordon's take on H.P. Lovecraft's story about a mean witchie-poo. (Perhaps the less said about this film, the better). Miike Takeshi's Imprint, follows a man looking for love in a 19th-century Japanese brothel. Memoirs of Geisha meets Memento mori of a geisha. Dario Argento, whose previous films elevated very bad women to cult status, presents another version of Lolita-no-gooda. Jenifer, based on Bruce Jones' comic, is a little lady who comes to the rescue of a policeman, much to his detriment.
John Carpenter's Cigarette Burns features horror hero Udo Kier, in a quest for a mysterious film that killed, quite literally, at the Stiges film festival. It sounds oddly familiar to a novel called Flicker (1991) from writer Theodore Roszak, author of the much-cited The Making of the Counterculture and The Cult Of Information. If you have never read Flicker, drop whatever it is you're doing, it wasn't all that important anyway, and hie you hence to library. It is a stunner of a read, especially for anyone with even the slightest interest in film. The publisher's review of the book says, "Tantalising and scary as a Stephen King novel, Flicker has the power to fill even the most casual filmgoer with an awful, creeping dread. An epic meditation on the potential evil lurking within movies," and this from no-less a demented writer than Brett Easton Ellis (American Psycho). A film version of the novel has long been in production with director Darren Aronofsky. Whether 'the creeping dread' so replete on the page can survive transplantation to film remains to be seen.
Bugs and bones
Tobe Hooper's Dance of the Dead, John McNaughton's Haeckel's Tale, and Larry Cohen's Pick Me Up round out the directors. You will note, however, there is not one female name here. They could have at least thrown Kathryn Bigelow a bone. Certainly there's deer women, bug women, witch women, even in the words of Carol Clover (Men, Women and Chain Saws: Gender in the Modern Horror Film), final girl, but not a single director woman. Where's the women, eh?
The good Dr. Clover has an idea. In a e-mail to me, she wrote, "The answer that I propose in my book to this conundrum is that the function of horror in general and slasher movies in particular is to put the male spectator through what he imagines (however unconsciously) to be a "feminine" experience (abject fear, passivity, penetration, and-masochism, in a word) without owning up to it. If that is so, one can see horror movies as delicate negotiations of the male psyche that pretty much only male writers/directors can undertake."
Women have only recently joined the boy's club that is horror. Canadians such as Ashley Fester (Celluloid Horror), Elza Kephart (Graveyard Alive - A Zombie Nurse in Love), Kier-La Janisse (CineMuerte Film Festival), Karen Walton (Ginger Snaps), Jen Vuckovic (Rue Morgue magazine) have been busy bloodletting. A slew of sinister sisters around the world is similarly engaged.
'Ministry of Fear'
In the UK, Lizze Francke heads up the Ministry of Fear, a British horror studio with a slate of projects on the boil, including You Can't Come In, written by Muriel Gray; Carine Adler's Innocence; and An English Ghost Story from critic Kim Newman from his own novel. Antonia Bird (Ravenous) is currently in production with a new film called Meat Trade about serial killers Burke and Hare who 1827 turned more than thirty people turned into anatomy lessons. Kathryn Bigelow's Near Dark is also planned for a remake. Director Genevieve Jolliffe, who entered the Guinness Book of World Records as the world's youngest film producer, made her mark with Urban Ghost Story (1998), the story of a young Glaswegian girl and the strange visitations she is subject to after a near-death experience. Jolliffe's Absolute Angels, about a goth girl who joins a cheerleading squad of bloodsucking sorority sisters is currently in production.
Canadian documentarian Jennifer Adcock's, Nightmare in Canada, featured in upcoming Moving Images Film Festival, makes the point that Canada has a proud history of being creepy. Long before Cronenberg was fiddling about with alternate orifices, other tax dodge films and independent productions were grabbing the silver screen by its long and lovely throat. Nightmare in Canada, is a good survey for those who don't know anything about Canadian horror. It lays down the foundations, beginning with Julian Roffman's 1961 film The Mask, and leading up Ginger Snaps (2000). Written by Karen Walton, Ginger Snaps is an intensely female story, dealing with stuff that only women experience: from the horror of first menses to why boys are suddenly much more interesting, to wanting to kill your sister (we've all been there).
Ginger and Brigitte are sisters locked in teenage ennui, until a chance encounter with a lycanthrope changes everything. Women can bring a new, and occasionally very different approach, to hoary old horror, often because they want to do more than simply survive and kill the monster. Often they are the monster, a theme which has figured prominently in female generated horror, beginning with the mother of the them all Mary Shelley's Frankenstein.
But if, in horror films, as feminist theory argues, men want to be women, and women want to kill men, then perhaps, it's all good. Let her RIP!
Dorothy Woodend reviews films for The Tyee every Friday.