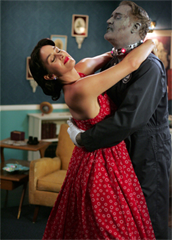 Director Andrew Currie's film Fido is the most expensive independent movie ever made in B.C. (some $11 million), and it shows. It looks fantastic. The colours almost leap off the screen. It is crisp, clean, gleaming with money well spent. While watching it, however, stray thoughts kept floating into my head like, "I wonder if they thought about slavery when they made this?"
Fido is set in a little town called Willard, a place where the 1950s went to die. In Willard, it is still the age of Leave it to Beaver, perky housewives, men in suits, Studebakers, starched aprons and heaps of steaming repression for everyone. Like any good 1950s scenario, there is all matter of seething licentiousness writhing just beneath the surface. The scene opens on a quintessential elementary school, where a group of children are watching a filmstrip. The film recounts how space dust turned dead people into flesh eating zombies, threatening the very existence of human society, until science (and corporations) saved the day. Thanks to a company called Zomcon, the zombie menace has been quelled and the good pink humans allowed to flourish. The social critique of the gated society, Fortress America, is obvious. The nuclear family goes merrily about its business, while outside the white picket fences, the voracious undead roam the planet, looking only to devour and destroy. Damn the zombie poor!
The lights come up, and the camera settles on the face of little Timmy Robinson (K'Sun Ray). Timmy is an outcast, partly because he's a bit of a wiener, but mainly because his parents are the only ones on his street who don't own a zombie. The "owning" part is important because despite their once-human status, the undead are now relegated to the level of tools. They have no rights and are collared like dangerous dogs or unruly slaves to keep them docile and restrained. Willard's immaculately groomed and manicured (all white) neighbourhood is supported by the labour of the undead masses, those silent, submissive servants who do all the crappy jobs the live folks would rather not do like deliver the milk, clean the houses and provide sexual services.
Timmy has the unfortunate habit of asking a lot of pesky questions about this setup, which earns him the wrath of the class bullies as well as the beady-eyed attention of the head of Zomcon (played by all-Canadian villain Henry Czerny). Hollow-eyed and lonely, the tow-headed tyke is not particularly well-liked and gets picked on at school, and even at home, Mom (Carrie-Anne Moss) is a status obsessed, full skirted Sirkian queen bee, straining at the laces of propriety, while dad is a stick in a suit, and therefore, according to the rules of zombie film, doomed from the outset. In a moment of wifely manipulation, mom buys a zombie against the wishes of her husband, and the film looks as if it might be akin to an episode of I Love Lucy, or more correctly, I Love to Eat Lucy's Brain. The new zombie servant, played by Billy Connolly, is a lurching, rotting heartthrob. Of course, he has no heart of his own to throb, but that doesn't stop Mom from eyeing the big stiff one; seems horniness can survive even death. And Timmy's mom is not alone in her inclinations: the friendly neighbour across the street also keeps a zombie teenager as a love slave, and the pair have developed feelings for each other. Children shouldn't play with dead things; that's reserved for adults only.
Dead sexy
While the grownups are busy, Timmy forms an immediate bond with his new servant/ pet/ daddy substitute and names his zombie friend Fido. When Fido's collar malfunctions and he chews the arm off a cranky neighbour, Timmy buries the body and hides the evidence. This being a zombie film, what is covered up always claws its way to the surface, and before long, there is a full on outbreak of undead action, leading back to Fido. Will Timmy save the day and get his zombie buddy back? Will the evil corporate executives be taught a lesson? Will mom actually do the necrophiliac bop? Stay tuned...
The idea of crossing Night of the Living Dead with Peyton Place could have been lots of gory fun, but the film never takes flight. It shudders along, the jokes telegraphed from a long ways off, rather like a slow moving zombie of old. Certainly it's well made and the actors do their jobs, but it's missing some vital spark of life, or wit, to push it into the realm of camp-made-good. Comparisons to other films such as Shaun of The Dead are apt, but the film has more in common with satires like Top of the Food Chain by fellow Canadian filmmaker John Paizs.
Fido tries very hard to keep the tone light, but it doesn't succeed in meshing hilarity and horror: the more disturbing ideas it's messing about with poke through. The problem is not the casual killing, where school kids have target practice instead of gym class, nor even the gender politics of the 50s, a time when women hid their sexual needs beneath enormous crinolined skirts. It's not even the explicit notion of a segregated society, when the nice middle-class people are afforded a comfortable life by the low paid labour of the poor masses. Even the subplot of mom getting it on with a zombie stud, eerily akin to the lady of the manor having a little voodoo sex with the strapping black servant, isn't terribly distressing. Whether the baby born at the end of the film is supposedly the result of such a liaison, like a child conceived between a black man and a white woman, its only hope in a society like Willard is to pass (to use a nasty old term). Feeling that dead Uncle Tom vibe yet?
Zombie activism
Fido's ultimate problem just might be that the film is unfair to zombies. Satire of this sort isn't nearly so simple as it appears. You have to know and appreciate the undead for all the hard work they've done on the part of social and Marxist theory before you can appropriate the poor buggers to make yet another film. From the mid-sixties, the use of zombies for social critique (George A. Romero et al) has been the subject of innumerable articles, reviews and PhD dissertations, and their popularity continues unabated. A quick perusal of all things zombie-revealed an onslaught of films (zombies on a plane, zombies in Finland, even zombie sheep). 28 Weeks Later (the sequel to 28 Days Later) comes screaming onto movie screens this May, preceded by yet another Romero remake with Day of the Dead. Director Grace Lee's American Zombie, which recently screened at the SXSW Film Festival, broaches the prejudice that just won't die. In this film, zombies look and act pretty much like everybody else. Writes Salon film critic Andrew O'Hehir about the film: "I won't say with any confidence that American Zombie is an allegory about Muslims or undocumented immigrants or anything else specific. It might just be a goof on the silliness of contemporary media that gets a little broader and darker as it goes along." Seems zombies are fair game for anyone who wants to use and abuse them.
How about a little respect for our undead brothers and sisters? They work hard, and what do they get, except their heads blown off with shotguns by some B-grade Hollywood starlet? That's cheap, and really, the undead deserve a bit more than that: they should be feared, not cuddled. I like my zombies mean, ferocious and utterly terrifying, even the term "zomedy" gives me a headache, so perhaps I'm biased, but the combination of comedy and gore seems more almost heartless than regular old horror. If someone is trying to scare the pants off you, at least you know that he or she has honest intentions. The same can't be said of a film that serves up a hash of blood and giggles.
Love trumps irony, and a camp film that starts out heavily laden with tongue-in-cheekness can sometimes morph into a strange form of sincerity. That does not happen with Fido, maybe because there wasn't enough love to begin with. Beneath the candy bright satire of the film, there's an odd bitterness that lingers, a noxious chemical tang that speaks of insincerity. It tastes like Sucralose instead of genuine sugar. I think I'd prefer a nice old-fashioned bowl of brains.
Related Tyee stories: