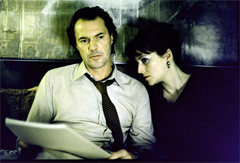 The Stasi weren't so bad; at least they were organized. Such is the premise of The Lives of Others, a new feature from director Florian Henckel von Donnersmarck. The setting is East Germany, circa 1984, and the East German secret police are at the height of their powers. The Stasi is busily trying to keep its citizens in order, and spouting the party line. But wouldn't you know it? Those naughty artists are refusing to co-operate. While big daddy G.D.R. watches carefully, the playwrights, the actors and authors are messing about, publishing their stories and articles, playing silly buggers. Occasionally, the most obvious insurrectionists are packed off for 48 straight hours of interrogation until they bust out crying, and blame their friends. Tsk, tsk. If they co-operate, they're made into informants, and if they don't, well, it's off to bed with no supper. Silly artists.
In this ongoing game of cat and mouse, everyone is being spied upon by someone else. In this case, the watcher is one Gerd Wiesler (Ulrich Mühe), a captain in the Stasi, and the watchees are a famous playwright named Georg Dreyman (Sebastian Koch) and his beautiful actress girlfriend, Christa-Maria Sieland (Martina Gedeck). Wiesler is one of the greyest of the grey men. Possessed of a singular stillness and enormous eyes, he resembles nothing so much as a human listening post, taking in any and all information. But of course, wouldn't you know it: he's also a soul-sick schmuck yearning for human closeness. Sigh. Even the Stasi need some loving, even if they have to book it in 30-minute increments with a state-run prostitute.
When Wiesler is given the assignment to bug Dreyman's apartment, the slow unwinding of his fortress of solitude begins. A little poetry here (Brecht) and a few sonatas there and hey presto! All that Socialist brainwashing is undone by frisky old art, and perhaps more than a little sex. The sex part comes courtesy of Christa-Maria, a beautifully tortured temptress. Clicking down the sidewalk in her high heels and enormous fur hat she cuts a fine, foxy picture, and Wiesler falls like a ton of bricks. Unfortunately, this triangle is a quadrangle, as the lovely actress has also attracted the attention of a party bigwig Minister Bruno Hempf (Thomas Thieme). As Wiesler comes to understand that he is being used, not as the sword and shield of the party, but as a means for the minister to get some more hot sweaty action with the lovely Christa-Maria, he begins to lose faith.
Sex, drugs and sedition
In his attic operations area, Wiesler starts to swap sides, while the drama right below his feet is similarly unfolding in the opposite direction. Christa-Maria is being manipulated because of her illegal drug habit, but it's unclear whether she has any genuine regard for anyone other than herself. She gives up her beloved boyfriend pretty damn easily for the sake of continued work on the stage. A pivotal sequence in which the actress and the agent meet in a rundown bar, which is ostensibly the dramatic high point of the film, is undone later when the pair meets again under entirely different circumstances. Despite the fact that her future and the fate of her lover hang in the balance, she doesn't seem to recognize the man who holds her destiny in his hand, even though they had only just met and talked face to face.
This squandering of dramatic potential tends to make one rather frustrated with the film, and the characters do not make things any easier. Since Wiesler is supposed to be a mole, an invisible creature, it makes sense that he demonstrates no obvious personality, but the playwright and the actress don't display much emotion either, despite the suicides, intrigues and betrayals that populate their lives. The character of Dreyman is as flat and passionless as any TV-host personality, and it doesn't help that the actor who plays him bears a rather unfortunate resemblance to John Tesh. When Dreyman's mentor commits suicide, the playwright finally decides to take a stand. He writes a series of articles that criticize the G.D.R. for a West German magazine, which are smuggled out by a canny editor. Amidst the secrecy and subterfuge, and a great kafuffle over a typewriter with a red ribbon, I began to worry about the type of shoes Wiesler was wearing. Doesn't anyone notice that someone is walking around just over their heads in heavy government-issue brogues, while they're discussing seditious matters?
The film lurches along, jumping ahead in time to depict the lives of the characters after the fall of the Berlin Wall, and it is here that things really get silly. When East Germany is no longer cut off from the Western world, graffiti artists, and the meaningless ennui of global capitalism, quickly invade it. Freed from his Stasi servitude, Wiesler gets a job delivering flyers to crumbling apartment buildings. Georg Dreyman, similarly liberated, has lost the will to write, and sits through revamping of his old plays. The only inspiration for both the artist and the government agent is in the past, when the walls were high, and the insurrection was flowing. Good times.
Hindsight or nostalgia?
That art can flower within totalitarianism is not news, yet the film treats its revelations like they were somehow fresh discoveries. An even more troubling issue is its none-too hidden nostalgia for the good old days of government control. The film reminded me of the German film Downfall, which depicted the final days of Adolf Hitler. Downfall was criticized (and rightly so) for depicting the SS in a kindly light, as noble soldiers simply doing their duty, rather than evil incarnate. Clint Eastwood's double-header of Flags of Our Fathers/Letters from Iwo Jima, also skated around the issue of Japanese atrocities in the Second World War. There is no government police force or army anywhere that is entirely innocent, but the Stasi were a nasty bunch. According to Wikipedia, the Stasi had approximately 91,000 employees and 300,000 informants or, "In other words, about one in 50 East Germans collaborated with the Stasi -- one of the highest penetrations of any civilian society by an intelligence-gathering organization."
The worst crime that this film has to offer is pure old simple dumbness, paper-thin characters, and a plot that leans heavily on artiness to give it the look of a more serious thinking story. Is there any crime in that? Perhaps not, but the very thing that the film purports to show -- that art can soften the hardest heart and melt the steeliest of resolves, is, quite frankly, bullshit. The Lives of Others, despite its critical acclaim, is the opposite of art; it is sentiment dressed down in drab greys and muttering violins to make it look more profound than it is. If you set out to make a film about how art saves, and the film you make is effectually not artful, are you undermining the very point that you're trying to make? Maybe. But the film has gained many plaudits; even critics who seem normally quite reasonable have been seduced. (Anthony Lane, what the hell?) Which is odd, because it is about as bluntly manipulative as an after school special, albeit one with killing, torture and sex. I remember a fellow-critic spitting invective about The Lives of Others way back in the summer, and now I know why. So, save your money and go see something with some real revolutionary spirit like Pan's Labyrinth.
Related Tyee stories: