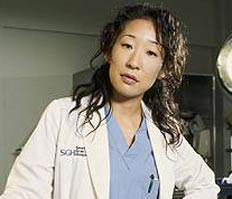 In an ironic twist, television -- the medium cursed for killing the radio star -- may have just redeemed itself with music fans.
ABC's sleeper hit Grey's Anatomy is the best broadcast source for discovering all those great new bands who never find their way onto radio - or even into local record stores.
Particularly if you're of a certain age and past the point when you have time to visit back-alley clubs. You know, that dreaded point when your pals start discussing housing prices or junior's latest cute declaration in lieu of discussing the latest great band they heard. That horrifying point at which people's musical tastes, along with their dancing muscles, atrophy.
I won't go on. Let's just say that life can be tough for aging ears that still long for new sounds. Especially if they don't want to embarrass themselves by becoming the arrested development cases that New York Magazine writer Adam Sternbergh has dubbed "Grups" - people well over 30 (or, shockingly, 40!) whose jewelry includes earphones.
Well, forgive me my iPod, but where is it written that music is only for the under 30 set?
Although, I suppose that, in practical terms, it is true that music is for the young. They're the only ones with the time to track it down.
Access to the new
For all that we keep hearing that this is the information age, without anyone to "set the agenda" as we used to say - meaning separate the Beatles from the Britney- getting to the good stuff has become a lot of work. Giving busy citizens the heads-up on everything from politics to pop culture used to be the job of broadsheet newspapers. But they've abdicated that role; replacing coverage of the new with the stuff everyone already knew.
Internet publications like The Tyee and the folks at Red Cat Records are helping fill the gap with their weekly music pix, as are websites like Pandora or last.fm.com that can offer music-seekers some new names with their taste-matching programs.
But, as my former DJ pal Christopher points out, programs like this lack the quality of surprise that is essential to good radio. People interested in music want the insight that comes with a playlist composed by a music lover with broad tastes and unlimited access to the new.
In short, what mature music aficionados need is an old-fashioned, independent, pre-corporate, music-loving disc jockey -- preferably one with access to a mass medium.
And that's exactly what we get in people like Alexandra Patsavas, the music supervisor who picks songs for Grey's Anatomy. Not only does she select surprising cuts to accent the storylines, she lists the songs and chats about her choices in a blog.
O.C. iPod
Pop music underscoring TV plots is nothing new, particularly on shows aimed at teens. The WB started the CDs spinning with Buffy the Vampire Slayer, Felicity and Dawson's Creek. Fox's The O.C. has spawned a series of CD collections from the show and boosted one band's profile, in particular. The once-obscure Death Cab for Cutie (playing Vancouver's Coliseum tonight) was probably grateful for its new-found fame as the favourite band of geek-chic hero Seth Cohen.
But there tends to be blatant cross-promotion in a lot of these pairings. The bands are often trendy enough to give the show cachet and successful enough to pay for the CD ads tagging episodes. Although UPN's Veronica Mars, in keeping with its innovative writing, offers an unpredictable roster that includes artists like Ivy and Adrienne Pierce from Vancouver's Nettwerk label.
What makes the Grey's playlist so appealing is that it is obviously chosen for artistic rather than commercial appeal. Lots of the musicians listed on the website are self-produced. They landed on the soundtrack because they caught Patsavas' discerning ear and helped tell the story. Apparently, she's a music junkie who listens to all comers and is inundated with samplers from indie artists.
As Patsavas notes in one of her blog entries, the crucial skill for any music supervisor is to love music in a "'my life would be a big dark room without it' kind of way." In short, she's the ideal advance scout for interesting tunes.
'I hate everyone'
Delightful as this is, Grey's playlist also exposes the failure of the corporate-dominated marketplace. I discovered one of my current faves, Get Set Go via the show last year, but I was met with blank stares when I asked for them in CD stores.
"They're not even on our distributor's list," one shop clerk told me, as if his computer database was the last word on all things musical.
Now, this band's bop-de-bop pop tunes coupled with vicious lyrics are a favourite with the producers of the darkly comic drama and a must-hear for anyone who grew up on Elvis Costello, Nick Lowe and smart-ass British bands like the Undertones. Cheerful, bouncy melodies provide the foundation for Get Set Go's heartfelt choruses such as "I Hate Everyone." How could these guys go by virtually unnoticed by local pop shops for two albums?
Ditto Rilo Kiley, once a well-kept secret with the download crowd. When its catchy "Portions for Foxes" was broadcast via the mid-season replacement last spring, their three CDs were unheard of locally. But when a song kicks off with a line like "there's blood in my mouth 'cuz I've been biting my tongue all week" you know finding them will be worth the effort.
Eventually, I found the CDs on the Internet, and Get Set Go, which was hardest to track, was recently added to iTunes. Thanks to rigorous touring and solid Internet presence, Rilo Kiley has since gone on to open for Coldplay's 2005 tour. Lead singer Jenny Lewis's recent solo debut, "Rabbit Fur Coat," is picking up some well-deserved kudos, which makes it easier to lay hands on.
McSeedy's playlist
But why should tracking down good music be such work? Isn't retail's raison d'etre to make its money by doing that work for us?
That's what surprised me most about the musical safari kicked-off by Grey's Anatomy - just how passive we cultural consumers have become. Even record store clerks, who might be expected to track down new music for fun, were content to wait for the distributor to deliver the tunes.
They're leaving our listening options to the distributors; who carry the albums pushed by the record producers who promote their products via "pay for play" deals with radio stations?
Now correct me if I'm wrong, but isn't that system akin to ordering a hit on originality?
As for the TV show itself, it's not bad. But I'm inclined to listen to the soapy Grey's Anatomy more than watch the antics of the doctors. Not that I don't relish the delicious comic timing of Ottawa native Sandra Oh as a socially retarded surgical intern and Isaiah Washington, the actor who plays her exasperated amour. But I'm just as irritated by the pathetic whining of the self-involved central character Meredith, and the machinations of her creepy married boyfriend whom she christened Dr. McDreamy. McSeedy would be more like it. Or maybe McNeedy? Or McGreedy? How about McSmarmy?
Still, their eeeuuuwww-inspiring encounters are easier to take if you tune out the disturbing dialogue ("Pick me! Love me!" she begs him) and listen to the music echoing the storyline.
All of which reminds me of my friend Harlan who used to edit TV news and has been muttering (darkly) for 25 years that bad TV writing is little more than radio with wallpaper. He'll hate me for saying this, but for music lovers failed by commercial radio, that turned out to be a good thing.
© Shannon Rupp. For permission to reprint this article please contact the author: shannon(at)shannonrupp.com.