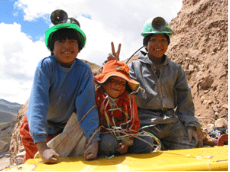 Just when you think you can't take it anymore, a new piece of horror hits: 18 million children orphaned by HIV/ AIDS in Africa, another wave of deaths in Pakistan, pandemics (real or imagined), and the constant encroaching specter of global warming. The notion, in this period of exhaustion and enervation, of willingly subjecting yourself to even more horrors, seems a little masochistic.
But the Amnesty International Film Festival (November 3-6, 2005 at the Pacific Cinematheque) proves the old adage about the darkest clouds containing a glimmer of silver. There is hope in the mere act of making a film and often it is Canadian filmmakers who are willing (and indeed able) to plumb the darkness. Think of them not as the peacekeeping forces, but the forces of keeping. It is their calling to keep history from seeping away, to make certain that even the most troubling of stories is told and that lives and brutal death don't go unexamined. Bearing witness is important. As documentary filmmaker Marc Levin said "light is the best disinfectant." And after all, what is film but light projected into the darkest corners.
The Festival's opening night feature, No More Tears Sister, tells the story of Dr. Rajani Thiranagama, a Sri Lankan human rights activist who was murdered in 1989 at the age of thirty-five. Before her death, she had been a revolutionary, mother, doctor and professor.
Personal and political
The film was commissioned by the NFB as part of their Women in War series and the story of Rajani's life is emblematic of what war does to ordinary families. While the men were off fighting, it was women who kept civil society running, taking their kids to school, cooking the meals, maintaining a sense of order amidst the carnage and the chaos.
The idea that the personal is political wasn't simply a slogan, it was in essence, the way Rajani lived her life. She and her older sister Nirmala came of age when political movements were championed as the magic solution to every type of oppression. Rajani initially embraced the cause of the Tamil Tigers before realizing that any organization that has ruthlessness at its very heart will eventually wreak destruction to everyone remotely connected with it. Although her killers were never known, it was widely suspected that she was murdered by someone connected with the Tamils, possibly even by one of her own students.
Pacifist threats
Perversely enough, by the time of her death, although her views had become more humanist, they were in some ways more threatening to the forces at work in Sri Lanka. After starting a shelter for women and writing a book about how rape was used as a weapon of war, she had become a champion of women's rights. The idea that fighting against female oppression was more radical than any militant revolution is unsettling, especially as it may have hastened her death.
Rajani's younger sister recounts that a number of the women initially involved with the cause, including Rajani herself, are now dead. At the time she was killed, Rajani was part of an organization called University Teachers for Human Rights. Members who were interviewed for the film asked that their identities be obscured because the risk of death is still a very real threat to those still living in Sri Lanka. Even director Klodawsky was forced to recreate periods of Rajani's life because she couldn't film in Jaffna, where Rajani was born, lived and died.
The film uses Rajani's letters and straightforward commentary from her sisters, husband, daughters, as well as her elderly parents. Narrated by Michael Ondaajte, this is a finely nuanced portrait of one woman's struggle to bring peace to what she called "her people", which is really all people.
'Two Worlds Colliding'
Certainly, Canadians are adept at telling the stories of others, but what happens when we are forced to tell our own stories? Tasha Hubbard's film Two Worlds Colliding reconstructs the story of the Saskatoon Police and the freezing deaths of young native men. In 1990, Neil Stonechild, aged 17, was found frozen to death in a field, wearing only one shoe.
In January 2000, another native man, Darrell Night, was driven by the police to the outskirts of town and left. He survived, but another pair of young men weren't nearly so lucky. In the days following, two frozen bodies were discovered near to where Night had been dropped off. When Darrell Night was stopped by a policeman the day after his ordeal, he told the officer that no one would believe him. But an internal police investigation, as well as an RCMP investigation into the deaths, resulted in the firing of two officers. Neither was charged with assault, and the cases remained unsolved.
The film includes interviews with native elders, the new chief of the Saskatoon Police, the aboriginal liaison officers and the families of the murdered men. One of the most unsettling sequences in the film is an interview with police constable Larry Hartwig who argues vehemently about the need for greater responsibility for police officers. Later Hartwig is called to be a witness in the inquiry into the death of Stonechild and it's revealed that it was he and his then partner (Bradley Stenger) that had Stonechild in their custody the night that he died.
Questions and answers
The film poses more questions than it answers, but that is partly due to the nature of the story. There are no easy resolutions and in the case of Lawrence Wegner, one of the young men frozen to death, not even a glimmer of truth. The police maintained that Wegner had walked to the outskirts of town in his stocking feet, but when his body was discovered, his socks weren't even worn.
A scene of Wegner's mother picking a plant from the sight where her son's body was discovered, to have something, anything of him, is more profound than the rafts of politicians and police who promise action, but in the end deliver very little. The mothers of these young men continue to speak out, asking not for justice, but simple acknowledgment of wrongdoing.
This is a complex and multilayered story that pulls in not only the politics of the native and white communities, but also more critically of the "blue" community. The culture of policing in Canada is such that, as one investigator remarks, you would need to get rid of one entire generation of cops before anything would change.
'Rocked - Sum 41 in Congo' and 'Scared Sacred'
Other Canadian offerings in the Festival include Rocked - Sum 41 in Congo, the unlikely story of a rock band, the worst civil war in African history and an emergency UN evacuation lead by Canadian peacekeeper Chuck Pelletier (the name sake of the band's most recent recording).
Fortunately, Velcrow Ripper's Scared Sacred ends the festival on a hopeful note. It isn't enough to simply despair, especially when you have the means and the wherewithal to do something. But what can one film really do? Watching a film is an innately passive experience. You come in, you watch a terrible experience being experienced by someone else and then you leave. Can it really make any sort of difference? Does some evidence permeate the brain, leaving a nick, an abrasion, a soul sickness that can make a person rethink all their previous perceptions. It's what we think art is for. Wars end, movements rise and fall, the dead, the destroyed, the disappeared all fall away into the muteness of history.
But art remains, like Picasso's Guernica, one long sustained scream rendered in paint and canvas. So too, films remain long after the events that inspired them pass. Canada has a collection of some of the foremost documentary filmmakers in the world -- Avi Lewis, Naomi Klein, Velcrow Ripper, Helene Klodawsky, Netti Wild, Mark Achbar -- who do what Canada has always done best: try to make peace. In Canada, generally, if you make a film, you won't get shot at or killed, probably not even a harsh word will be spoken to you.
This degree of equanimity gives filmmakers the opportunity to look at complex and complicated situations worldwide with insight and fairness. If you think you can't bear it anymore -- exhaustion, debilitating inertia, despair -- you can, and you should, because as the Amnesty documentaries state, openly or obliquely, with great power comes great responsibility.
If Sum 41 can do it, anyone can.
Dorothy Woodend reviews films for The Tyee every Friday.