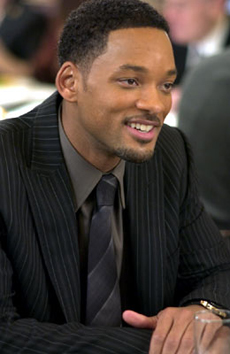 In the interest of fairness, we at the Tyee like to feature both sides of a story. A few weeks back I wrote a review of The Wedding Date and the sorry state of women in rom-coms. Since all's fair in love and war, I thought that men should get the same attention.
Like The Wedding Date, Hitch is also a romantic comedy with two comely leads, and it too, ends with a wedding. In The Wedding Date, the heroine in question decided to hire a hooker because paying for a working man was less shameful than being a single woman. By hook or by crook is the name of this game. Enter the crook, well, more a huckster, really. Hitch (Will Smith) is a fast gun for hire who sells his services to men desperate to meet the women of their dreams. With a little soft shoe shuffle of white lies, fakery and game playing, he can make even the most chinless of wonders seem like an Adonis.
The film opens with a montage of idiot men trying in vain to impress women and failing terribly. Enter Hitch, who like Henry Higgins before him, can turn a pig into a silk purse. His mantra is that any woman can be had simply following a few rules. First rule: women, being Pavlovian by nature, will fall all over anyone who listens to their endless prattle. Cut to another montage of goo-goo eyed ladies, giving it up to the men with big ears. The grateful hommes pass Hitch's name to some other poor slob desperate to get the girl and so it continues.
Down to business
It's all played as harmless high-jinks and nobody really gets hurt. But when Hitch's suave skills are employed by Albert Bravermann (Kevin James) things begin to go awry. Albert is a rather rotund accountant with an insane crush on his employer, a beautiful blond heiress played by super model Amber Valleta. An improbable match yes, but in Hitch's view, simply a challenge. He has his work cut out for him with Albert, whose white socks and habit of dropping mustard on himself are not the sexiest traits. He might be heavy, dorky and sucking on an asthma inhaler, but Albert is a man and thus has a god given right to the most beautiful women on the planet. Hmmmm...
Kevin James to his credit, takes the part and runs away with it: he's heavy in the pants, but light on his feet. In the process of setting up Albert, Hitch meets his match in the fine form of Sara Melas (Eva Mendes) gossip columnist and sassy chica. Using all his wiles, he entices her into a first date then kicks her in the face. It's love of course. But love is such a complicated business, and I do mean business. Men want women, women want men, and everyone is willing to pay for the service.
Throughout the film we meet speed daters, match makers, and a variety of services that will introduce men to women and vise versa. There are various subplots that exist to stand in the lover's way: a cad who who simply wants to 'hit it and quit it', a best friend, and the state of modern gossip (Lloyd Grove meets Rush & Molloy). In the end, our arrogant hero is humbled and must face the fact that he has cut himself off from real feeling, the same with our heroine. Meeting each other has rendered all their tactics useless, and they stumble blind and grateful into each others arms. Cue the wedding march, since all romantic comedies seem to have one.
Into Trouble
The film is light and fairly inoffensive, but modern love is anything but. It's a war out there. And women are the ones who are buying the battle blueprints. Romance manuals from Why Men Love Bitches to What Men Won't Tell You, to Dating Like a Man all sound rather complicated, but it's what happens when biology meets the marketplace. You can buy anything and that includes happiness, especially happiness. But first, you need to deal with some unpleasant truths like He's Just Not That Into You, a book that offers the blunt advice only a sister or best friend would give to you. It is only the recent example from the publishing business devoted to promoting coupledom.
The book, from authors Greg Behrendt and Liz Tuccillo is based on an episode of "Sex and the City", and suggests that women have an endless capacity for self-delusion especially when it comes to men and buying books about men. Divided into a 'he said, she said', question and answer format, it is designed to provide answers to what men's actions actually mean. The basic premise is summed up in the title. Men just aren't that complicated, they're like a light switch, with only two options available. It's either on or off, not dimmer and dimmer. But if you still haven't learned your lesson, there are still more books you can buy, like Be Honest--You're Not That Into Him Either: Raise Your Standards and Reach for the Love You Deserve. Author Ian Kerner, a sex therapist by trade "explores the battlefield of sex, hook ups, go-nowhere relationships, and the dismal dating treadmill," which sounds mighty dreary. Suddenly hiring a hooker doesn't seem half bad.
Books, movies and television shows are awash with romantic advice. Anti-love, pro-love, ambivalent love, any permeation of relationships is available including, Against Love, a self-proclaimed polemic from author Laura Kipnis. Ms. Kipnis argues that our concept of love is in the service of the dominant paradigm and she has a point. Unfortunately, her book reminds me rather of the recent Rene Zellweger vehicle, Down with Love, that unwisely featured both pill box hats and Zellweger's singing voice in one movie. Either one could tempt you to leap off a bridge and the combination? Unspeakable...
Dodging bullets
Another recent book-based movie was Breakn' All the Rules, starring Oscar winner Jamie Foxx, it is the story of a man who gets dumped and manages to write a best seller, even without the ability to spell. For the most part these books (and films) are aimed at women, because it seems to be women who buy books, watch romantic comedies and are apparently obsessed with finding husbands. Except in Japan, where a recent study discovered that women do just fine on their own. A BBC Report stated that "Seven out of 10 single Japanese women believe they can be perfectly happy remaining on their own, according to an opinion poll in the Yomiuri newspaper. Analysts say the results reflect the fact that staying single is no longer the social stigma it once was. It also illustrates why Japan is facing a falling birth-rate, as many Japanese choose to marry later or not at all."
Japan may have one of the lowest birthrates in the first world nations but Australia is not far behind. The country's recent budget included a cash baby bonus for all new mothers and the admonition from Treasurer Peter Costello "If you can have children, you should have one for your husband, one for the wife and one for the country." So what happens when men and women finally do manage to get together and produce smaller versions of themselves? Perfect Madness, according to Judith Warner's new book about the perils of modern motherhood. Warner examines what happens when parenting meets a country with little maternity leave or subsidized daycare, which next to the U.S., Australia has the least of. So, who is the biggest loser? Men or women or the kiddies.
Get hitched or get ditched is the name of this game. Love: The Trivial Pursuit edition.
Dorothy Woodend reviews films for The Tyee on Fridays.