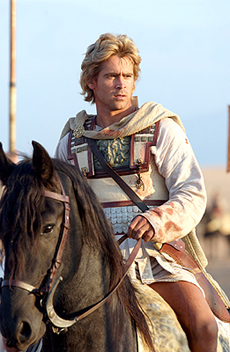 Oh, Oliver. What a mess.
The tag line of Oliver Stone's new film Alexander is "Fortune favours the bold" but here the bold have spent a fortune and won't win any favours for it. Alexander the Great, isn't so much great, in this movie, as confused. "Is he straight or is he gay?" is a line from an old Prince song, but the question is also fueling most of the press coverage of the film. Stone is being sued by the Greeks for suggesting that Alexander played for the other team, while Warner Brothers is playing up the Alexander the Gay angle, simply because other than that, there isn't too much excitement here.
The story, like many biopics, is shown in flashback. Anthony Hopkins as Ptolemy senior narrates the story to a bunch of silent scribes who write down his every utterance. The tale begins with Alexander's death and then backtracks to his childhood. We see him first in the bed of his mother Olympias, who gives the kid a bit of a ego boost by telling him he's the son of Zeus, not the one eyed trouser snake King Philip (Val Kilmer), who shows up right on cue and tries to force himself on her. Alexander then hops on pop, and there's a lot of screaming and wrassling about. "I carried my avenger in my womb!" howls Jolie and then she literally howls. I kid you not.
Thighs matter
There are some noted scenery chewers here. Stone sets the tone, but Kilmer and Jolie tie for first place in set eating. Jolie, especially, wraps those big lips around one of the strangest accents I've heard in a long time. She's all snakey hair and bedroom eyes, and mommy dearest. Colin Farrell, as Alexander, simply looks terrified that she'll swallow him whole, like one of the pythons she cradles to her bosom. The rest of Alexander's childhood revolves around lots of wrestling with his chum Hephaistion, which gives rise to the line "It was said that Alexander was never defeated except by Hephaistion's thighs." (Insert dirty giggles here.)
As boys, Alexander and friends Nearchus, Cassander, Ptolemy, and Perdiccas learn from Aristotle that a little mano a mano, in bed and out, is a good thing, as it will save society from itself. Alexander takes this to heart, and takes Hephaistion along for the ride when he takes over the world. But like any good fighter in training, Alexander doesn't want to blow his wad before the big battle and sends his lover off without even a kiss. First he takes over Babylon, marches over some mountains, kills a bunch of monkeys and hacks up an elephant before dying in his bed. Which actually sounds more exciting than it looks.
Horsing around
Despite the hell raising hair do's and battlefield carnage, this movie is a talkie. There are long lengthy passages where people simply declaim at one another from across a crowded room but the politics of ancient Macedonia don't really make for riveting viewing. I didn't feel particularly emotionally involved in the story. In fact half the time, I didn't even know what was going on. There's buckets of blood and plenty of death but the only creature I really felt sorry for was Bucephalus, who is ridden bareback (get it) all the way to India, gets stuck in the neck with a stick and dies. Colin Farrell may have other horsey attributes but being kind to the equine is not one of them. You may leave the theatre thinking, what exactly was the point? That women are more evil than men; war can be fun; or die young and stay pretty? I was hoping at least for a few shots of Farrell's own reported colossus but no such luck; there isn't even a lot of hot gay action here, except on the battlefield and none in the boudoir. Nuts!
To be fair to Mr. Stone, however, although the film is overly long and narratively incoherent -- it jumps about in time, changes colour, and has some weird CG eagles flapping about -- there are some stellar moments. Historical epics are all about the big battles. Mix together millions of extras, horses, swords, and hey presto! Movie magic. As a film maker, Oliver Stone has always had very male preoccupations, football, war and the homoeroticism inherent in each activity: men bond over blood and balls.
In the one truly exciting sequence, young Alexander gets to test his metal mettle, he races up and down like a football hooligan getting his troops all hardened for battle, and then it's the big penetration into the loins of the enemy. The film comes alive while dealing death and Stone deserves credit for this. This has always been his purview, the male territory of getting it, taking it and moving on. When women do show up in this movie, there is the sense they should be twiddling their moustaches like Snidely Whiplash, boo hiss, since ostensibly they are the villains of the piece. The subtext seems to be that Alexander conquered the known world because his mommy was a meanie.
Stone cold
The other message that an overwhelming mama means a gay son is implicit. But where is the explicit? Despite the film's pretense that it pushes the bisexual nature of its protagonist, there is nothing more than a bunch of man-hugs and moony eyed looks. Although historical epics (Troy, Alexander, King Arthur, Gladiator) seem to be making a comeback, no modern film maker has managed to deal adequately with the notion that heroes like Alexander preferred the company of men. In Troy, Brad Pitt's golden twinky was given a wife and his lover Patroclus left out of the story. The gleeful campiness of something like Spartacus, in which Tony Curtis was so toothsome, you wanted to bite him, (Laurence Olivier did), or at least splash about in the tub with him, is noticeably absent.
Supposedly it took Stone almost 15 years to raise the money to make this movie and there is a lot at stake. Liz Hoggard in The Observer writes "Stone's 30-year career is riding on the success of the $150m Alexander and he's not the only one bewitched by the bisexual, blond emperor. Baz Luhrmann and Italian producer Dino De Laurentiis have their own Alexander movie in the works with DiCaprio in the title role." Whether pretty boy Leo can venture where other men have dared to tread, we shall see. Pretty comes with its own set of problems. Troy too suffered from overindulgence of beefcake. Brad Pitt may be fetching, but his Achilles was about as believable as Steve Reeves. The same can be said of Farrell; buried under a golden wig and sporting bleached eyebrows, he looks like so much eye candy.
Goes both ways
This is the kind of film that critics pull out their big knives for, and the cutting and hacking have already started with bloody awful reviews across North America. But Stone isn't the first to be undone by history or at least by presenting history on film; it's easy to get muddled by the sheer money and size of such a production. Ridley Scott's Gladiator had Russell Crowe to anchor it. Say what you will about Crowe, he may be a gargantuan asshole but he has the weight, both literally and metaphorically, to do history justice, whether it's ancient Rome, the British Navy or John Nash. (There's a bit of a gay theme there.) In a recent New York Post article Village Voice columnist Michael Musto said "This film tries to have it both ways, like Alexander himself. It can be hinted at, it can be talked about, but it can't be shown." In the New York Times, Oliver Stone too expressed his reservations over a possible gay backlash (which isn't an obscure sexual position unfortunately). "I'd be naïve not to be concerned, in America, anyway," he said. "I didn't know there would be a parallel situation going on." Meaning, I think, George Bush and his desert quest.
The strangest thing is how conventional the film is, recalling the swords and sandals epics of the 50s and early 60's. Like those films, Alexander has short skirts, lots of fur, and so much man makeup a drag queen might say "Girlfriend, you're overdoing it a bit." But the camp in this camp isn't much fun, it's top heavy and bottomed out. And in this case gay really doesn't mean fun and frolicsome. Bummer man...
Dorothy Woodend reviews films for The Tyee on Fridays.