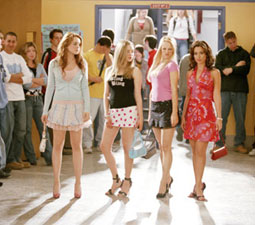 TheTyee.ca
Dear Diary: Leanne is busy manipulating everyone, and they're all so bloody weak-minded and spineless that they do everything she wants. I can honestly say at the moment I hate Debbie Shithead R. and were she here at the moment, I would gleefully wring her ugly, stupid, low-class neck. FUCK. We are going to beat the stupid bitch at her own game because she has no idea who she's dealing with and before we're through she is going to crawl…
Thus reads my diary entry for March 8, 1986. Ahhh, yes high school. Where we separate the girls from the she-bitches. Mean Girls, the newest release from Paramount Pictures starring the scarily curvaceous Lindsey Lohan doesn't quite get it right, it isn't nearly mean enough.
The film begins with Cady Heron's first day of school. Cady (played by Ms. Lohan) has been home-schooled in Africa until her parents are relocated back to the US and suddenly she enters a new jungle known as high school, run by a teen queen lioness Regina George and her pussy power pride otherwise known as the "Plastics."
Unlike most home schooled kids, Cady doesn't smell like pee, she is a "regulation hottie" as she is informed by two art geeks, Janis Ian (everybody's favourite lesbian) and her little gay friend Damian (Daniel Franzese). The three hatch a plan to destroy the plastics, which involves Cady spying on Regina (Rachel McAdams) and her two hench-ettes Gretchen Weiners (Lacey Chabert) and Karen Smith (Amanda Seyfried).
War of the cell phones
But she who looks into the abyss also has the abyss look into her. And things start to go awry when Cady begins to take her double-agent mission a little too seriously. Even as Cady attempts to destroy Regina by taking away her sources of power -- her hot body, her army of skanks and her man-candy -- Cady is falling for that very same man-candy herself, Regina's ex-boyfriend, the delectable Aaron Samuels (Jonathan Bennett). Before long, there's a big ole cat fight brewing that takes places through vicious cold war subterfuge, pitting friend against friend, and cell phone against cell phone in an epic battle of manipulation and emotional blackmail.
Tina Fey of SNL fame who adapted the screenplay from
Rosalind Wiseman's book Queen Bees and Wannabes, also plays the role of Cady's hapless math teacher, Mrs. Norbury. Fey also has the unenviable job of cramming some of the self help tenets of the book into the film itself. In an extended scene in the school gymnasium, the mean girls are all forced to confront each other, apologize for their misdeeds and right wrongs by playing trust games like falling over backwards into each other's arms. This is one of the scenes where the difficulty in adapting a non-fiction book into a film are most apparent. And it's also where things begin to get oversimplified. Wiseman's book -- subtitled "Helping Your Daughter Survive Cliques, Gossip, Boyfriends and other Realities of Adolescence" -- was meant to help parents address some of the social problems that teenage girls face.
Girl on girl aggression is an increasingly common problem and parents need all the help they can get it seems from Lynn Glazier's documentary It's a Girl's World, broadcast on CBC's The Passionate Eye. Glazier's documentary is billed as "an unprecedented look inside the hidden culture of two very different girl cliques ruled by rumour, gossip and exclusion to achieve social power at any cost." The documentary is accompanied by a three-part radio series to be broadcast on consecutive Wednesdays on May 5, 12 and 19 at 9 pm ET on CBC Radio One's Ideas.
The generally held consensus that boys were more aggressive than girls, began to change in the early 90s, after Finnish professor Kaj Bjorkqvist and his team of researchers started interviewing 11- and 12-year-old girls about their social behavior. Their conclusions were startling for some, common knowledge for others: girls were mean! Although they often rivaled boys in terms of aggression, they simply expressed it differently. Not so much physical fisticuffs, although in my day 'scrag-fights' behind the Dixie-Lee Chicken shack were common. It was and still is the social pressure to fit in that was most killer and that hasn't changed any. It's still a cold war waged with innuendo, secrets and snide comments.
Female bullying: read it and weep
Bjorkqvist said ''Girls can better understand how other girls feel,'' as he puts it, ''so they know better how to harm them." And of course, the killer queen bees, the girls Wiseman dubs the Alpha Girls, the R.M.G.'s (Really Mean Girls) are often the ones at the centre of the storm. Similar stories have also surfaced in the New York Times Magazine, and in variety of non-fiction books including Odd Girl Out by Rachel Simmons, Best Friends, Worst Enemies: Understanding the Social Lives of Children by Michael Thompson, Girl in the Mirror: Mothers and Daughters in the Years of Adolescence by Nancy L. Snyderman, Peg Streep, Fast Girls: Teenage Tribes and the Myth of the Slut by Emily White, A Mind at a Time by Mel Levine and The Secret Lives of Girls: What Good Girls Really Do--Sex Play, Aggression, and Their Guilt by Sharon Lamb.
The mother of all of the mean girl books might be Phyllis Chesler's Women's Inhumanity to Women. Here was a woman, who had been a very active and visible part of the feminist movement in the 70s, but who felt so betrayed by other women, that she wrote an entire book about it. Highschool is often only the beginning for a lifetime of double dealing and back stabbing bitchery. Leonora Tanenbaum's Catfight: Women and Competition examines the struggles that take place between adult women in their efforts "look prettier, land better mates, be more popular with co-workers and be considered better mothers than other women." Screw sisterhood.
I have been in my time, a mean girl. Yes, it's true I have done things I'm not proud of. In high school, a girl that I particularly loathed wore a pair of pink leather cowboy boots (a fashion crime if ever there was one) and one day in gym class I came back early to the changing room and filled them half full of water, so that she would have to stick her foot in before she realized (heh heh heh).
Girls are vicious, but they're also sneaky, is the lesson in Mean Girls and Cady narrates the story like she is observing a zoological study. Like female hyenas, another female dominated society, young pups fight viciously and these skirmishes sometime kill as many as one out of every four cubs before adulthood. But even if you manage to negotiate the rocky shoals of adolescence, you're not out of the woods yet girlie. Girls kick ass but often it is entirely the other way around. A recent article in Salon The Cruella Syndrome writer Rebecca Traister asked "what's our problem with powerful women?"
Media's endless witch hunt
"The Queen of Mean. You may have heard the epithet, coined for hotel magnate Leona Helmsley, recently applied to Rosie O'Donnell and Martha Stewart," writes Traister. "But as they became wealthier, it turned out that both women were ambitious, political, hot-tempered, occasionally potty-mouthed, and unbecomingly concerned with their own finances. O'Donnell, who has since come out as a lesbian and married her girlfriend, has paid in bad press and a civil suit over the demise of her magazine. Stewart is going to jail. We make successes of women and then punish them for having pleased us too well. Until we realize that we're confused about whether Martha Stewart is guilty, because we can't see her legal situation clearly for the hail of arrows labeled 'bitch' clouding our view."
From Katie Couric to Courtney Love, women who shove their way to the front of the line make us a little itchy and before you can say "WITCHHUNT!" the first match is tossed. The real power politics might help explain the disenfranchisement which allows girls to eviscerate each other.
When the film is following the twists and turns of the mean girl schemes, it has an energy and a life that is fun and entertaining but it gets soft and sappy with a feel good finale that is pure grade A-bullshit. In real girl world, the fights go on forever, and if I saw Debbie R. today, I'd walk right over and punch her right in the eye.

Dorothy Woodend, a widely published Vancouver writer, will be reviewing films for The Tyee.