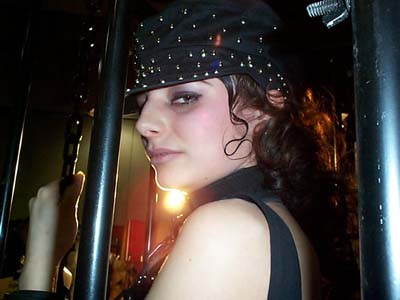 The first thing you saw when you walked through the main entrance to the Everything to Do with Sex Show was an ATM.
The showroom at the Vancouver Convention and Exhibition Centre was packed with oppressive numbers of people looking at every kind of sex toy and costume imaginable.
What lacked was any sense of sexuality. Somehow, a trade show devoted to sex felt as sexy as a trade show devoted to mobile homes.
Friday night, there was two-for-one admission for people in fetish wear, and scattered through the tightly packed crowd were men and women in leather or rubber. They injected a welcome sense of the unusual in the event, breaking it out of the everyday.
Sorry, cover those nipples
Women in tight-fitting garments of black and red walked about with tiny X's of electrical tape covering their nipples. Never mind that female toplessness is legal in British Columbia. Never mind that everyone in the room is supposed to be over 19. And never mind that the Hustler magazine booth is dominated by a two story high billboard of a full frontal nude pinup without a strand of pubic hair to provide a natural modicum of modesty. Female nipples had to be kept out of sight here.
Perhaps the event's promoters feared that if people started checking each other out, they would be distracted by the row after row of sales booths.
In consumer society, people most readily accept something new if they can buy it. It's like babies putting unfamiliar objects in their mouths, because their primary sense is still taste.
There were the obvious things: lingerie for men and women, corsets, porn television channels, spray-on tans, body piercings, travel to Hedonism resorts. The Asian business of love hotels, luxury suites you rent by the hour, has come to North America. Women ooh-ed and ah-ed over Japanese "rabbit" vibrators with three independent controls.
Sex toys were once something purchased on furtive trips to shops in disreputable neighborhoods, or ordered from ads in the back of men's magazines. There was an ordeal attached to acquiring them, investing them with a fetishistic value, in the old sense of the word "fetish." These objects were not part of everyday life, but hidden away and only brought out on special, private occasions.
Now, apparently people are comfortable enough with the concept to put them on their credit cards surrounded by hundreds of other people. This is a good thing, that sexual expression and experimentation is no longer tied to guilt and shame, but the same marketplace that brought sex toy stores out of the ghetto seems to have drained away the sense of the sacrosanct.
Get your designer oxygen here!
There were also things for sale with no erotic connotations at all, without generous imagination: fudge and candy, motorcycles, speedboats, limousines, designer oxygen, bartenders.
Seated at the end of one row of booths was Ped-Tech Orthotics, where they would take an impression of your feet and create custom insoles for your feet. While one of the technicians, a man in a white coat named Roger Gelin, wouldn't say how many sets of inserts people had bought, the company had done enough business to pay for the booth by the end of Thursday night. Like any other trade show, there are plenty of people with sore feet after walking around for hours. The main difference here is that there are even more people walking around in high heels than usual.
The few booths where people weren't selling anything felt like beleaguered outposts in a sea of consumerism.
Planned Parenthood made a game out of contraception education. Spin a wheel, answer a question and you got a package of lubrication and condoms. Alethea, one of the booth's attendants said that most people's knowledge of contraception and safer sex was "pretty good, really." It's a shame there weren't any teenagers in the crowd. Teenagers are ones who pass around myths, like drinking large amounts of Mountain Dew is a contraceptive.
Bondage a big hit
In the middle of all this commercialism was the Dungeon, a black-curtained section with booths for sadomasochism clubs like By Invitation Only, Sin City and Vancouver Women in Leather.
A black woman with medusa braids and spike heels initiated shy couples into the mysteries of spanking and being spanked. A butch lesbian built a harness of white ropes around a woman with hair that reached her knees.
The people who stood outside the ring of traffic cones watched the people inside with rapt attention. They even pulled open the curtains just to catch a glimpse of something you couldn't see anywhere else in the show.
The kinksters working each other over on the bondage crosses, unlike anyone else in the room, actually seemed to be getting off on each other. For them, among the hawkers and hucksters, this wasn't a job.
In Re-Making Love, Barbara Ehrenreich and others wrote of sadomasochism: "From a strictly capitalist viewpoint, it is the ideal sexual practice." But maybe, instead, sadomasochism is a valid response to consumerism. For all the props and theatricality, the exhibitions in the Dungeon seemed to be the most genuine expressions of desire and pleasure in the whole room.
The marketplace might be perfectly at home with sex, but sex remains something private, not public, in the bedroom, not the streets. People might buy a new vibrator or silk teddy, but would they sign up for a swinger club or a polyamory support group? The play party invitations that the S&M clubs handed out were a connection to the larger world of sexuality, where nobody is buying or selling.

Peter Tupper is a regular contributor to The Tyee.