Turns out our readers are birds of a feather who love snapping pics of our feathered friends. We asked and you came through — we called and you flocked to us.
Our inboxes have been overrun with owls perched on patio furniture, robins fluffed against the cold and sunlight glinting off the inky feathers of Steller's jays.
Some breathtaking shots were simply titled; others came with descriptions, fun facts about the animals and personal anecdotes. We learned about the upstanding manners of ravens, the ways nuthatches connect grandchild and grandparent and how the carefree expression on a hawk's face can invoke envy.
Most of all we heard your outpouring of passion for these feathered friends. Want to turn that love into citizen science? Add your photos to the National Geographic iNaturalist database to help document when and where different species show up in our neighbourhoods.
You sent us more incredible pictures than we could ever hope to share. We've received over 100 submissions! Thank you. Every email was read and appreciated.
Here's a collection of some of our favourites. Submissions have been edited for length and clarity.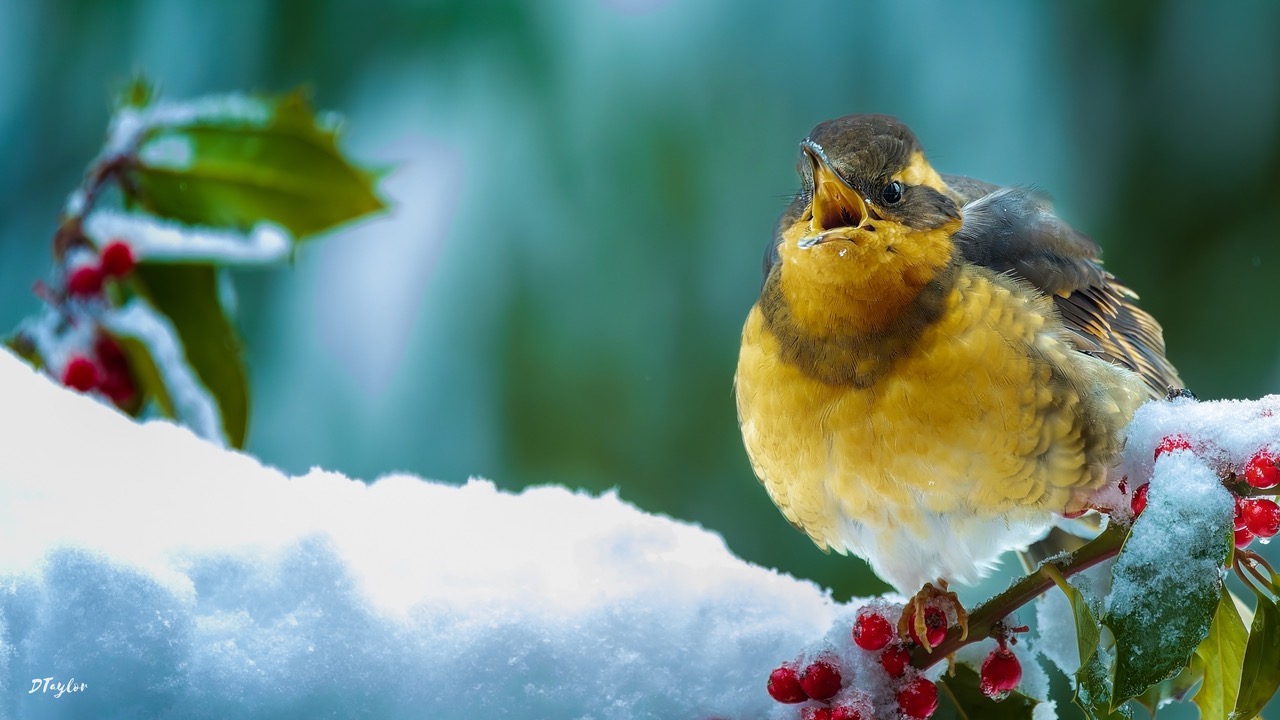 Varied thrush, Tri-cities area, by DTaylor.
The varied thrush worked hard to grab a very frozen holly berry and took a while to actually swallow it. Normally these birds dart quickly in and out of our yard (we have a lot of forest around us) but when it got extra cold they were attracted to the suet feeder and sunflower seeds that we put out between the house and the trees they sit in for cover and protection.
We had many large and small birds gather in the trees near our feeder when it was really cold. It was very impressive how they, for the most part, waited their turn. Some were waiting for the suet and others would grab the droppings of suet and seeds on the ground. Rarely was there any fighting — it helped that we always kept the feeders filled.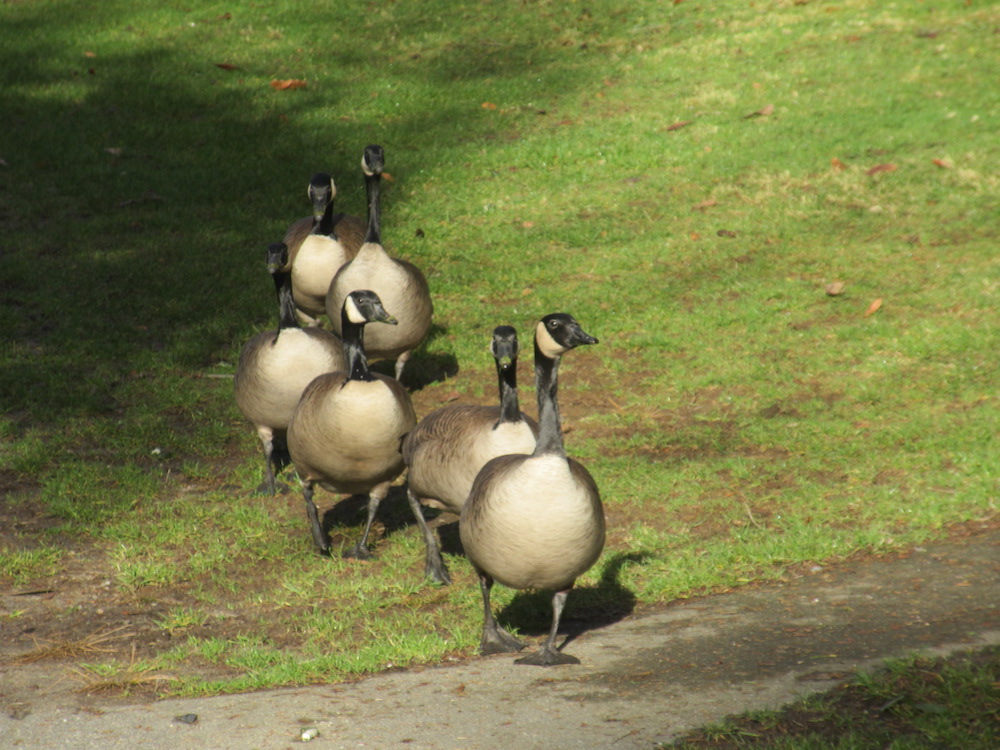 Canada geese, Stanley Park rose garden, by Roy Brander.
I liked the way they line up like a military unit and, of course, the rare shaft of sunlight upon them that day.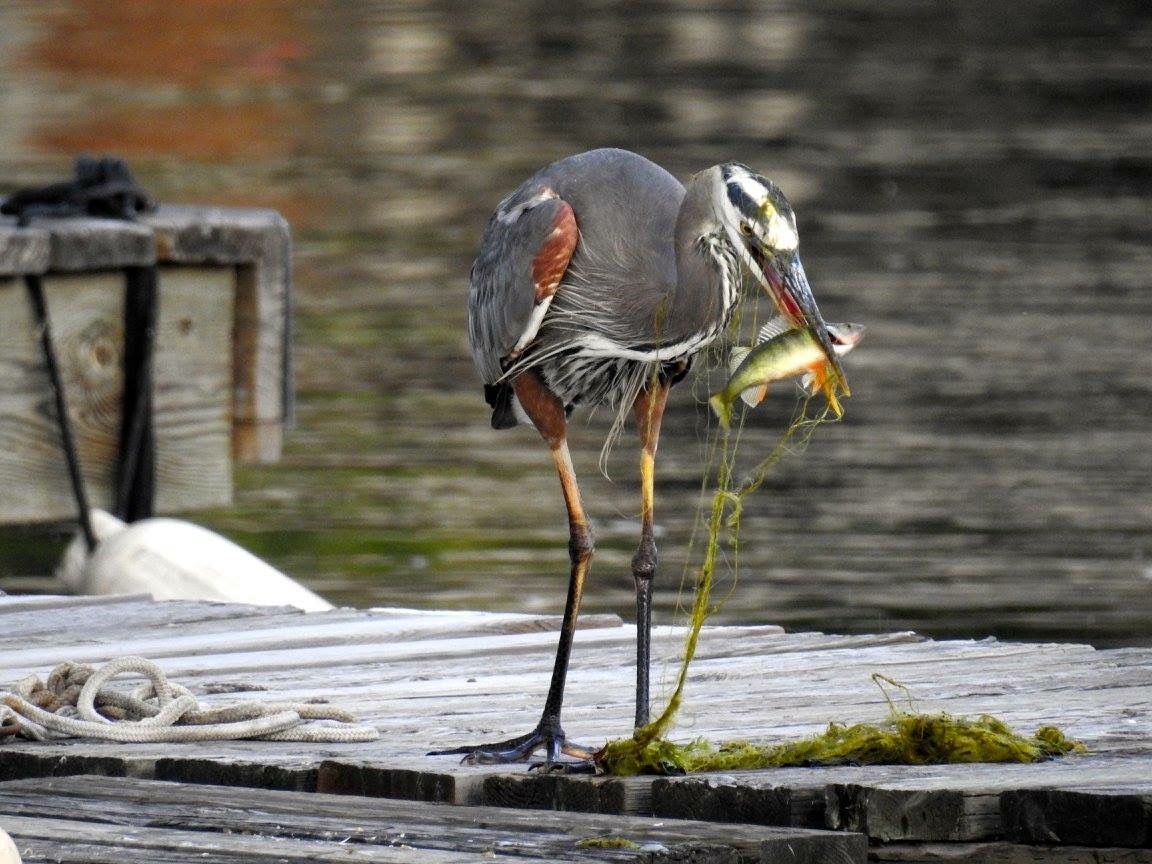 Great blue heron, Lake Country, Okanagan, by Mel Farrell.
Lunch time on the dock.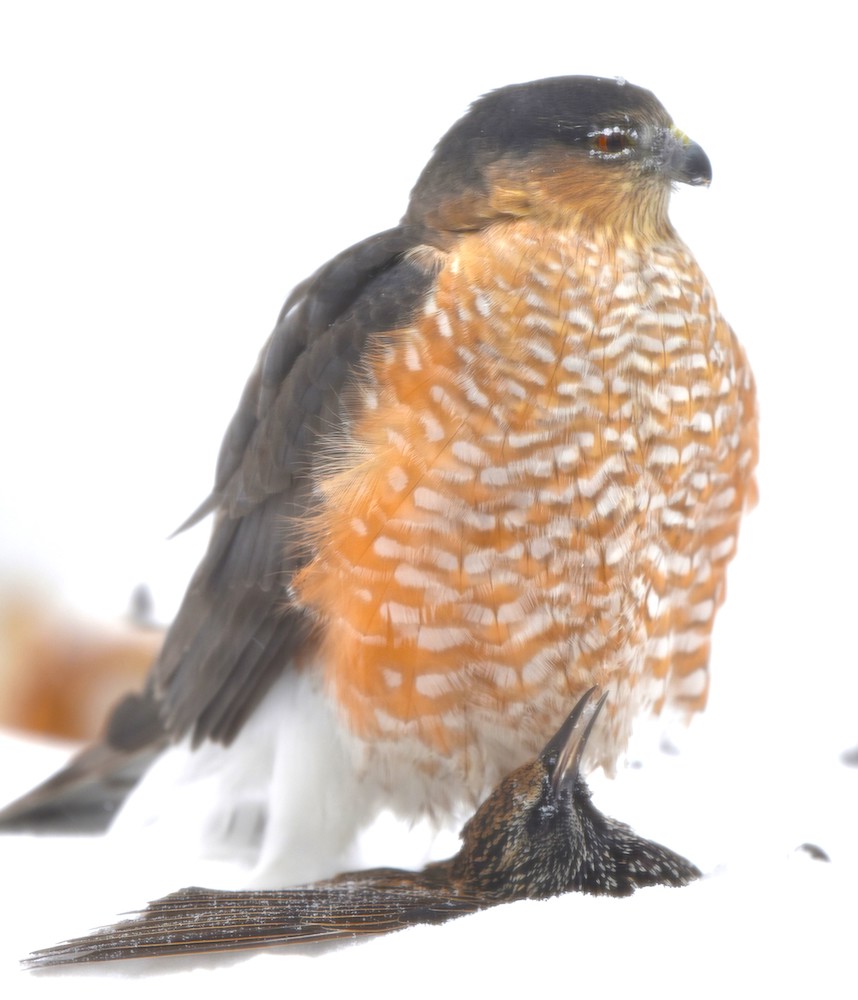 Cooper's hawk, Lethbridge, Alberta, by Lorne Fitch.
Here is an image of a Cooper's hawk that has just captured a starling. I was in my basement office when I heard a thump on my window. It was the starling trying to escape, but when I stood up, the Cooper's hawk had it. This was a few days before Christmas, in Lethbridge, at -32 C. I really do endorse backyard bird watching (and photography) from the comfort of a warm basement.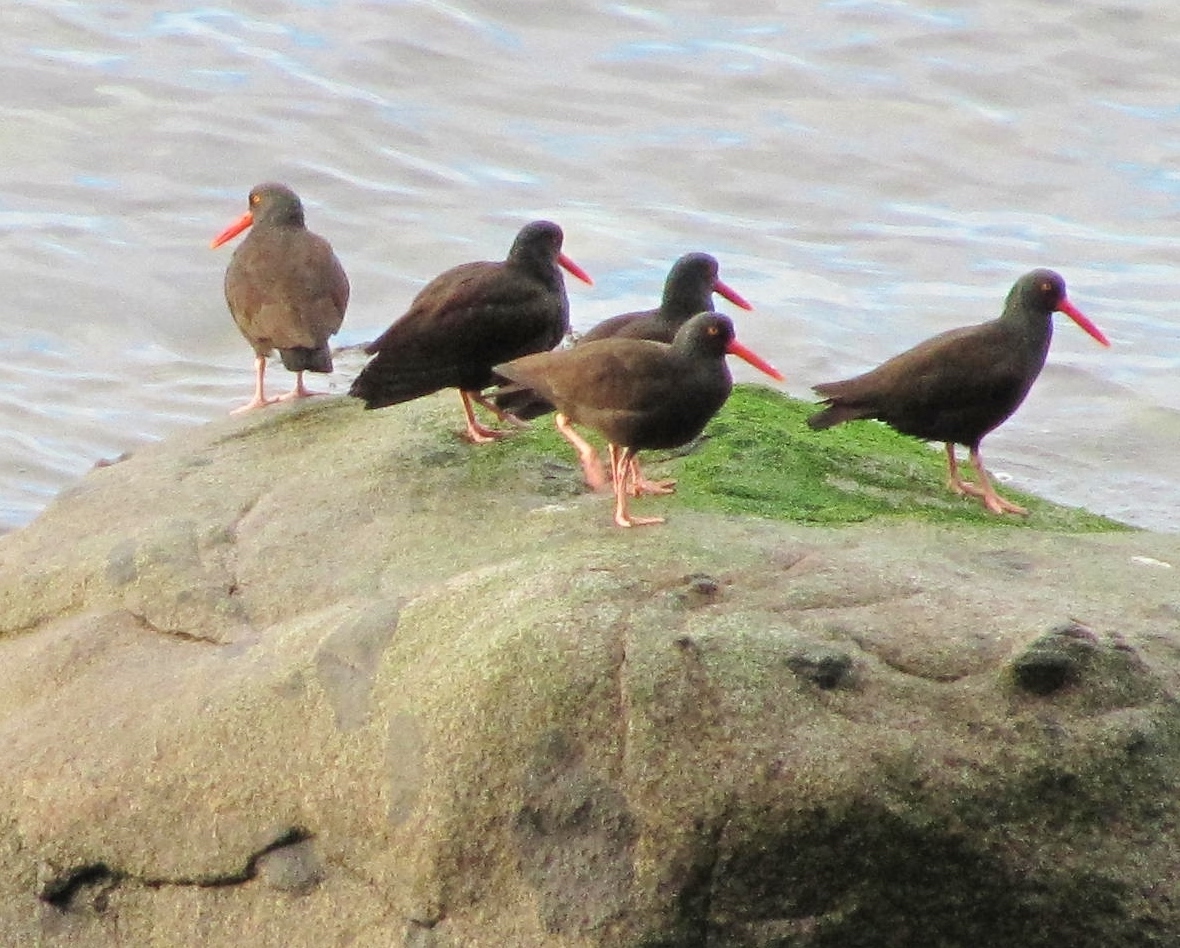 Black oystercatchers, Sunshine Coast, by puppyg.
I live on the Sunshine Coast and have taken photos from our shore, living-room window or driveway — so they really are backyard shots. If they're a bit fuzzy, I'll blame an aging camera and perhaps an unsteady aging hand.
Black oystercatchers are always a joy to see along the beach, probing the rocks for food. They remind me of little men in tuxedos, bobbing and bowing and self-announcing their imminent, explosive departure.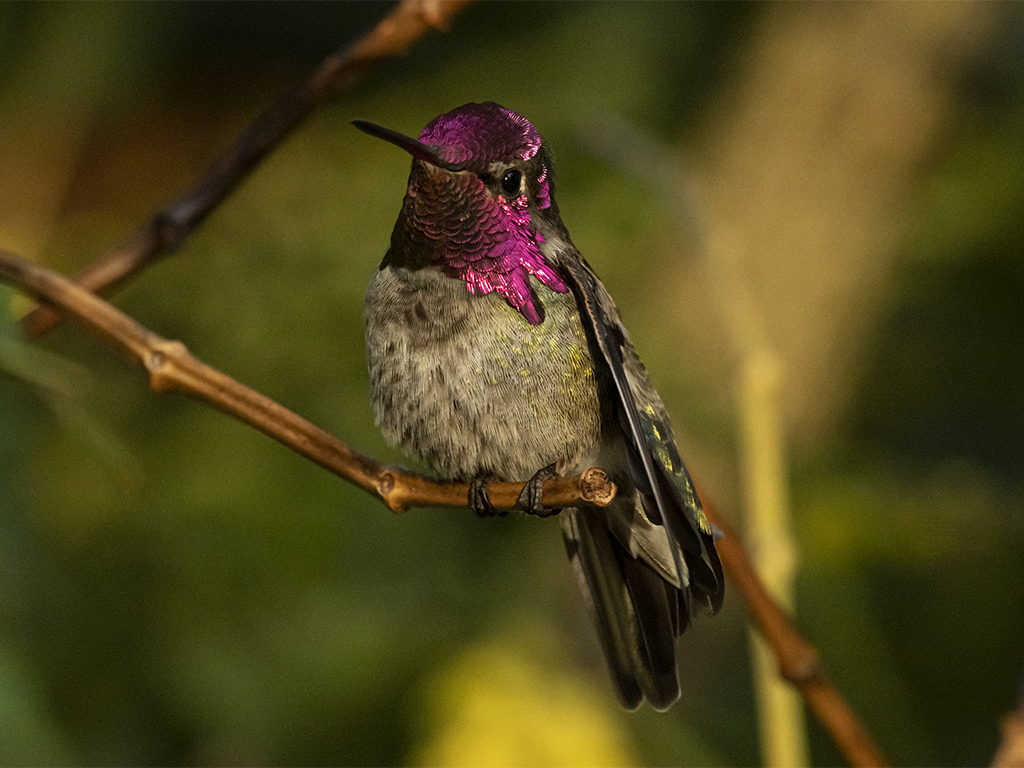 Anna's hummingbird, Stanley Park Brewpub, by Michael Mracek.
These guys monopolize the Oregon grape (Mahonia) at this time of year. The Oregon grapes have bright yellow flowers and the little nectar that they offer is prized by the biggest and baddest hummingbird in the neighbourhood. They flash their gorget to warn other birds off (that is the bright colour that you see in the photo), but if that doesn't work they will attack with blazing speed and chase any interloper and see them off.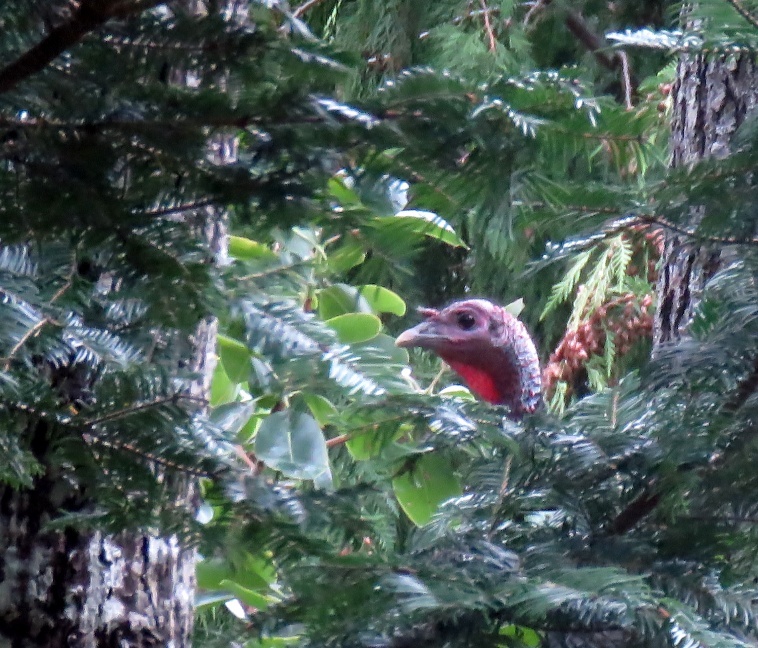 Wild turkey, Gabriola Island, by betty lou archibald.
We have an amazing variety of wild birds on Gabriola Island, so bird watching and feeding is a rewarding job for many residents and visitors. This wild turkey is hiding in my fir tree.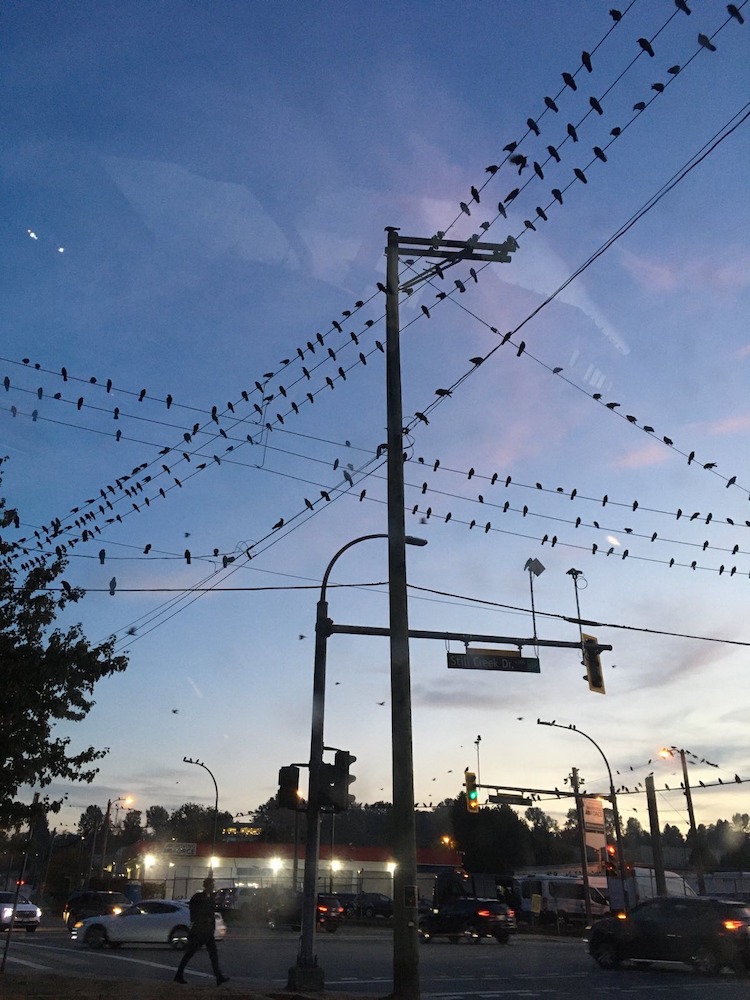 Crow roost, Burnaby, by Horațiu Halmaghi.
Can I send you a bird photo that's not from my backyard, nor from the winter? This one's from the fall, from the crow roost at Still Creek. I don't often take photos, but that's one of my favourite places in the city — I love the raucous cacophony of the crow's evening chorus!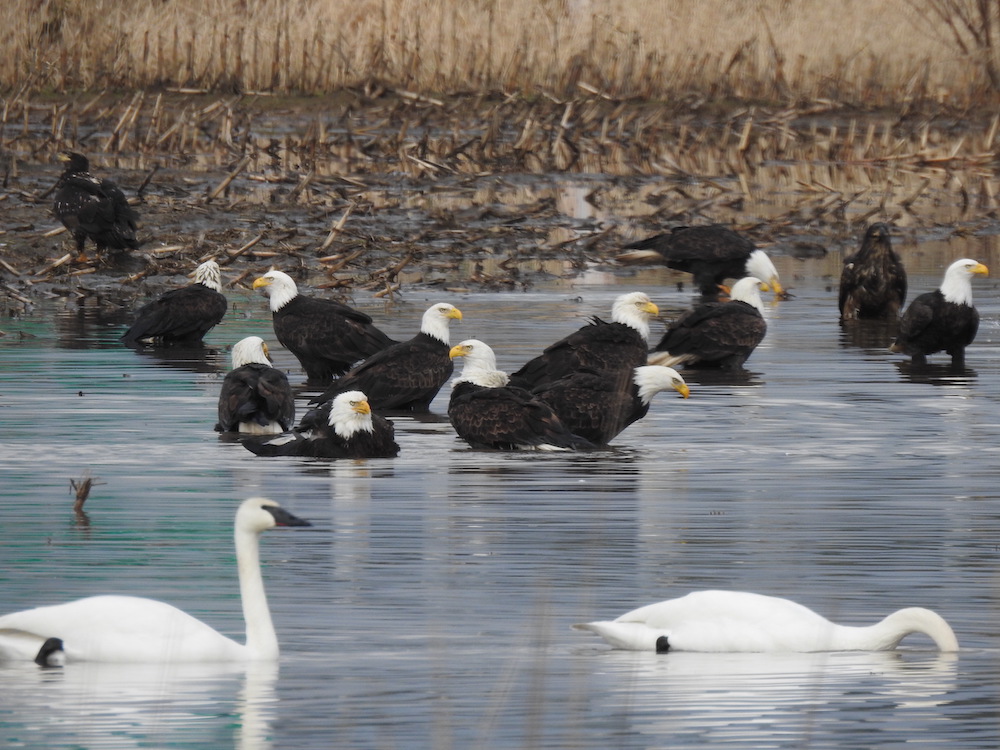 Eagle bath, Delta, by Doug Cameron.
Bath time on Ladner Trunk Road just east of 70th Street.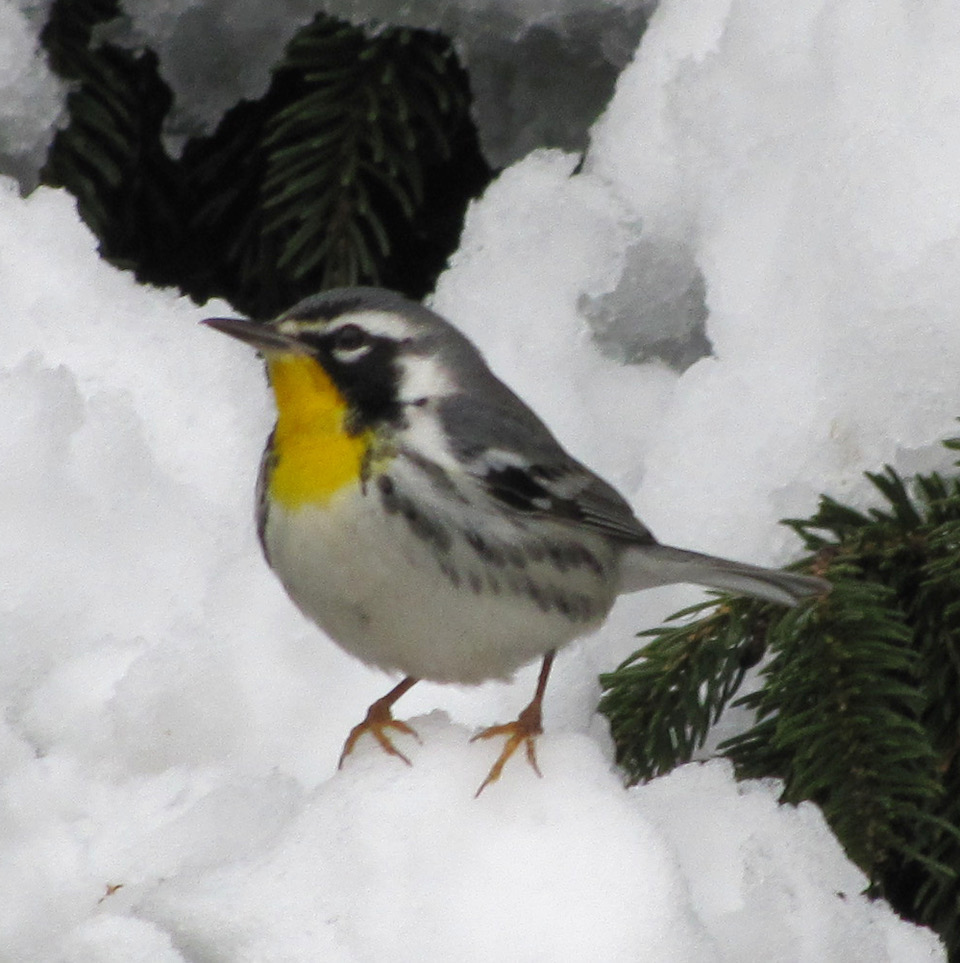 Yellow-throated warbler, southwestern Nova Scotia, by somesweetday.
Meet Wobbly, a yellow-throated warbler who was blown far off the migration track by a severe storm in December 2017.
She is native to the southeastern forests of the U.S. and should spend winters in Florida and the Caribbean Islands. She wobbled into my garage on a cold and snowy day, desperately hungry and likely near death.
Rushing off to a local pet supply store I bought live mealworms and crickets to feed the poor thing. Crickets were the right choice — she ate 20 to 30 per day for the four months she stayed with me. Live crickets only — dried crickets were snubbed.
I set out a dish of water under a heat lamp and set a lamp in a corner of the garage; there she spent the coldest days and nights. Warmer days she was happy to commune with the chickadees and finches outdoors and even spent the warmer nights outside with them.
Of course, word got out into the birder community and she became quite famous. I estimate 200 people came to observe her, taking pictures and movies for posterity. An elderly deaf woman spent two hours in my freezing garage awaiting Wobbly's appearance. When the bird arrived, the woman burst into joyful sobs.
On April 15, 2018, Wobbly ate 50 crickets, and the next day she was gone. That night I dreamt of flying over the leafless Acadian forest. We birders are a strange lot.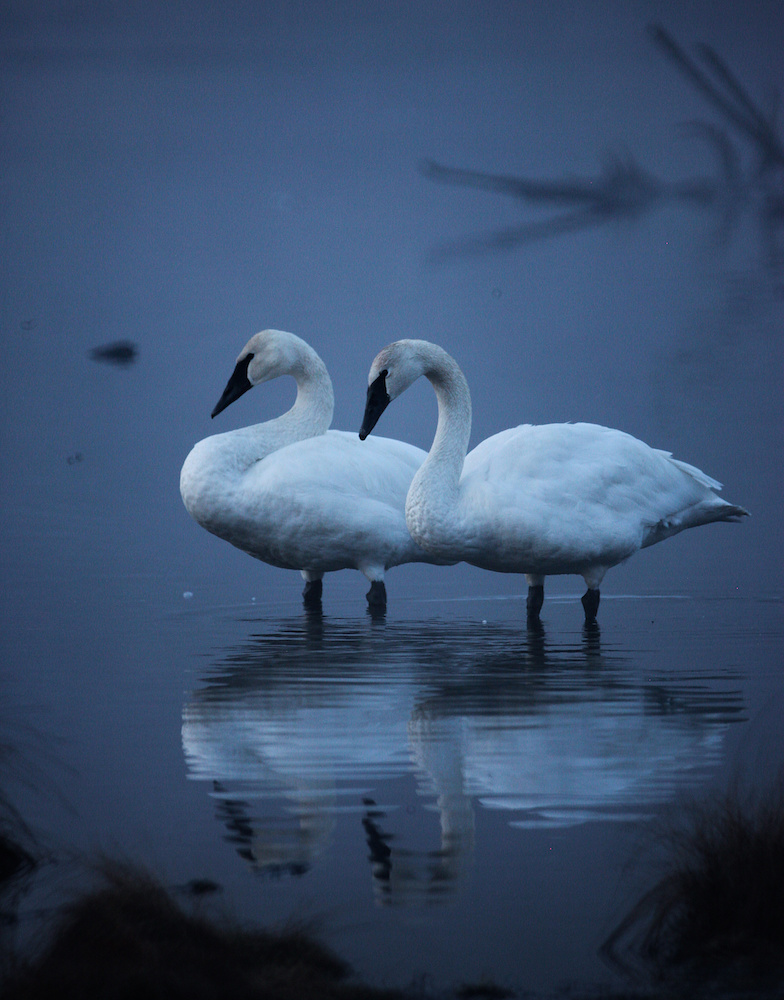 Trumpeter swans, Langley, by Tim Friesen.
There is an old beaver pond near where I live in rural Langley. I drive by it regularly, but never saw any swans until one morning last winter when I had to get up extra early for work. It was before the sun was even up and, suddenly, I saw a flock of 30 or so swans in the pond. Turns out they only spend the night in the pond and would leave at sunrise to graze elsewhere during the day. I started getting up earlier every weekend to photograph them. Sadly, this photo was last winter, and I have yet to see them return this year.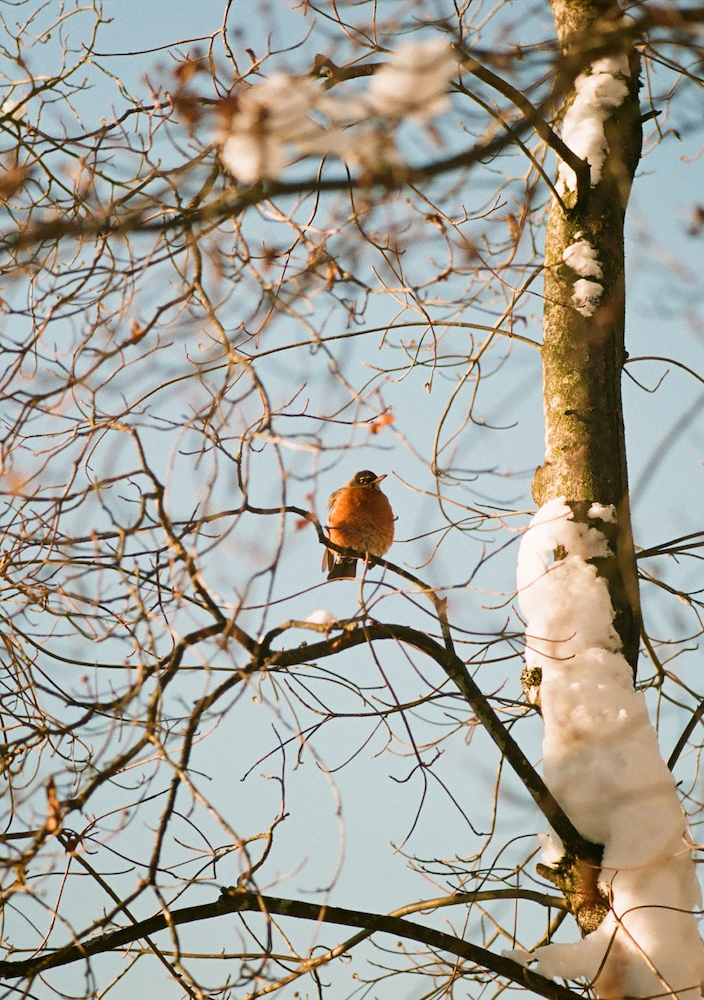 Robin, New Westminster, shot on film.
My photograph was taken in New Westminster on Kodak Gold 200 using an old film camera, an Olympus Pen FT, with a 200-millimetre telephoto lens. It was scanned into the computer by the lovely lady at my local London Drugs. This picture shows a robin puffed up at dawn.
The snow brought out the robins, varied thrushes, starlings, chickadees, crows and woodpeckers. There were so many birds gathered in the tree outside our window that I just had to load a roll of film into the camera!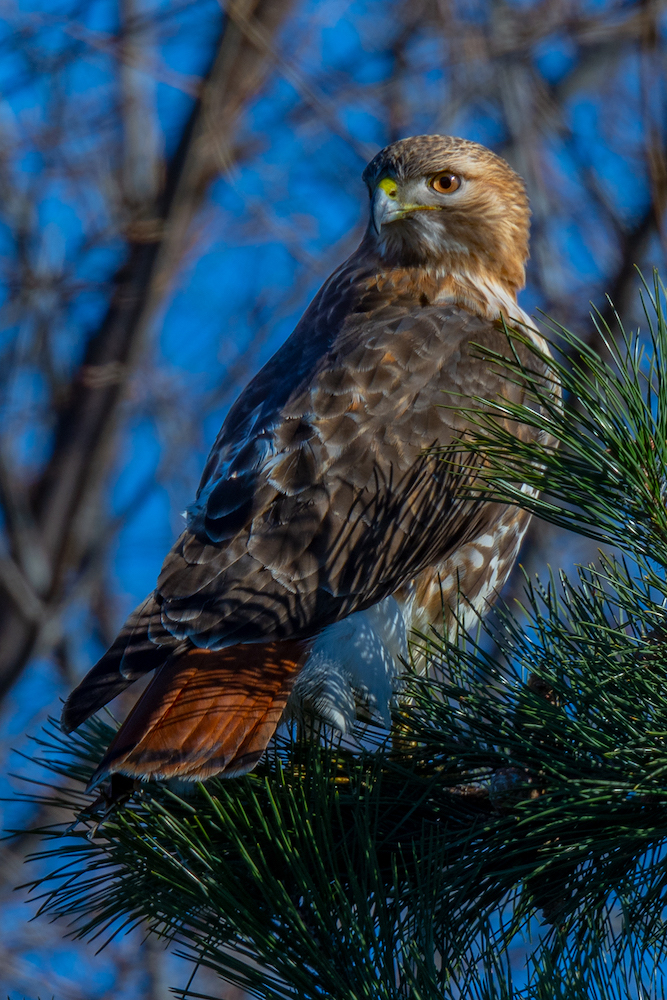 Red-tailed hawk, Scarborough, Ontario, by Joey Poon.
I was washing my dishes after lunch when this fella (a red-tailed hawk, I believe) made a surprise visit outside my window, landing on the pine tree about 60 metres away. I quickly ran outside with my camera. It made my day to see such a majestic and beautiful figure, in contrast with the blandness of a winter backdrop! Ah, how I envy its worry-free look!