In one of Tim Clapp's favourite books, The Bookshop by Penelope Fitzgerald, a woman opens a bookshop in a small seaside town. The town needs a bookshop, she reasons. But she runs afoul of local powers who stir up the town against her, and she's put out of business.
When Clapp and his friend and business partner Calen Degnan considered opening what would become Reasons to Live Books and Records four years ago, they wondered how their own small seaside hometown of Gibsons, on B.C.'s Sunshine Coast, would receive them.
"No one reads books," Clapp remembers worrying. "We'll be chased out of town."
Instead, Clapp said, the Gibsons community has been receptive to them. The two 35-year-olds are still selling books from their shop — and they haven't been run out of town yet.
Back in March 2020, when the store's front window was smashed in an act of random vandalism, Clapp felt hurt thinking that someone from their community could have done it. But then the support started trickling in to help pay for the hefty $800 replacement cost.
"People immediately started sending us money. We got money from people who liked the store who just literally came in and just bought a bunch of stuff. There are people who just randomly sent us money. And there were people who just wrote messages of support."
For Clapp, that overwhelming support was almost embarrassing. He thought: "People really value the store. I should make sure that I'm doing a good job."
He tells The Tyee he realized then that, contrary to his worst fears, he was providing a valuable service to his community and filling a niche no one else was filling.
"Really that's what I wanted to do, but it's almost like I wanted to be worthy of that because it's a community I grew up in and that I really value," he said. "And on top of that, it's part of like this global community of readers and people who love books and collect books."
The two booksellers understand how lucky they are. It's a dream to interact with books for a living, share that love of books with others and nurse a business idea with a friend until it blossoms.
"One of the things I love about having the brick-and-mortar store is seeing how it provides a stage for people of different ages, income brackets and cultural backgrounds to share what we have in common: a love for the power of narrative and a belief in communication," Degnan said via email.
Another of Degnan's favourite parts of running the business so far has been the social aspect of being physically in the store. "There's always someone in here who is happy to discuss the power of mythology and archetypes, or recently discovered 16th-century Grimoires, and that's a major blessing in my life."
Still, neither of them is wearing rose-tinted glasses when it comes to confronting the realities of this work. They've both understood from the start that running a business, particularly a bookstore, would not be easy.
It would be easier to sell 'literally anything else'
Today's independent bookstores are competing against retail giants like Amazon and Indigo and weathering trends like inflation, a housing crisis and the economic implications of the COVID-19 pandemic.
And Gibsons is not insulated from these trends. As B.C.'s housing crisis escalates the demand for housing in the town, Degnan said that he's seen rents "almost double across the board." Younger, creative people are getting pushed out of the town too. "I miss them," he said.
"I think it's pretty clear that as a society we are all facing a lot of pressure just to have a feeling of security about where we are living," Degnan said. People who fear being renovicted probably don't buy a lot of books, he added.
Both proprietors work other jobs to keep the store alive, Degnan said. "I still have a feeling of relief every time we can manage to pay the rent for another month."
And selling books can be hard. It would be easier to sell "literally anything else," Clapp said. "You're selling a product that people will give you for free because they don't want it in their house."
Even really popular books like Hanya Yanagihara's To Paradise are still quite difficult to sell, he said.
"It's not a good business to be in to make money to me," Clapp said. "You have to be in this business because you love books — there's no way around it."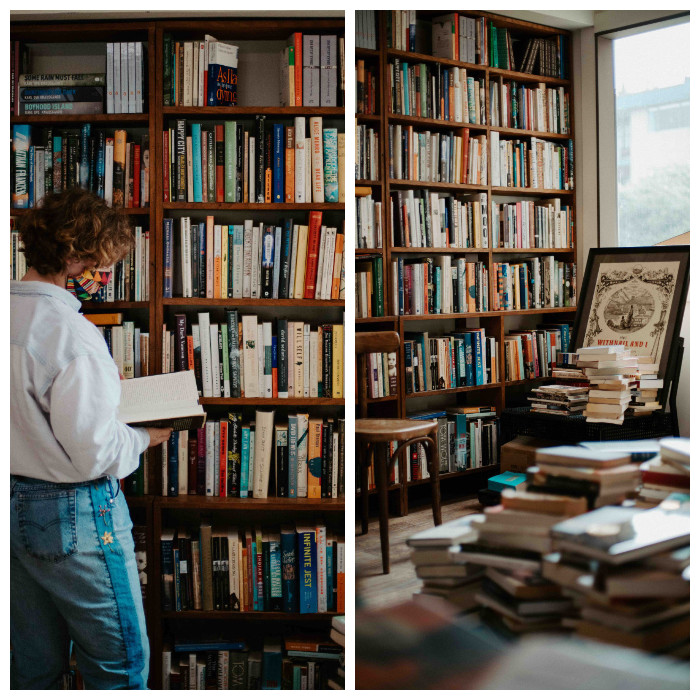 'This is rock music'
Both booksellers grew up in Gibsons when it was filled with fishers, boat dwellers and beachcombers who lived off the sea, and when prawn and salmon seasons formed the heartbeat of the town.
Clapp tells me he didn't have many toys as a kid in Gibsons and Roberts Creek but that his mother, a local elementary school teacher, always allowed him to get books.
He remembers being the nine-year-old tearing through Stephen King and Michael Crichton books from the library discard sale and purchasing Carl Sagan's Cosmos at a tiny local bookstore in lower Gibsons.
One day in the fifth grade, his teacher gifted him a copy of Philip Pullman's Northern Lights. Clapp compares the feeling of reading that book to playing Nirvana on guitar for the first time. "I remember going, 'Oh, this is it. I actually get to play what I want. This is rock music.'"
For Degnan, who grew up on a sailboat in Gibsons with his parents and two sisters, books and reading were a way to "maintain an interior world that was private."
"A good story and a good reader create a new dimension together," he said. "This dimension provides crucial insights you can apply later to the shared reality of society or use to just temporarily escape from it."
"I still think books are one of the most highly functioning technologies humans have come up with. They don't require external power sources, they can last a long time if cared for and the way a reader actively engages with a text provides many ancillary benefits to your imagination and mental well-being," Degnan said.
"There's something to be said about the power of oral storytelling as well. But the written word is one of the great gifts to us poor mortals. Thank you, Thoth!"
The two first crossed paths at the public library in Gibsons. Clapp remembers being led to his high school classmate's skinny cousin, who was downloading guitar tabs on the library computers. The classmate had raved to Clapp about Degnan's love of books and records, and he soon found that they had much to bond over.
"I remember being delighted to have someone else with whom I could talk about literature with," Degnan said. "[Clapp] also had a fantastic knowledge of music and pop culture in general, and we started a band and became involved in the music scene here."
The two eventually moved to Vancouver as adults, but the idea of starting a store for books or records rattled around in Clapp's mind on and off for over a decade.
'There was no higher thing I could do'
Christopher Brayshaw, who runs Pulp Fiction Books in Vancouver, now considers Clapp a "colleague." He told The Tyee that booksellers always remember certain kinds of customers.
He first noticed Clapp by the fact that he was always collecting books, and by how excited he was about whatever he was reading.
"People who are excited by what they're reading are always my favourite kind of customer because they're fun to talk to, and their positivity really helps," Brayshaw said. "As you can imagine, retail is not necessarily positive and cheerful every minute of every day, so someone who is positive and enthusiastic… it's like a big fucking spotlight drops on them when they walk through the door."
Kim Koch, co-owner of the Paper Hound bookstore in Vancouver, had met Clapp outside of books. She met him through her partner, who has a record label. Clapp had helped Koch's partner run records on his trips across the Canada–U.S. border. Later, when Clapp started coming by the bookstore as a customer, she recognized his "voracious" appetite for books and "eclectic tastes."
Koch remembers the booksellers joking to Clapp about when he would open his own bookstore.
"He was obviously acquiring a lot of books and Tim has these incredibly rich resources of energy that I'm not even sure where he draws on them to pull it all together. He seemed like he should [open a bookstore]."
At the end of 2018, Clapp had just come off a music tour, on which he sold merchandise and was feeling buoyed by validation — none of the 12 strangers on the bus had tried to talk him out of this recurring bookstore idea — and the few thousand dollars burning a hole in his pocket.
"I felt like I was on top of the world when I had money. I thought, 'nothing will stop me from doing anything I want right now. I can do anything.'"
He was visiting his mother in Gibsons over Christmas that year, with plans to visit some used bookstores on one of the odd days, when she told him that there were no used bookstores left. That's where it clicked for him, he said.
"There was no higher thing that I could do then than open the store I really liked. I can make my dream come true," Clapp said.
Then that December, as he began looking for a space in Gibsons to rent for the store, he bumped into Degnan, who he hadn't seen in years. He popped the question anyway: "Would you want to open a bookstore with me? Like, we'll do it now."
Degnan said Clapp caught him at a crossroads in his life. He had just moved back to Gibsons and had recently ended a long-term relationship.
"I was working at a London Drugs and living back in the small town I grew up in without feeling like I had very much to show for the past decade. Tim had wanted to start a store since we first met, and I think he sensed a moment of weakness on my part and took me to look at the space we would eventually open in."
The empty space they moved into was a mid-century apartment building that Clapp said used to house a Benjamin Moore paint store, with its iconic red awning, on the bottom floor. Degnan says he was born in an apartment just a block away.
'An ungodly amount of books'
Clapp wondered at first if he would ever have enough books to fill the store. He confided in Pulp Fiction's Brayshaw, who by that time had run his bookstore for more than two decades and had multiple branches. Brayshaw told him, "Trust me, you don't have to worry about that."
"If you open the doors, and you're selling used books, you will very soon have an ungodly amount of books just dumped on you," Tim remembers him saying.
He was right. Within weeks, Clapp said, so many people were coming in to sell or trade in books. "Too little books" isn't a problem they have anymore.
"Right now, we probably take in about 40 boxes of books a week," Clapp said in May. "We're in spring cleaning time. I get to the store and they're just dumped outside the store and then it's my job to, you know, 'recycle' them," Clapp said.
Degnan guesses the abundance, or "glut," in the volume of books is due to the huge turnover of real estate in the town.
Soon after Clapp and Degnan opened their doors, a bigger challenge, far thornier than books dumped on their doorstep, arrived.
"We were open for maybe like a year before COVID hit, and we were absolutely terrified. We had no idea what was going to happen," Clapp said.
But the store, which Clapp notes has now spent more time in the pandemic than out of it, ended up doing better in those months.
"I think we were helped by being the only bookstore in town, and the only used bookstore on the Sunshine Coast. And we were in this time where people were reading, which was amazing," Clapp said. "It was people who were stuck at home, who wanted to do these sorts of back-to-basics activities… people were really getting their crafts on, you know?"
"I think the pandemic time definitely got people into reading bigger books, reading more challenging books. Instagram booklists were going around, and there was this movement to shop local, which obviously is good for us."
"And there was a real public shaming over people who bought everything on Amazon, which is way more people than you would think."
Reasons to Live also became a community reading hub for younger people in Gibsons and beyond. In the summer of 2021, they held an Instagram book club for Ulysses by James Joyce. Those who read all 732 pages got a commemorative T-shirt.
"People were really, really into it," says the Paper Hound's Kim Koch. "The same thing with the 'Barbara Pym Warehouse' idea. Making Barbara Pym a literary focal point for people under the age of 60 is an incredible feat."
Paying it forward
Earlier last year, Clapp said, the Grade 5 teacher who gave him that life-changing copy of Northern Lights came by the store to pick up a Lonely Planet guide to the Philippines, which he was planning on visiting.
"I got to say to my Grade 5 teacher that, 'Hey, here I am. Twenty-five years later, and I'm still reading. I still have that same book that you got, and I still treasure it. And I would never get rid of it. Because it sent me on a course to just be completely obsessed with reading,'" Clapp said. "I think he was happy to hear that."
It was a good reminder to keep fighting for the things he loves and the outsized impact that has on the lives of other people.
"It was a really great moment for me. And I felt like, in a way, trying to keep that thread going of people passing on books to younger people," Clapp said.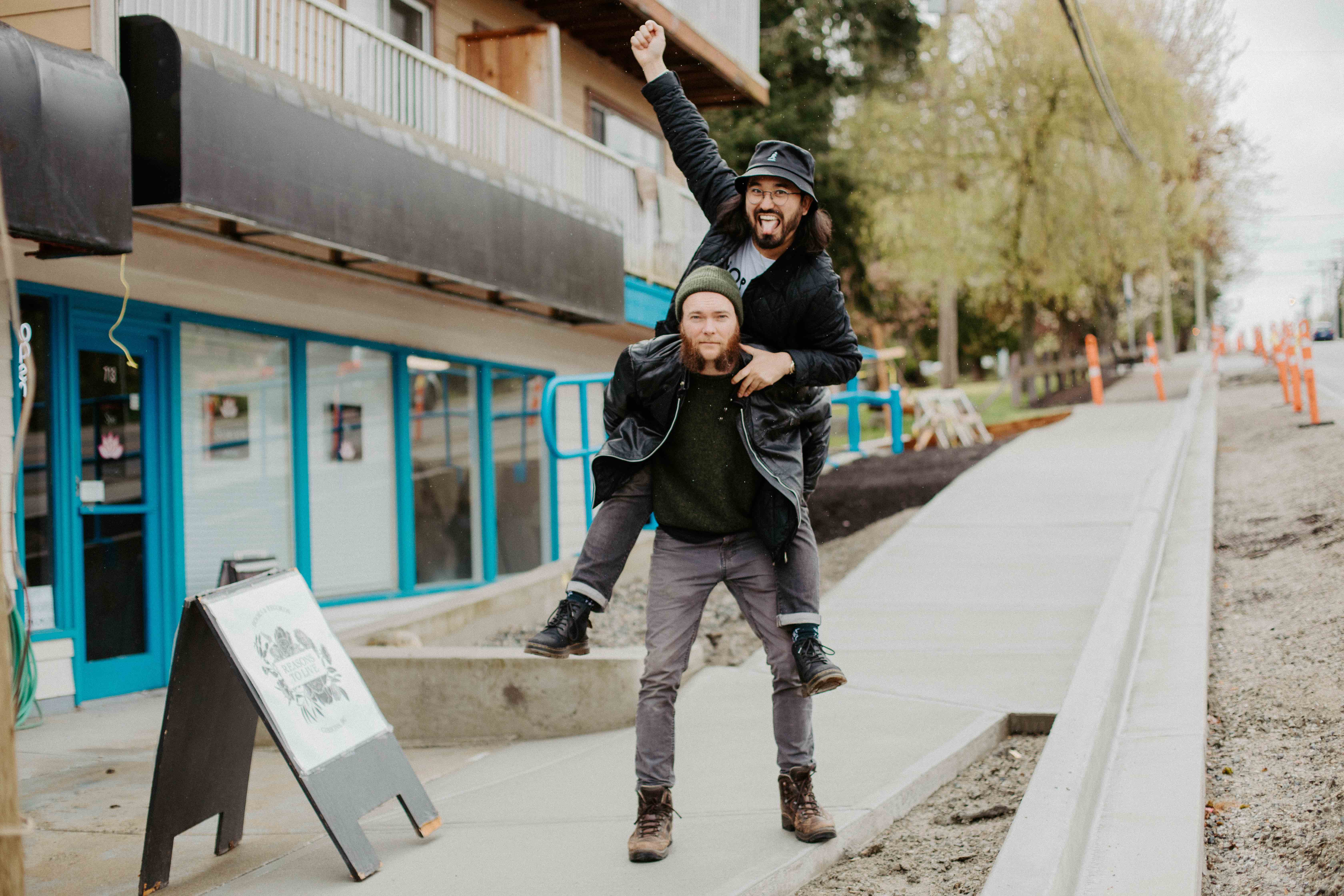 "Hopefully, I'll get to pass something along to someone one day. And then maybe one day, they'll come up to me like 25 years later and go 'Hey, Tim, you recommended this book to me when I was in the store and I was like 15 years old. Now I wrote a book for somebody.' That's what I'm hoping for, I guess."
"It's stressful and a lot of my peers have vehicles, go out for nice dinners and have vacations and pension contributions," Degnan said. "But for every baffled look or sneer we get when people find out we've decided to invest in literature and music, there's an absolutely beautiful moment where someone tells me about their favourite book or how a work of art has saved their life. I know it has mine."