Monique Gray Smith wants you to read her latest book. But the award-winning writer also issues you a challenge to get personally involved in the journey towards reconciliation in Canada.
That's the goal of Speaking Our Truth: A Journey of Reconciliation, Smith's 160-page book stocked with resources, photos and stories to tell a truth untold in Canadian history books. Published by Orca Book Publishers, the book is divided into four chapters, which ask questions including where have we come from, where do we stand today and where do we go from here.
Speaking Our Truth weaves together the stories of elders, community representatives and politicians. Smith wanted the book to be accessible, interesting and inspiring enough to incite action, which is why Orca Book Publishers has sent a copy of the book to all Members of Parliament and to schools across the country. A website is also available containing the majority of the book's content, sections not included in the print version and an online teacher's resource guide.
The launch for Speaking Our Truth: A Journey of Reconciliation takes place at 2 p.m. on Saturday, Sept. 30 at Camosun College, Lansdowne Campus in Victoria.
The Tyee caught up with Smith, who lives in Victoria, over the phone this week, where she shared more thoughts on writing the book and her hopes for readers and what they do after reading her book.
The Tyee: In the introduction of the book, you introduce and self-locate yourself. You identify as a mixed-heritage woman of Cree, Lakota and Scottish ancestry. But you also emphasize your own journey to learning about Canada's history, including the experiences and narratives of First Nations, Inuit and Métis peoples. Why was this important for you to do?
Monique Gray Smith: "My experience is a common one in our country. The internalized racism for children growing up is one thing. But also, the lack of knowledge around ancestry and family history. It's a story I hear a lot, of people journeying home and finding their way home. There is so much in place to prevent that journey and when we look at our history, it makes sense why it is this way.
"In some ways, it's a journey that the whole country is on."
How do you feel about the term reconciliation?
"I think the word has many contexts. Many people might say we haven't even had consolidation, so how can we have reconciliation? It's a complex discussion. That's why I think it's a personal journey for every person. As soon as we get into judging another person's journey, we get into that colonial mindset about what's right and what's not right. I think it's a personal journey for everyone and some people will never take it, Indigenous and non-Indigenous."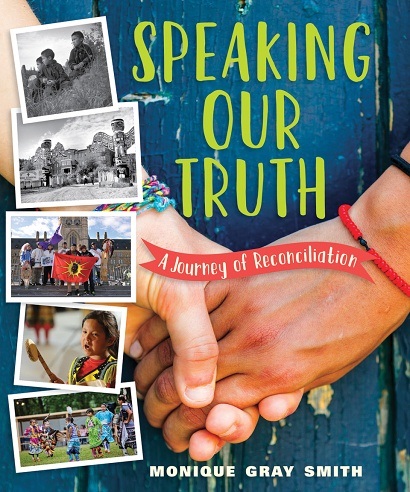 Who is the intended audience for the book?
"It's for people between the ages of nine and 90. It's marketed for young people, but we have to keep in mind that we have generations of people who have never heard this history. I don't say Indigenous history, because this is Canada's history. It's a book for generations.
"I have twins who are almost 14 and I asked them a lot of questions throughout. The first time I gave my son the history chapter, he handed it back to me and said it's too much like a textbook. I thought, how can this story be told in a way that doesn't minimize the power of the history, but also the power of what the future can look like?"
There are many powerful photos included on almost every page of the book. What was the intention behind providing so many visual cues?
"I wanted the photos to tell a part of the story. I wanted them to elicit emotions. When our emotions are engaged, we're more apt to take action and that's really what I want people to do. I want them to ask, what's my journey of reconciliation? What steps am I taking or can I take to move forward?"
Do you see meaningful steps towards reconciliation in Canada right now?
"Yes, the young people, Indigenous and non-Indigenous, are profoundly inspiring… their desires to be citizens and to take that word seriously and ask, what does it mean to be a citizen and what are my responsibilities? I see them trying to understand what it means to be an ally, listening, being present, acknowledging privilege, but also the moral courage we're seeing is exciting. Young people are asking their educators, why aren't we learning about this? Why are we learning about ancient Egypt and not our own country's history?"
Why do you feel this book and others like it should be taught in schools?
"The majority of the young people in the book had not learned much in school, and this was written in the summer of 2016. To me, that was so disheartening. Part of me understands it, but we really need to change it, not only in the education system, but around the dinner tables as well. We need to ensure our families understand the history and why there are certain incidents and realities occurring as they are."
Was there anything that didn't make it in the book?
"I signed the contract the third week of July 2016 and the first draft was due at Thanksgiving. When it came back to me, I had to cut 20,000 words! It was extremely difficult to decide what to cut — how do we share this history in a way that honours the survivors of residential school and their pieces of history? How do we create information for young people to be inspired change agents? What can I possibly cut?
"I ended up cutting what felt like extra, but mostly we moved pieces onto the website. It didn't feel like the pieces were totally lost, but in new places. It's still a sizeable book."
You mention the website, which includes most of the content found in Speaking Our Truth, but also a comprehensive Teacher's Resource Guide for educators who want to use the book in their classrooms. Why did you provide this resource?
"I think some of the teachers who want to share this information didn't learn it in their homes and schools, so they don't necessarily know how to teach it. The guide is a gentle support to say, hey, start here. Here are some ideas, processes and reflective questions. We have something to blanket them and keep them warm in their journey. The more we can support educators to have these discussions in the classroom, the better all of our futures will be."
What's next for you?
"Well, I'm recovering, haha. The big launch is in Victoria on Orange Shirt Day. In Victoria, we'll have celebrations at Centennial Square, we have the launch of Speaking Our Truth and there's an art gallery opening [in Port Alberni] for an exhibition around survivors of residential school.
"Orange Shirt Day has become a day to ask how we celebrate the resilience of survivors, students and families. Phyllis Webstad started Orange Shirt Day [in Williams Lake] and it took off across the country. It's exciting when somebody has the courage to do something new."