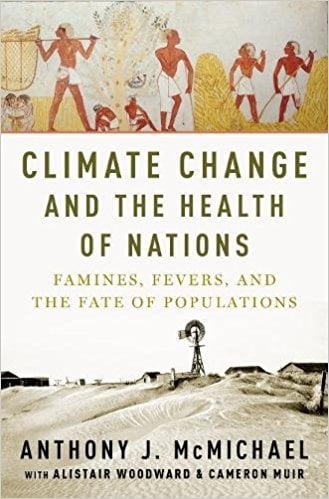 Climate Change and the Health of Nations: Famines, Fevers, and the Fate of Populations
Anthony J. McMichael with Alistair Woodward and Cameron Muir
Oxford University Press (2017)
Global-warming deniers have adopted a new tactic: "Of course the climate is changing," they sigh, "because it has always changed. So what's your point?"
Even without our assistance, climate change is actually a force that has shaped us for millions of years and killed millions in the process. It was bad enough until about 1800; climate used to change slowly over centuries, but now thanks to us it is changing in decades.
Anthony McMichael was an Australian epidemiologist who completed a draft of this book before his untimely death in 2014. Two colleagues revised it, and it now stands as an instant classic. We should read it as carefully and attentively as we would listen to our oncologist describe the progress of our cancer and our chances of recovery.
As McMichael shows in his enormously documented book, climate change drove us out of the trees and eventually out of Africa and across the planet. It also drove us out of a congenial and mobile hunter-gatherer ecological niche into the "Faustian bargain" of sedentary agriculture: We could support far more people, but at the cost of malnutrition, hierarchical societies, and recurrent epidemics of diseases acquired from our domestic animals.
We can now see the price of that bargain: early farming societies could support a lot of people as long as they were shorter and sicker than hunter-gatherers. If their land couldn't support them, early farmers died or moved — or simply overthrew their ruling priests and warriors and bureaucrats.
Two history lessons
The past 10 thousand years should have taught us two things: When climate changes, people move, and when states can't feed their people, they fall. As McMichael describes it, too little rain, or too much, leads to malnutrition and famine. Malnourished peoples succumb to new epidemics, or rise up against their rulers, or invade their neighbours.
As the Sahara dried eight thousand years ago, farmers and pastoralists migrated to the Nile Valley and founded Egypt. Twelve hundred years before Christ, a prosperous Bronze Age Mediterranean civilization collapsed into wars and anarchy as climate refugees tried to find land and water.
The "barbarians" didn't invade Rome just for the hell of it. They were technologically about as advanced as the Romans, but climate change drove them across Rome's frontiers against their will — often pursued by still more climate refugees.
Rome, of course, tried to keep them out, or to recruit them into its legions. But climate change also enabled the "plague of Justinian" to kill millions of Romans in the first European incursion of bubonic plague. The empire just didn't have the bureaucrats and farmers and soldiers left to stop unwanted immigrants.
Volcanoes + fleas = pandemic
Even when a major state like Rome seems to have established a strong society, climate can undo it all. The plague of Justinian, McMichael suggests, was thanks to a volcanic eruption in New Guinea that cooled the planet and enabled infected fleas to survive on the rats in grain shipments from Ethiopia to the Mediterranean. Similarly, climate enabled rats to stow away on caravans in central Asia, spreading bubonic plague to both Europe and China.
After this epic tour of human history, McMichael makes it easy to see how climate change continues to affect modern societies. He argues that we are less susceptible to climate change — but not immune. Even heat waves, as they grow longer and hotter, can kill thousands in days. Over 70,000 died in the 2003 European heat wave, and 55,000 in Russia in 2010.
Moreover, we're not as robust and resilient as our ancestors were: we eat ourselves into obesity, we suffer high blood pressure, we don't exercise enough, and many of us live with chronic stress. Not only do these put us at risk in the next heat wave or pandemic, but our infrastructure can break down: electricity can fail, reservoirs and snowpacks can dry out, bridges and highways can wash out, and farmland is degraded.
McMichael argues, "Societies with coherent and stable structure, mutual trust, shared and well-applied knowledge, efficient information dissemination, good government, and community-level capacities are better placed to cope with climatic threats or crises."
Syria, clearly, is not such a society, and a prolonged drought drove many farmers into the cities where their discontent helped trigger the 2011 uprising and the current catastrophic civil war. The Middle East has plenty of other such societies. So does sub-Saharan Africa, whose peoples are in climate-driven upheaval from Ebola in Liberia to civil war in Somalia. And so do many nations in Latin America and the Caribbean.
In all those regions, people are on the move — usually to the north, where Europe and North America offer some slim chance of survival. But our own "coherent and stable structure" sometimes seems dangerously fragile in the age of Donald Trump.
Looking ahead, McMichael sees material growth as a hazard to our survival. Better, he says, to measure growth as "an increase in the actual value (including quality, utility, and durability) of goods and services" or even as a "steady-state economy." Poised against such ideas are pretty much every government and corporation in the world, many of them actively opposed to the very idea of climate change.
But in the light of all the fallen empires McMichael describes in this book, those governments and corporations might reflect on their own life expectancies in the next pandemic or climate disaster.