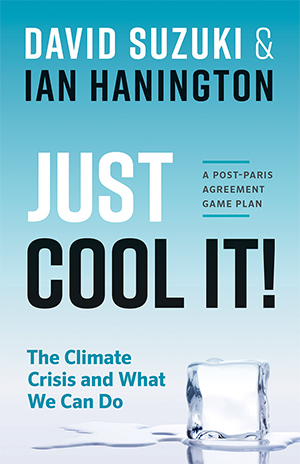 Just Cool It: The Climate Crisis and What We Can Do
David Suzuki and Ian Hanington
Greystone Books (2017)
David Suzuki and Ian Hanington's new book opens with a question that many of us may have been asking ourselves as of late — in the face of rising seas, increasingly intense storms, melting polar ice sheets, drought, wildfire, or whatever the climate-related news of the day may be — "is there still hope for humanity?"
In their new book, Just Cool It, Suzuki and Hanington remind us that this question is as relevant as ever, as climate change marches forward whether it's in the headlines or not. "Even if all countries that signed the [Paris] agreement meet their stated targets on time," they write, "global average temperatures will rise by 2.7 to 3.5 degrees Celsius — which scientists agree would be catastrophic for humans and numerous other species."
This is serious stuff, and no shortage of reason for despair in itself. I sat down with author Ian Hanington on a sunny spring afternoon in the David Suzuki Foundation's Vancouver office to discuss what Hanington calls "the most serious threat humanity faces right now." Office staff were celebrating a recent memorandum of understanding signed with a local Indigenous group. Drums were beating, people were dancing around the cubicle walls, and sun was streaming in through the windows. The atmosphere was optimistic. So, too, is Just Cool It!, where "hope" is a central theme — hope for a better future, hope for a cleaner future, hope that we can avert complete and utter catastrophe.
In the book, Suzuki and Hanington explore the basics of climate science, its history and some modern solutions, writing "sometimes in the midst of despair and chaos, it's difficult to notice that breakthroughs are occurring, that the world is shifting."
Let's hope so. The news last fall of what felt like an onslaught of pipeline approvals in Canada and the barrage of anti-climate change quotes — and tweets — rolling out of the new administration to the south certainly doesn't inspire positivity in climate activists.
"From cars to pipelines to coal-fired power plants to fracking to offshore drilling and oil sands exploration," write Suzuki and Hanington, "our practices don't reflect the kind of behaviour you'd expect from a species facing a crisis." Here in British Columbia, we know all too well that the government is marching forward with infrastructure projects and policies that seemingly dismiss or diminish the seriousness of the threat of climate change.
Though the bulk of Just Cool It was written before the 2016 U.S. presidential election, it does manage to present a clear strategy for dealing with climate change denial and inaction — perhaps more relevant now than ever, as one of the world's largest polluters has announced plans to pull back from the historic Paris climate agreements.
Hanington tells me he made an effort to address each of the common criticisms of climate science that he hears most often, whether from commenters on the David Suzuki Foundation's blog or questions coming into the office — though he may not have been expecting some of the biggest misconceptions to be coming from the American government. Nevertheless, Hanington says, this book provides "ammunition" for those who want to carry the conversation forward.
Hope without leadership
I ask Hanington if he thinks there's still reason for hope in the face of a lack of climate leadership at a government level, both in the U.S. and in Canada. "I do actually, and for a number of reasons," he tells me, zeroing in on the ever-changing nature of government. "It's always been difficult to trust politicians to lead the way. They think in terms of three to five year election cycles — and they're largely corrupted by money and industrial interests. Things can change so quickly. Here in Canada, we lived for 10 years under a government that really wasn't committed to addressing the climate problem and wanted us to become an energy superpower — and by energy, they meant fossil fuel energy.
"The silver lining is that I don't think we're going to address the climate crisis unless people get on board, unless people start speaking out at the ballot box or marching on the streets. And that's all happening now. If you look at what was happening in the United States before, there were some good climate policies, but they were also opening up more drilling, more oil exploration, lots of fracking. They weren't slowing down that much. Had things gone on status quo, it still wouldn't have been great. We still would not meet our targets and we'd still be looking at catastrophic warming somewhere along the line. At least having an administration in there that is so anti-environment and so anti-science has really galvanized a lot of people. The silver lining is that things have been brought to a head and that's made a lot of people wake up to what's happening.
"One of the most important things is people getting out and insisting — writing letters, calling their political representatives, marching in the streets. The more people that turn out for rallies and marches, the more people that demand change that's what matters. If governments want to win, they have to do what the people want. If people insist that they want governments to address climate change, then they have to if they want to win an election."
Shorter showers to save the world?
Just Cool It! focuses on solutions — personal, agricultural, technological and institutional — while laying out the latest research in each area, be it biomimicry or fuel efficiency. As I read the section on "personal solutions," I confess to Hanington, I started to feel a bit smug. I commute by bike, I compost, I'm a vegan, I obsessively save even the tiniest scraps of garbage to recycle them at home, and taking a plastic bag from the grocery store would make me feel as guilty as stealing candy from a baby. Am I saving the world? I ask Hanington how much importance we should place on personal actions, and what we can do to step beyond buying organic apples and bringing reusable mugs.
"I think every little bit helps," he says, "but we're not going to resolve climate change by taking shorter showers or riding our bikes. All of those things are important and they add up, but we need some really significant change and that change has to come from an institutional level — it has to come from governments and industry and international agreements.
"All of these things are important — eating less meat or eating no meat, riding your bicycle or walking, flying less, making sure your home is energy efficient. The more people do these things, the more change is going to come about. To some extent, these things bring about changes of consciousness as well."
Hanington points to the anti-smoking campaign as a parallel for shifting attitudes: "I grew up in a time when you could smoke in taxicabs, buses, restaurants and movie theatres — and you can't even imagine that now. There is a consciousness shift that comes about once you reach a critical mass. With climate change, we're not yet at a critical mass of people understanding what it means and demanding that we do something about it."
Convincing the unconvinced
Awareness, Hanington says, is a big step towards progress in tackling climate change issues. "The biggest thing people have to do is become informed about the issue and the science. There's a lot of misunderstanding around not just the science of climate change, but what science means and what it does and issues around certainty. People often say 'oh, [climate change] is just a theory so we don't really know.' But a theory in science is something that has been tested and, though not proven conclusively necessarily, but proven to a great extent. A theory has to be pretty solid. People often confuse a hypothesis with a theory."
Hanington concedes that this book isn't going to reach everyone. For some people, he says, "it doesn't matter how much evidence you put in front of them. They could be standing up to their knees in water and they wouldn't believe what's happening or that humans or responsible or that there's anything we could do about it. It's unfortunate, but there are always people you're not going to reach," he says.
Just Cool It!, he says, is for everyone else. It's for people who have not yet been convinced that the climate crisis is real and urgent and of absolute utmost importance — and it's for the people who are already on board with taking action and are interested in more detailed facts, whether it be for their own sake, or to take them to the streets.
"Those who fear and reject change have always been and always will be with us," write Hanington and Suzuki. "They've argued ending slavery would destroy the economy; they've claimed putting people on the moon would be impossible; they've rejected ending South Africa's apartheid system; they've said the Berlin Wall wouldn't come down." Just Cool It! seeks to add climate change to this list of seemingly insurmountable challenges that humanity has taken on with vigour.
"Things are only impossible," they write, "until they're not."