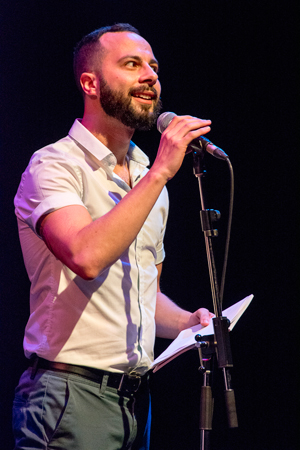 ''Poetry is dead,'' Daniel Zomparelli wrote in the very first issue of his poetry and arts magazine by the same name, ''what the hell happened?''
In recent decades, poetry has lost its place in the literary world. This year, a Washington Post essay charted its fall from public consciousness, ranking it less popular than jazz, dance and knitting.
But this week, Poetry Is Dead celebrated its fifth anniversary and the launch of its 11th issue. By stretching the boundaries of what makes a poem, Zomparelli and his collaborators may have discovered how to bring the flat-lining poetry scene back to life; Poetry is Dead is now the most-circulated poetry magazine in Canada.
''We want to have fun, we want to see what people are being creative about, we like when people are trying new things,'' Zomparelli said ahead of the May 28 celebration at The Cultch in Vancouver. ''A full show of just poets reading poems is a nightmare.''
The magazine itself may be a stuffy poetry purist's nightmare. Embracing the experimental, it's known to mix poetic styles and formats (including sound and visual pieces) with an ''anything goes'' attitude. The Tyee asked Zomparelli and two guest editors how Vancouver's poetry scene has changed since the mag rose from the dead.
Mass appeal
At the launch event Thursday night, some poets read work they had written as angsty teens -- their rule was they couldn't bring in anything they were proud of. The evening was all about self-deprecation; during one segment, Zomparelli and comedian Alicia Tobin competed in a ''sad-off,'' dredging up wonderfully awful childhood memories.
For a poetry magazine event, the show was big on humour, but light on traditional poetry readings: ''20 minutes max,'' Zomparelli said. ''Nobody is paying attention after that point.''
As editors and event planners, Poetry Is Dead's collaborators don't lose sight of the fact people want to be entertained. "A poem can be a joke. A poem can be funny,'' adds guest editor of the magazine's latest issue Cynara Geissler. ''I did the 'Youth Culture' issue so I got a lot of poems about masturbation.''
What has changed since the magazine started? Geissler sees a shift in the public perception of poetry -- the boundaries between low and high culture are increasingly flexible. ''When novels first came out, they were like plebeian trash. Robinson Crusoe was garbage -- garbage people read. But now [novels are] one of our most lauded forms of literature.''
''There used to be a strong gate-keeper mindset and as that breaks down, newer poets are allowed to do their own thing and feel that it's encouraged, and not feel like they need to be accepted by whatever you want to call the establishment in poetry,'' said Dina Del Bucchia, frequent collaborator of Zomparelli's and guest editor of the ninth issue of Poetry Is Dead.
Hybrid poetics
In the years since launching Poetry Is Dead, Zomparelli has seen new events popping up and making the effort to get more people to attend. Verses Festival started in 2011 and welcomes all kinds of written poetry, spoken-word, and song writing. Mashed Poetics events combine spoken word and classic rock music. And Sara Bynoe's Teen Angst Night invites readers to perform their embarrassing teenage writing.
''If you go to a poetry reading that's really stuck-up and boring, it's because you created that stuck-up, boring audience,'' Zomparelli said. His version of a dead scene involved sitting in a cold, boring room (or a space where there's no booze) for an hour and a half while people read poems with no stop or no hesitation.
He understands that his audience isn't completely made up of poets or people in the literary community -- in fact, he prefers that they aren't. He doesn't want event-goers to feel like they don't belong in that space. The very inclusive, wide-ranging nature of the magazine helps sculpt a fun-loving and diverse audience.
Zomparelli said, ''I'm more inclined to work with organizations that aren't geared towards literature because I feel like it's such a small circle and all we do is hang out in that circle, and I wanted to not do that.''