A pair of young B.C. filmmakers are making international waves with their avant-garde take on a Prince George demolition derby.
Kurt Walker's debut documentary feature, Hit 2 Pass, is titled after a derby of the same name in the northern B.C. city. The film has muscled its way into the international festival circuit -- it made its roaring debut at the Doclisboa International Film Festival in Portugal, where it picked up the Universities Award for Best International Competition Feature Film, and is headed for an American debut in Brooklyn next month. But first, the film will debut in the director's hometown at the upcoming DOXA Film Festival in Vancouver.
Audiences can expect plenty of small-town antics as Walker, 24, and the film's producer/star Tyson Storozinski, 24, bring the absurdly Canadian Hit to Pass demolition derby to the big screen. The event consists of dozens of cars racing for first place -- but the only way to move ahead is by ramming the car in front (hence the title, Hit 2 Pass).
The duo collaborated to capture the excitement of the full-contact race by placing Storozinski centre stage. Storozinski enters Hit to Pass for the first time, following in the footsteps of his father, once a ruler of race. Together, the father-son duo build a buggy from the ground-up, before sending Tyson off to compete against 30 other hard-nosed derby racers. There are enough crashes to capture the chaos for the big screen, and enough layers to keep the cinephiles in attendance scratching their heads.
Midway through, the film takes a U-turn. Viewers are left to decipher a captivating interview with local aboriginal writer Nathan Giede, who intimately shares light on his ancestral history and his own identity struggles. As filmmakers on traditional First Nations land, the duo felt obliged to acknowledge Canada's colonial past. The film ultimately abandons the traditional narrative structure in favour of a format that offers a far more vivid depiction of technology, small-town life, and colonial history.
The thrill of destruction might be what generates cheers at a demolition derby, but what's generating critical acclaim for Walker and Storozinski is their brave and introspective take on an event that most other storytellers would take for granted.
The filmmaking duo met at an Albert Maysles (Salesman, Gimme Shelter) Q + A at Capilano and were introduced to each other through mutual friends. After discovering a shared cinephiliac love for documentary film, collaboration was inevitable.
The Tyee recently caught up with the filmmakers to ask them about the demolition derby that's all in the family, debuting internationally, and sharing their work with the masses.
On getting the project off and running:
Kurt: We were working on another friend's feature in Winnipeg, and at the end of it we realized that we wanted to collaborate on a movie of our own. [Tyson's] dad called him, and pitched: 'Hey, do you want to do this race?' And at the same time we were thinking about making a movie together.
Tyson: It was serendipitous, really.
Kurt: From there we started pre-production, thinking about and preparing for this movie. But it was hard to prepare and get people on board, as it was basically improvisation.
On inheriting the drive for demolition derbies:
Tyson: I got into it for many reasons. It's always been an event in Prince George. It's always been something that people are looking forward to, or talking about after it happens. It's a big cultural thing.
My family has been involved with Hit to Pass for years. My dad wasn't reigning champ, but he was a really successful racer for 12 years when I was growing up. I think I was 13 or 14 when he retired -- he hit the track wall really hard (actually, the same wall that I hit in the film). He rattled his eye socket and broke a couple of ribs. He had to think about what was more useful -- if he stayed healthy and raised his kids, or if he continued to crash and destroy his body. He decided to raise his kids. This film is the return of my family to the racetrack. I actually raced with my dad's number.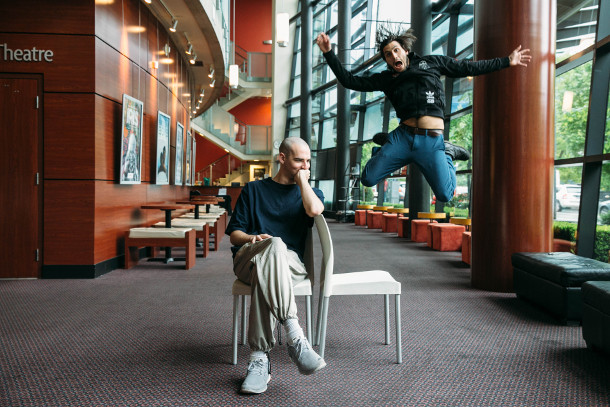 On a first-time director's vision:
Kurt: Personally, I'm not interested in film as journalism, or a journalist practice. I wanted to not only make a movie about the Hit to Pass race, but to use it as an entry point to film our experience of Prince George, to try to make a film about Prince George as a place -- which I don't know if we really succeed at, because we were only there for two months and that's a really big ambition -- and to question what it means to make a documentary in Canada and British Columbia.
On letting go of the story:
Kurt: It was chronologically shot. We were in Prince George for two months, [because] it was important to try and experience Prince George as a place. So we filmed the preparations of the race, but as we stayed longer, my ideas about the film kind of abstracted, in that I became ambivalent towards the idea that we could "capture" Prince George in our brief stay.
Tyson: We fully planned to stay after the race, and leading into the race it was pretty easy to figure out each day what to film. It was like, 'What are we going to film today? Well, we're putting the roll cage in, so let's go film that.' If it made it into the movie or not, there's so much footage of us constructing that. But after the race, that's when it became really challenging.
Kurt: That's when we became a little bit lost.
Tyson: We didn't know what the movie was going to be about. Well, we still knew what it was going to be about, but we didn't know how it was going be about it.
Kurt: Then I met Nathan, through Tyson's friend, and he told me his life story you see in the film, and the next day we decided, "Let's shoot that."
On the horrors of live screenings:
Kurt: It's terrifying. I don't think I'll ever watch the movie in a theatre again with people. Especially in another country. Like [in Vancouver], especially when we showed it at test screenings, people were familiar with our group of friends and some of the comedy was more immediate. We wanted to have a kind of slapstick tone play into it. I'm not sure if our Lisbon audience was into this side of the movie, but at the same time we had great reviews, and we won an award. It was overwhelming; it happened really fast.
Tyson: I had one person tell me that they loved the film, but they hated me and my father. They were like, 'Oh, I hated the beginning, with the machismo and you and your father, but the ending, about place and structure and how we lose cameras, it was beautiful!'
Kurt: I think the best part of it for me is seeing the film be embraced by young people the most. I think it can lose a lot of older people, in that it has a lot of millennial elements like video games and digital technology and iPhones, and all these formats that are more familiar to our generation.
On one word to describe the film:
Kurt: I'll steal a friend's description of it: "fragile." I like considering it a fragile movie. Just because it falls apart, it can collapse on itself at any moment.
Tyson: Thrilling. I know it's a cliché word to describe your own movie, but I'm still thrilled by it. I always think, where does it go from here? It's constantly moving, but you're unaware of where it's going. One thing we talked about very early on is that we want this movie to be like a ride -- something you can't really talk about afterwards, but that you just have to experience. And if you experience it with someone, you can share that experience. It's a difficult film to talk about.
On where to experiment next:
Kurt: I'm mounting a project right now that will star Tyson and other good friends. If Hit 2 Pass was my Prince George film inspired by video games, this next film will be my Vancouver movie inspired by serialized television series from our youth.
Tyson (laughing): A whole different experiment.
Kurt: I just want to keep making wild shit.
Hit 2 Pass premieres at the Vancity Theatre on Saturday, May 9 at 7:15 pm as part of Vancouver's DOXA Film Festival. For more info, go here.
This interview has been condensed and edited for clarity.